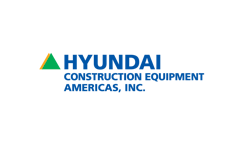 Hyundai Construction Equipment Americas Inc. announces the appointment of Orion Equipment to its rapidly growing dealer network. Orion Equipment will provide sales and service of Hyundai equipment from their dealership in Seattle, WA.
"Orion Equipment's commitment to providing superior customer service aligns well with our business model and we're thrilled to have them join our expanding dealer network," states Kirk Gillette, vice president of CE Sales at Hyundai Construction Equipment. 
Orion Equipment will now carry Hyundai's full line of quality construction equipment, which includes wheel loaders, crawler and wheeled excavators, mini-excavators and skid-steers. The full stock of Hyundai equipment will be readily available for sale or rent.
"The Hyundai product line is a welcomed addition to our dealership," states Tim Collingsworth, general manager of Orion Equipment. "Hyundai's focus on quality, performance and customer support make the brand a great fit for us and we're sure the equipment will be well-received by our customers."
Orion Equipment sales staff has been fully trained in the application, sales, parts and service of Hyundai Construction Equipment products and offers prompt and professional parts and service support to its customers.
For more information or a demonstration of Hyundai products, please contact Orion Equipment at 800-280-8124 or visit www.orion-equip.com.