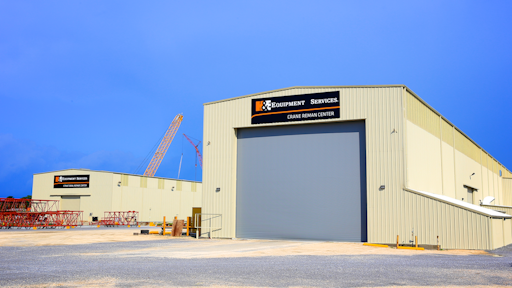 Effective June 1, 2014, H & E Equipment Services Inc. (H&E) announced the relocation of its Belle Chasse, LA crane remanufacturing and structural repair operations to a newly constructed building at 2611 Engineers Road in Belle Chasse, LA. While the new service and repair facility is still on Engineers Road, it is now located closer and directly across the street from the main office and parts warehouse at 2616 Engineers Road.
This new crane service facility is significantly larger than the original, expanding from 4 to 10 acres of prime marine-access property. The complex has two primary facilities, one devoted to crane remanufacturing (Crane Reman Center) and the other to heavy equipment structural repair (Structural Repair Center). 
The Crane Reman Center is 40,000 square feet with six large service bays, each equipped with a 10-ton capacity overhead crane. The entire service floor can be accessed by a 75-ton industrial gantry crane. The large shop accommodates up to six crane remanufacturing projects at one time, along with numerous component rebuilds. H&E remanufactures all makes and models of cranes.
The Structural Repair Center is 15,000 square feet with two, 10-ton capacity overhead cranes. The structure is fully-equipped with five structural alignment welding tables, jigs, and special tooling for crane boom and component repair.
The complex also includes a separate sand-blasting facility and a large, independent paint booth. The remaining 9 acres of yard feature secured storage and a marine bulkhead dock with access to the Mississippi River and waterway transportation.
"We are in the business of giving cranes a second life. Now, thanks to our many loyal customers, we can do it even better with our new facility and enhanced capabilities. The efficiencies we gain will allow us to better serve customers with expanded product support and remanufacturing capabilities. We feel lucky to have secured this nearby tract of land that is much larger and complete with a bulkhead dock for water access to the Gulf Coast area and beyond. Having access to water transportation allows us to serve customers locally, regionally and worldwide, via the Gulf Intercoastal Waterway System. This will help ensure our success in the future," commented Frank Arthur, H&E Belle Chasse branch manager.