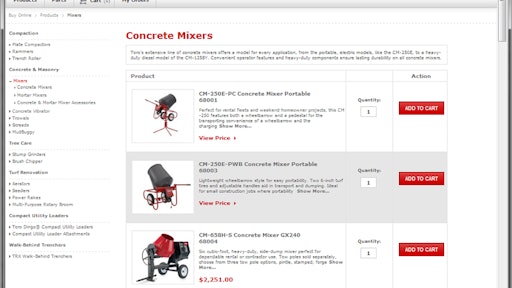 For rental stores across the US, doing business with The Toro Company is just a click away with www.tororental.com. ToroRental.com is an online store for authorized rental customers and contractor supply companies to buy Toro equipment and parts online. The site offers customers a secure way to browse products and parts' drawings, view pricing and availability, and check order status and history. All products and parts available to Toro rental customers can be purchased on the site.
Mark Adamek, Toro parts marketing manager, commented, "We developed ToroRental.com to give our customers an easier way to do business with Toro. The site is available 24/7 and will reduce time spent on the phone with more information at your fingertips. Not only do you have access to equipment and parts, but you can also search for and purchase a selection of parts for older products. Another major advantage of the site is the ability to access all order histories, even orders placed offline through fax, email, or phone."
To register for ToroRental.com, simply go to www.tororental.com, select "Register My Company," and fill in the requested business information. Requests for access to ToroRental.com are continually reviewed and approved by Toro to get you on the site in no time.
Easily access Toro's broad line of rugged rental equipment and eliminate downtime by using ToroRental.com to get products and parts in a few clicks. With products from compact utility loaders and attachments, walk-behind trenchers, tree care, turf renovation, compaction and concrete and masonry equipment, Toro offers the widest selection to rental stores and now it's all available at www.tororental.com.
To view the ToroRental.com video, please visit: http://ow.ly/yYeqp.