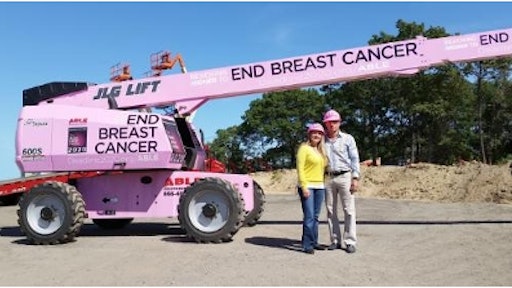 ABLE Equipment Rental and the National Breast Cancer Coalition (NBCC) are pleased to announce their partnership through the use of ABLE's, Reaching Higher To End Breast Cancer pink construction boom. Typically, at a jobsite an ABLE boom lift usually raises people so they can reach higher. When they wanted to raise awareness about the National Breast Cancer Coalition's (NBCC) Breast Cancer Deadline 2020, ABLE knew exactly the platform to use. The Long Island, NY-based company had a 60-foot construction boom lift painted a special pink color and then branded it with NBCC's website, logo, and a very clear message: "End Breast Cancer."
Beginning in October, ABLE will donate a large percentage of the rental revenue generated through the use of the pink boom. "We're proud to partner with National Breast Cancer Coalition and bring much needed attention to this very important cause," said Steven Laganas, co-owner of ABLE. "As a company, I felt we needed to do more to raise donations, awareness, and support about breast cancer and the important work that NBCC does," he added. "We want to spread the word about the unique approach NBCC is taking by setting a deadline to know how to end breast cancer by January 2020," said ABLE co-owner, Eliza Laganas.
ABLE does business in key cities in the northeast, and it's likely that several different markets will be exposed to the very distinctive looking boom and its message. "We are thrilled to announce this partnership with ABLE," said NBCC President Fran Visco. "Using the boom to get our message across is a unique and exciting opportunity to reach people who may not know about Breast Cancer Deadline 2020," she added. Donations can be made by visiting Deadline2020.org/able.