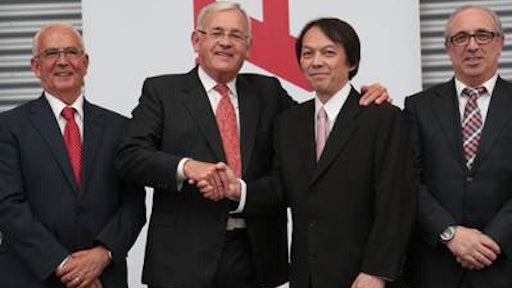 Generator set manufacturer Himoinsa, operating in the U.S. as HIPOWER SYSTEMS, announced it has signed a consolidated operation agreement with Japanese firm Yanmar, a leading  producer of diesel engines for agricultural, marine and construction equipment. The arrangement will strengthen the market positions of HIMOINSA and Yanmar and enable HIMOINSA to add generator engines to its product line.
HIMOINSA President Francisco Gracia stated that the relationship with Yanmar has been excellent since the beginning of their collaboration in the genset business in 2006, and that this step is a logical evolution in their affiliation. "To gain competitive advantage in the global market for HIMOINSA as much as for Yanmar, we have sought to strengthen our mutual ties, resulting in our current partnership," said Gracia. "Our distribution network will benefit from this agreement."
HIMOINSA's long-standing goal has been to operate as a vertical manufacturer, offering a product that features 100% HIMOINSA quality. In this pursuit over more than 30 years of history, the company has oriented its business strategy to engineer and manufacture all the components required for a generator set. The company already produces its own alternators, electric controllers, canopies and other components, and with this business alliance, HIMOINSA adds engines to its business line.
According to sources on the Yanmar Executive Board, the consolidated business structure will enable HIMOINSA to improve its industrial development and strengthen its position in the international market. The alliance will provide a wider product range with technological excellence, more advanced, higher-quality production processes, a stronger sales rate and more robust development of HIMOINSA's services and company professionals.
With the new structure, Yanmar will acquire a 70% stake in HIMOINSA. No changes to company names, branding or employee structuring will occur at either firm as a result of the arrangement.
"We believe the bond created between the two companies will be stronger than if we were operating separately," said Gracia. "It will also give us a more prominent position in the global market."