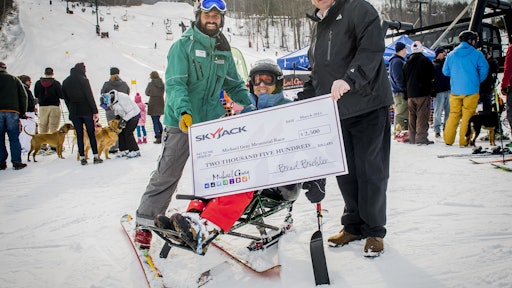 Skyjack has completed its first 30 FOR 30 PARTNERS project in the United States by supporting the 15th annual Michael Gray Memorial Ski & Snowboard Race to benefit The Adaptive Sports Foundation.
Held on March 7, the day-long event, which included a race, raffle, dinner and dance, was started by Michel J. Gray's family after the snowboard instructor was tragically killed in a car accident. All proceeds go to The Adaptive Sports Foundation, a nonprofit that provides disabled people with opportunities to enjoy skiing and snowboarding, just like Michael did.
"The race, and our partnership with the Adaptive Sports Foundation, is a perfect way to memorialize Michael and pass on his love for skiing and snowboarding, and for helping others," said Kevin Gray, a Skyjack customer and Michael's brother who co-founded the race. "I am grateful that Skyjack shares the same values as Michael, and was able to sponsor our largest event to date."
Gray, vice president and co-founder of FCG Industries Inc. and High Reach of Maryland, has been a loyal Skyjack client for two years. He says he's a big fan of Skyjack because even though the company has grown over the years, it is still very easy to work with the company.
"Skyjack has continuously been a great company to work with - from their knowledgeable staff to their Simply Reliable service," said Gray. "Supporting my brother's memorial race is just another way Skyjack has gone above and beyond for its customers."
Skyjack representative Doug Mingst attended the race in Windham, New York and presented a $2,500 check to the Michael Gray Memorial Race Foundation on behalf of Skyjack.
"Through the 30 FOR 30 PARTNERS program, Skyjack is giving back to the communities that have supported them for the past 30 years," Mingst said. "Kevin is a big Skyjack supporter and it was an honor to give back and help support a great cause."
In total, Michael Gray Memorial Race raised a record $50,000 to benefit The Adaptive Sports Foundation. Established in 1984, the foundation provides services to children and adults with cognitive and physical disabilities through outdoor physical activity, education, support and community.
Skyjack's donation will help further The Adaptive Sports Foundation's mission of providing life changing experiences to people with both physical and cognitive disabilities.