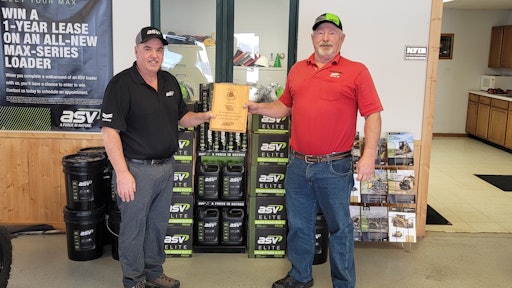 Every year, ASV Holdings Inc. announces its Dealer Award winners that are recognized for being a top-performing and loyal ASV dealer. The year of 2020 is no different, however different the year looked — masks and all.
This year, ASV announces Duffy's Sales & Rental as the 2020 Dealer of the Year, while CLM Equipment seals the deal as the 2020 Rookie of the Year.
"Duffy's Sales & Rental and CLM equipment went above and beyond representing the ASV brand and showing a passion for the equipment that is hard to miss," said Jeff Pate, director of sales for the ASV brand. "We are proud to show our appreciation for their promotion of the ASV brand promise in every aspect of their businesses."
Duffy's Sales & Rental was chosen for its leading sales and performance in 2020. Its business has been providing sales, rentals, parts and services to ASV customers in construction, landscaping and land clearing.
The Rookie of the Year award was presented to CLM Equipment for its achievements and contributions to ASV in 2020. 
Insight provided by ASV Holdings Inc. and edited by Chantal Zimmermann.