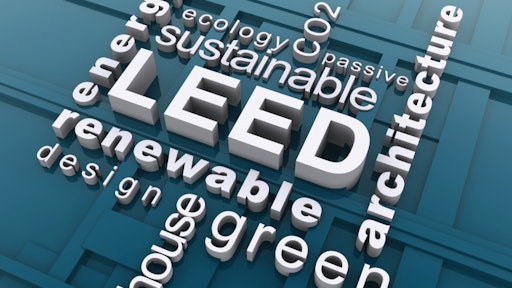 There are high-performance cars, high-performance athletes, high-performance organizations and high performance students. So it should not be any surprise that there are now high-performance building projects, and the race is on to craft environmentally sound buildings, neighborhoods, fleets, landscapes and a variety of other projects using sustainable design, construction and operational practices.
Sustainable projects are rapidly growing in number. In fact, the sustainable building market now accounts for more than one-third of the commercial construction market and is predicted to grow to more than half of the market within five years according to the U.S. Green Building Council (USGBC).
Sustainability, LEED and Contractors
It is the contractor who is in the driver's seat during all phases of sustainable construction projects, including predesign and design, construction and closeout. The contractor is involved before the race starts and continues driving sustainability through to operational training.
Though the word sustainability is tossed about like a flag waving at a finish line, it has specific meaning in the built environment. (See "Sustainability — What does it really mean?") Contractors that play a role in design and construction of LEED projects need to understand the differences that define a sustainable project from one that is not. This understanding influences project decision makers, and the contractor is one of the principal players. Incorporating sustainability principles in practical applications is a major undertaking given the many building components, environmental considerations and changing technologies. LEED serves as a framework and benchmarking program for a project life cycle that includes designing, constructing and monitoring/operating projects that incorporate the six sustainability principles. (See "Sustainability — What does it really mean?")
LEED Certification
The minimum goal of LEED is to design, construct and operate new and existing projects to consume less energy, water and resources; produce less waste; provide a healthier environment for occupants and visitors; and reduce the project's impact on the environment during its life cycle.

The certification process uses a 100-point system and evaluates each requirement within each category of prerequisites and credits. There are four certification levels: Certified (40-49 points), Silver (50-59 points), Gold (60-79 points), Platinum (80 or more points). It is also possible to earn bonus points in Innovation in Design and Regional Priority. The steps to certification include the following:
Choosing a rating system;
Registering the project with Green Building Certification Institute (GBCI);
Completing and submitting an application (LEED provides for two stages of document submittals which are Design and Construction. Projects also have an option to submit all documentation after construction closeout);
GBCI reviewing application; and
LEED awarding certification.
Before a building will be rated on degree of compliance, it must first pass the prerequisite requirements. Extensive documentation is required based on the rating system chosen.
THE Importance of the Contractor's Role on LEED Projects
The contractor's role on any project is critical, especially for sustainable design. LEED accredited professionals (APs) include general contractors, architects, engineers and other project stakeholders.
The LEED AP general contractor or Construction Manager (CM) for the project will participate on the project team of professionals to set the environmental target for LEED certification level and assist with value engineering of the design and construction of the project.
In initial meetings, the project contractor should participate in discussions of certification targets and the LEED credits that are being considered, and offer input on the feasibility and expense associated with these targets based on prior experience. This will allow designers to take these comments and considerations into account from the earliest design phases, reducing the need for redesign later on. Participating in these meetings will also allow the contractor to ensure that his team is adequately prepared to complete the project in accordance with LEED requirements and any other initiatives that the project owner may want to implement.
Some LEED credits may require additional training for team members or different procedures to be followed on site, and understanding these requirements from the start will help a contractor to streamline their training and work more efficiently. The contractor's central role in LEED projects endures through all project phases, including pre-design and design, construction and closeout.
Revving Up the High-Performance Building Project
It is clear that the LEED certification process is detailed, thorough and important to the future of green building. LEED 2009 is in the process of being updated to LEED 2012 and some proposed changes have already made it through three comment periods, so they are likely to be approved during voting.
Ultimately, a LEED project is designed to protect the environment and occupants from harm to the greatest extent possible. Sustainability is an issue that will become even more important as the population grows and more pressure is placed on the environment. High-performance projects are in a race to become more environmentally friendly, and the winners will see substantial rewards in terms of energy savings and increased lease and sale prices for certified projects.
Sustainability — What does it really mean?
Sustainability includes six core principles for new or existing buildings that can be retrofitted:
Optimize Site/Existing Structure Potential — Optimize sustainability through decisions on location and orientation, landscaping and physical security.
Optimize Energy Use — Reduce energy load, increase energy efficiency. Utilize renewable energy resources in federal buildings as a minimum and in commercial structures whenever possible.
Protect and Conserve Water — Efficient use of water and incorporating recycling when feasible.
Use Environmentally Preferable Products — Choose materials that have least harmful impact on the environment and human health.
Enhance Indoor Environmental Quality — Maximize use of natural light, install quality ventilation and filtration systems, control moisture, and select materials that do not produce harmful emissions like VOCs.
Optimize Operational and Maintenance Practices — Design and build structures that ensure ongoing sustainability after occupancy and track status and progress through metering systems.
Source: ASTM E2432-11 Standard Guide General Principles of Sustainability Relative to Buildings, Vol. 4:12 (2011). West Conshohocken, PA: ASTM International.