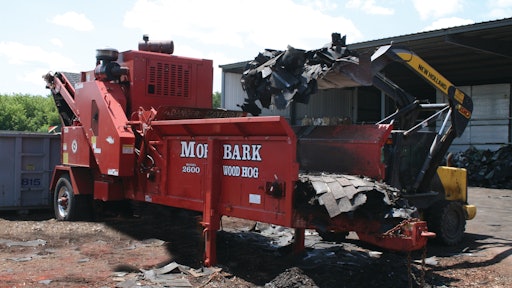 Recycling continues to gain traction among contractors as a way to diversify business and secure profit potential. In today's world, there are viable markets for recycled products ranging from asphalt to concrete to wood. The trick is to identify potential revenue streams and calculate the costs of the equipment and labor required to turn the waste stream into a sellable product. Contractors must carefully weigh the risk vs. rewards, and many have already proven that materials once headed to the landfill can actually be converted into profitable products that are more environmentally sensible.
CHARLES COPLEY ROOFING: Part of a Bigger Picture
For more than four decades, Charles Copley Roofing has been serving customers in the Crystal Lake, Illinois, area as a roofing contractor and materials supplier. Owner Charles Copley Sr.'s philosophy has always been to expand into new and different markets. The latest example of that growth strategy, a foray into shingle grinding and recycling using a Morbark 2600 Horizontal Grinder, is still in its formative stages. However, the company is already seeing a good deal of potential, an increased level of interest in the end product created and a future that promises further growth.
Nationwide, millions of tons of waste asphalt shingles are generated each year. As one of McHenry County's larger roofing companies, Copley generates its share of that total — as well as other debris — from its own projects. For years, the company was forced to landfill the waste material at its own expense. According to Copley, doing so was not only costly, but it seemed counterproductive.
"There was a point that we were sending as many as five roll-offs per week to the landfill and paying roughly $400 per roll-off," he says. "Although that was a large expense, at the time we had the luxury of utilizing a landfill about 10 minutes from our office. Today, allowing for traffic, a trip to the landfill is an hour and a half each way. That means we have a driver tied up for three hours; we are putting three hours of wear and tear on a truck; and we are burning three hours worth of fuel."
Faced with these costs — and hounded by a sense that there had to be a better way — Copley decided to regroup and take matters into his own hands. He started with research into different ways to process the material he was collecting.
More than wood
"I looked at every possible grinder and shredder on the market," he says. "I quickly learned that almost any material made today can be reduced in size — for a price. But I didn't need a million-dollar machine that could reduce a car engine to scrap. I needed an affordable machine that could downsize wood and shingles, was easy to operate and wouldn't have maintenance issues."
Copley chose a Morbark 2600 Wood Hog that is designed for use with brush, yard waste and other mixed woody materials. Copley grinds all of the construction wood it gathers from its roll-off and roofing operations, colors it and makes the mulch available to both the general public and area landscaping firms. However, the grinder's design lends itself for use with other materials, including asphalt shingles.
"The grinder has performed well for us with the shingle operation," says Charles Copley Jr., the company's general manager. "Since we started that part of the business, we have probably processed thousands of yards of shingles. We use a skid-steer loader to feed the grinder, which takes the material down to 1 ½-inch product. As the downsized material exits the machine, it is run past a magnet to remove any nails that may have made it past the initial hand-sorting."
The primary ground material is fed into a rolloff box, then sent back for a second pass through the grinder, this time fitted with a ¾-inch screen needed to produce material in spec with Copley's customer.
Efficiency is key
Copley Jr. says the recycling facet of their operation has surpassed the break-even point, and the company is turning a profit, especially since the Illinois Department of Transportation (IDOT) wrote RAS (reclaimed asphalt shingles) into its specs late last year.
"Business today is so competitive that a company has to do everything it can to operate efficiently," says Copley Jr. "The people who are looking at ways to save money and improve their operations are the ones that will be around a year from now."
Planning for change
Today, Copley's ground shingle material is being sent to an asphalt producer in neighboring Wisconsin as well as to customers in Illinois.
"IDOT accepting this material for in-state use was something that should have been done a long time ago," notes Copley Jr. "If people genuinely care about the environment and saving resources, it doesn't make sense not to make use of this material. What we're doing is no different than recycling cardboard or plastic, yet many others around the country are slow in seeing it
that way."
Copley says he sees their recycling operation as being about much more than just getting rid of waste or turning a profit.
"For me it's about helping ensure a decent environment for our kids' future. Companies like us have to do something now — not later — so we are proud of the steps we have taken and hope others will follow
our lead."
DEMO PLUS/EARTH FIRST: A One-Stop Shop
Nashville, Tennessee-based Demo Plus was named 2009 subcontractor of the year for projects under $250,000 by the Associated General Contractors (AGC). The company provides a turnkey approach that includes assessment, abatement, demolition and recycling of a project from a single source. Up to 85% of the debris from its demolition sites is salvaged. The company recycles and cleans old brick to reuse in construction as well as salvaging ferrous and nonferrous metals, wood, ACT (acoustic ceiling tiles) and even carpet.
"Our business involves architectural, structural demolition and abatement," says Steve Cline, owner. "We also perform environmental consulting, which starts early in a project. Once the material is identified, we handle the asbestos and lead-based paint removal as needed prior to the demolition project. To top it off we are able to perform waste hauling and recycling without the need of multiple subs. We are a full-stream process."
Demo Plus was already trying to salvage as many of the recycled items as it could from its demolition projects before debris was hauled to the landfill. "This led to the development of a waste hauling container service as well as our C&D recycling facility, Earth First C&D Recycling," says Cline.
Creating a recycling business further extended the one-stop shop approach. "We have one sorting facility today, and we are in the middle of building a second facility," says Cline. " The company made an investment in roll-off containers to help facilitate a steady flow of C&D debris. "We run 170 roll-off containers with our own fleet of roll-off trucks."
Contractors can pay Earth First to collect their construction and demolition debris with their roll-off container service. In exchange they can earn valuable LEED points for their projects.
"Recycling does have costs associated with it," says Cline. "You do pay similar to a landfill rate, but instead of compacting the waste in a landfill, the process is recycling the material. As long as you can be competitive, does it really make sense to landfill versus being able to recycle and reuse in today's world?"
Currently the most profitable demolition debris is metal. "Everybody is always after metals," says Cline. "Cardboard is probably second." But he has found many other revenue streams for recycled material and is always looking for more. "We sell wood to a biofuel facility that burns it as boiler fuel or to another company that makes colored mulch out of it."
The company even recycles old bricks. These bricks are taken to an off-site facility to be cleaned, stacked and palletized. "It is all done by hand," says Cline. "It is very labor intensive to take bricks and literally knock the mortar off them. One employee should be able to shuck 2,000 to 3,000 bricks a day."
Cline declined to comment on a few other products under development, but he acknowledges that there will be other revenue streams in the near future. "I would love to take zero to the landfill, but I know that is impossible."
When setting up a recycling operation, you must realize that there is no such thing as a one-size-fits-all approach. To be successful you really need to study and understand your local markets to determine which products will be easier to sell in those markets.
For instance, Nashville is in the heart of one of the aggregate capitals of the world. "Every place you turn around there are quarries." This would make it very difficult to sell crushed concrete as aggregate. "Every market is different." Just because you do it in one market doesn't mean it is feasible in another market.
ZWICKY PROCESSING AND RECYCLING: A Business Transformation
Robesonia, Pennyslvania-based W.D. Zwicky & Son, Inc. began in the excavating business more than 30 years ago. The company has now transitioned into land clearing and demolition work, with an emphasis on its recycling operations — Zwicky Processing and Recycling Inc.
A good neighbor
Time spent with owner, Dave Zwicky, reveals an altruism that is reflected in his business and his personal life. A glittering windmill on Zwicky's property not only blends in with nearby Amish farmsteads, but it also pumps water at a pond used for both an emergency supply of water and as a retention pond. At his Robesonia site, as well as his expansion site several miles away, Zwicky is scrupulous to minimize the operation's impact on the environment.
"No runoff leaves the property," he stresses. "All the runoff is recycled back into the operation and all the noise is contained, too."
"In the early 1980s we started recycling," recalls Zwicky. "That grew as a spin-off from the excavating business. As land became more valuable, owners didn't want stumps buried on the jobsite, so we began taking the stumps home to our farm. Our first recycling activity was grinding tree stumps.
The stumps were processed into mulch. First the company began working with an outside vendor to transform the ground stumps into mulch, but eventually Zwicky ground his own mulch. This required an investment in capable grinders.
"Our first equipment was from Morbark — a stump waste recycler," recalls Zwicky. But processing stumps with modified excavating equipment was hard work (think manhole covers and fence posts attempting to travel through equipment), and when Zwicky saw an advertisement for a new Morbark grinder, he traveled to the company to see the machine in action. The rest, as they say, is history.
Zwicky has been working with Morbark ever since. He has even worked with the company to design a special Morbark machine for C&D recycling. This grinder was the result of close collaboration between Zwicky and Morbark and was released at ConExpo.
Organic recycling for profit
Today Zwicky owns a mobile Morbark fleet that includes 22 grinders — a combination of slow speeds, tubs and horizontals. "We have a screening plant and a lot of magnets. All together we have 122 pieces of motorized equipment if you count our trucks, grinders, bulldozers, front-end loaders, excavators, wheel loaders and screens," he notes.
Much of this equipment is used to carefully manage stockpiles on the company's three sites. The largest of these sites is 140 acres, with an additional 45-acre site and a 25-acre site.
Dave Zwicky is a passionate advocate of recycling. He and his company strive to produce consistently high-quality organic products for their customers who wish to recycle 100% of their organic waste. These customers include land clearing and recycling accounts such as high-tech site remediation and recovery projects, landfill mining jobs and custom grinding contracts with area colleges, universities, municipalities, military bases, golf courses and cemeteries.
New products abound
The products produced by Zwicky Processing and Recycling Inc. are diverse and continue to expand. "As a company, our goal is to lead the way in recycling because we sincerely believe that everything has a use," says Zwicky. "Last year we recycled about 270,000 tons of material."
Currently, 97% of the materials that pass through the operation are recycled. (Just 3% of the recycling stream is not practical to recover.) The recyclable material includes C&D, concrete, brick, block and plastic. Zwicky is an innovator who is always on the lookout for new products that can be developed from an existing product stream.

"It is obvious by what we do that nothing is really a waste. Everything is a commodity. We don't look at the material that comes in as a waste," he stresses. "We feel good about diverting it from a landfill, but it is also a commodity for us."

The company has even developed products for traditionally difficult products such as gypsum board. "We recycle it and it goes into ag products," says Zwicky. "Gypsum can be used as a substitute for lime to help balance the PH in the soil. The paper also makes a good bedding in the barn.

"Our process is mechanized, but we still have employees," says Zwicky. "We do a hand separation as well as a mechanical separation. We run five 12-hour day shifts. We used to run two full lines. We actually ran the separation system 20 hours a day, but we reduced that to 12 hours a day, five days a week. We have 68 employees full time."

Material sourcing has not been an issue. There are incentives for working with Zwicky Processing & Recycling, including the ability to earn LEED credits.

"Most of it comes in from others' roll-offs, and we get a lot out of transfer stations," says Zwicky. "Some comes in presorted. Some comes in unsorted. We will work with anybody who has material that we could use and who wants to work with us. We also do quantity pricing and presorted pricing. We actually have a waiting list of people who want to bring material to us. Our limit is that we have to be able to justify taking it in so we can do something with it and put it back out."