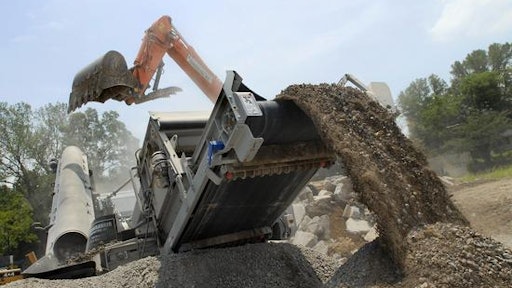 Reusing the rubble from construction sites isn't just keeping the environment clean, it's also keeping building costs down.
Efforts to recycle building materials, from chunks of concrete to scraps of drywall, are increasing in the Cape Girardeau area.
Fronabarger Concreters of Oak Ridge recently invested about $850,000 in a Rubble Master portable concrete crushing machine and support equipment allowing them to grind old concrete into gravel that can be reused on site.
In its first three months of operation, about 25,000 tons of concrete have been recycled, Glenn Fronabarger said.
Instead of hauling scrap concrete off to a landfill and then hauling new rock from a quarry to the job site, the equipment allows Fronabarger to use what's already there.
The machinery has a magnet that collects the rebar from the concrete scraps. That is recycled separately, he said.
Fronabarger Concreters uses the Rubble Master to extract the steel reinforcement rods from concrete to be recycled.
After seeing similar crushing equipment promoted at industry trade shows, Fronabarger said, he became convinced of the need for it after the rehabilitation project on Independence Street in Cape Girardeau.
"On Independence, we had a lot of material hauled away and we had to haul a lot of new material in," he said.
When his company was selected as general contractor for the relocation of North Main Street around the Isle of Capri casino site -- a project that required tearing out about 3,000 feet of the street -- he decided to buy the equipment.
"Each year it gets a lot harder to find places to dump concrete in the city," Fronabarger said. "Landfills are getting full."
At the Isle site, Fronabarger's new crushing equipment was used to recycle concrete from the foundations and driveways of homes torn down to make way for the casino.
"A lot of what we were taking out was from the old shoe factory foundation buried years ago," he said. All that concrete was crushed and reused as fill material around culverts, pipes and storm-water lines.
The crushing machine is moved from site to site, but other contractors have been bringing their scrap concrete to be recycled as well.
About 95 percent of the concrete torn out from the former Capaha Pool was recycled, as well as portions of Big Bend Road and scrap concrete from the Menards home improvement store site.
Asphalt from Interstate 55 repairs has also been recycled with Fronabarger's machine.
"It saves fuel, and it saves man-hours," Fronabarger said. "At $4 a gallon you might run 60 to 80 gallons of fuel through a dump truck in a day."
Common in big cities
Although new to Cape Girardeau, concrete recycling machines are being heavily used in metropolitan areas, Fronabarger said.
"In most cities like St. Louis, Chicago and New York, you have to recycle all of your concrete on a job. You're not even allowed to take it away and bury it," he said.
Fronabarger hopes the city will modify its standards for building road bases to allow recycled concrete to be used.
"It's just as good as quarry rock. Some cities even mandate you use a percentage of it," he said.
City engineer Kelly Green said if Fronabarger can crush it to meet city specifications, then the concrete could likely be allowed to be used.
William Turley, executive director of the Construction Materials Recycling Association in Eola, Ill., argues that recycled concrete is actually a superior base material than rock.
"The best rock out of the quarry was used to make concrete," he said. "It also contains unhydrated cement, cement that didn't get wet the first time, so when you put the crushed concrete down as a road base and you wet it, it hardens and you can't even drive a stake into it."
During the past 20 years, the construction recycling industry has really taken off, Turley said.
"The money you can save is unbelievable. Besides that it's the right thing to do for the environment," he said.
The Construction Materials Recycling Association estimates that 600 million to 700 million tons of construction and demolition waste are dumped in U.S. landfills annually, compared to only about 300 million tons of municipal solid waste.
About 140 million tons of concrete are now recycled each year in the U.S., according to the Construction Materials Recycling Association.
Recycling drywall
Recycling gypsum drywall is another growing area of construction materials recycling, Turley said.
Local contractor Jeramy Goehman is completing work on a 3,600-square-foot facility in the Cape Girardeau Industrial Park to house his company, Renewable Resources, which will open this fall to recycle both gypsum drywall and asphalt shingles.
The recycled shingles will be used in road paving and the reclaimed gypsum will be processed into a fine powder sold in bulk as a soil supplement used by local farmers and gardeners.
"Why throw something in the ground when you can create a job and have another product out of it?" Goehman said.
He plans to hire at least three people during his first year of operations.