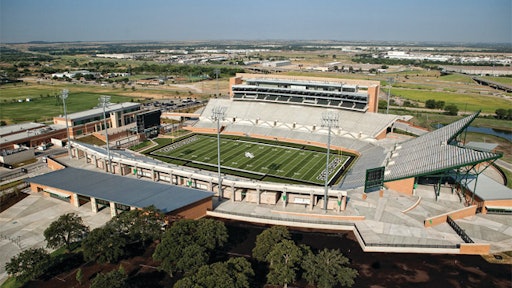 DENTON, TX –The United States Green Building Council has awarded the University of North Texas' Apogee Stadium a LEED Platinum Certification, making it the first newly constructed collegiate football stadium in the  nation to achieve the highest level of LEED certification. 
"This is a great accomplishment for UNT and strongly underscores our commitment to sustainability," said UNT President V. Lane Rawlins. The UNT System led the construction of the stadium, which was designed by HKS Sports and Entertainment Group and built by Manhattan Construction Company.
The UNT System commitment to building green grew from an initiative to construct future buildings to meet or exceed the latest efficiency and environmental standards. It also supports UNT's commitment to sustainability, which was deeply underscored when it became the first large public university in Texas to sign on to the American College & University Presidents Climate Commitment in 2008. There currently are three LEED Gold certified buildings on UNT System campuses - the flagship campus in Denton, UNT Dallas and the Health Science Center in Fort Worth with two more awaiting certification.
Because UNT uses its buildings for 50 to 75 years, LEED certified buildings are practical, said UNT President V. Lane Rawlins. "By building in this manner, the sustainable features of the buildings pay for themselves through their efficiencies within eight years. Plus, environmentally responsible buildings mean healthier buildings with better air quality," Rawlins said.
The 31,000-seat Apogee Stadium features luxury suites, an amenity-filled club level, a Spirit Store, a corporate deck and a unique end-zone seating area. In addition to hosting UNT events, it will serve the entire North Texas region as a venue for outdoor concerts, community events, high school games and band competitions.
"This tremendous accomplishment could not have been achieved without a highly dedicated and focused team effort by UNT System, UNT Office of Sustainability, North Texas Athletics, the students, HKS and Manhattan Construction Company," said Raynard Kearbey, AIA, NCARB, LEED AP BD+C, MSFM, associate vice chancellor for system facilities for the UNT System. 
Apogee Stadium will achieve another first in December with the completion of three wind turbines that will feed the electrical grid that powers the stadium. Using a $2 million grant from the State Energy Conservation Office, UNT currently is installing the wind turbines, making Apogee Stadium the first collegiate stadium designed to incorporate onsite renewable wind energy.
According to Greg Whittemore, AIA, LEED AP BD+C, project manager with the HKS Sports & Entertainment Group, the stadium was designed with sustainability at the forefront. "A football stadium is not the typical LEED Platinum candidate. It took creative thinking on the parts of the design and construction teams in conjunction with the UNT System and North Texas Athletics. Today, the Apogee Stadium's LEED Platinum status is a testament to the team's dedication to sustainability."
"From the wind turbines to the native landscaped surroundings to the eco-friendly building materials, Apogee Stadium is a one-of-a-kind green venue," said HKS's Chris Mundell, AIA, CSI, CDT, LEED AP BD+C, who served as the project's LEED consultant. "This high-performance building design will reduce energy costs by approximately 25 percent. The wind turbines will also substantially offset the external energy demand."
Sustainable Design Highlights:
Enhancing the Site and its Surroundings
More than 50 percent of the stadium site is preserved or restored with landscaping that is native to the North Texas climate.
The natural, park-like setting allows the community to enjoy the venue year-round. Permeable pavers, combined with the native, landscaped site, reduce stormwater runoff and minimize the heat island effect.
Campus bus stops, secured bicycle storage and preferred parking spaces for carpooling were provided to promote use of the stadium by alternative means of transportation. Paved walkways and bike paths through the park-like environment connect back to the main campus, encouraging fans to walk or bike to any stadium event.
Reducing Water and Energy Consumption
It is estimated the three wind turbines will provide approximately half a million kilowatt hours per year for the UNT Eagle Point power grid effectively eliminating 323 metric tons of CO2 from being emitted annually into the atmosphere. A web-based monitoring system will provide details on energy production, carbon reduction statistics and empirical data that can be used for both educational and research purposes at UNT.
The high-performance stadium design uses energy-efficient heating, ventilation and air conditioning and lighting equipment, reducing energy consumption by 25 percent.
Low flow plumbing fixtures – such as sinks, toilets, urinals and showers – will reduce water consumption by more than 52 percent.
Promoting Sustainable and Recycled Materials
Seventy-five percent percent of construction waste materials were recycled by the stadium's contractor and prevented from being dumped in a landfill.
Of the products and materials used in the construction of the stadium, 20 percent were made with recycled content and more than 47 percent were manufactured locally.
To further reduce CO2 emissions, higher percentages of fly ash were substituted for cement to construct the concrete portions of the project.
Improving Indoor Environmental Quality
Low volatile organic compound emitting materials such as adhesives, sealants, paints, coatings and flooring were used to improve the indoor air quality for the building occupants.
Ninety percent of regularly occupied indoor spaces provides occupants with natural daylight and views to the outdoors.
UNT implemented green policies and procedures for stadium operations and maintenance.
The project team included: HKS Sports & Entertainment Group, Architect; HKS DesignGreen, LEED Consultant; Manhattan Construction Company, construction manager; HKS Commercial Interiors, interior design; Smith Seckman Reid, mechanical engineer; Aguirre Roden, electrical engineer; Jaster-Quintanilla, civil engineer; Rogers Moore Engineering/Walter P Moore, structural engineers; Caye Cook & Associates, landscape architect; and Henneman Engineering, commissioning agent.