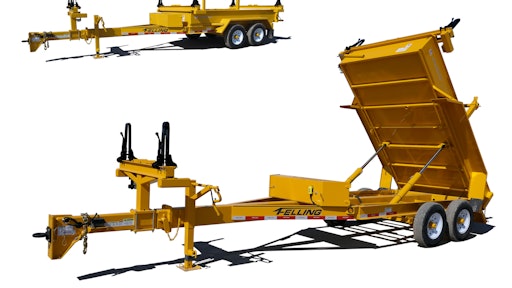 Felling Trailers has added the PCD, Pole/Cargo/Dump trailer, to their utilities-based product line. An operator can carry out a host of transport runs without changing out trailers, as the Pole/Cargo/Dump can transport poles, backfill, debris, and even reels with the optional removable reel stands.
The PCD has a 24-foot retracted overall length, equipped with a telescoping tongue. When fully extended, it increases the overall length to 40 feet, creating the ability to haul utility poles up to 60 feet in length.
Removable 96-inch-wide bolster with sliding, removable 21-inch lever lock stanchions. A 45-inch-wide bolster is included in the base spec with 60- and 96-inch-wide front bolster options, with sliding 21-inch lever lock stanchions. All bolster locations include a strap winch and 4-inch by 30-feet nylon straps to secure the utility poles.
The PCD model class consists of three models with GVWRs (gross vehicle weight rating) ranging from 16,000 lbs. to 23,000 lbs.
All the trailer wiring runs inside the tongue traveling in a heavy-duty energy chain (cat track). No user intervention is required of the wiring when extending and retracting the tongue, eliminating common issues.
The telescoping tongue is equipped with a 2-inch cold rolled steel, positive locking adjustment pin, and designed with a notched flange welded on the pin.
The cargo bed offers three-in-one functionality. Standard cargo bed provides the ability to utilize the trailer for everyday material hauling needs, dual hydraulic cylinders paired with a drop-down rear tailgate offers a fully functioning dump trailer, removable reel stands gain the ability to transport up to two 72-inch-diameter reels. The cargo bed is 12-feet long x 72-inches wide x 15 inches tall with a 3/16-inch smooth steel floor, (4) 5/8-inch straight d-rings mounted in box corners, and twin hydraulic cylinders.
Request More Information
Fill out the form below to request more information about
Felling Trailers Expands Utilities-Based Product Line with PCD