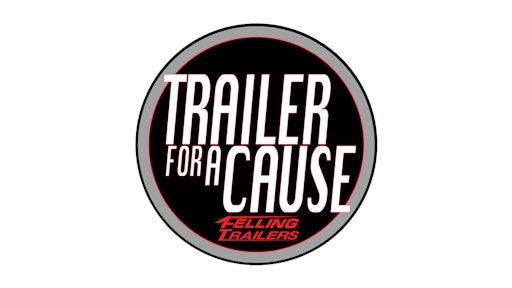 Felling Trailers will be hosting its seventh annual Trailer for a Cause online auction of an FT-3 Utility trailer to benefit a nonprofit organization. Felling Trailers' goal is to bring awareness to various nonprofits that are making a difference by donating 100% of the winning bid from the auction to a different nonprofit each year. The previous Trailer for a Cause auctions have raised over $17,000, and the money raised has gone to benefit organizations such as:
Bright Pink – Breast Cancer

PANCAN – Pancreatic Cancer

ACT on ALZ – Alzheimer's

ABTA - American Brain Tumor Association

SOMN – Special Olympics Minnesota

MOCA – Minnesota Ovarian Cancer Alliance



Felling Trailers, Inc., has selected Children's Cancer Research Fund (CCRF) as the 2019 Trailer for a Cause auction beneficiary. "For the second year, we put the decision of selecting the benefiting organization in the hands of our team members in the form of a vote. A list of organizations and corresponding information was given to team members to select from, and once the votes were tallied, Children's Cancer Research Fund received the most votes in their favor," said Brenda Jennissen President/CEO of Felling Trailers. "Nearly all of our team members know someone or are someone whose life has been impacted by childhood cancer, and we look forward to the opportunity to make a difference." The 2019 Trailer for a Cause will be painted in CCRF's signature grey color and display the Children's Cancer Research Fund emblem.

A Fall 2019 auction is being planned for Trailer for a Cause. Leading up to the auction, Felling Trailers will be working with CCRF to generate awareness about childhood cancer along with the research funding and resources that CCRF has to offer those individuals and families it affects. Only 4% of federal cancer funding is dedicated to childhood cancer, and Children's Cancer Research Fund works to fill the gaps by providing the critical funding needed to find safer, more effective therapies for kids battling cancer. Today more than 15,000 kids and young adults are diagnosed with cancer each year, which is approximately 42 per day. Approximately one in 285 children in the U.S. will be diagnosed with cancer before their 20th birthday.

CCRF's Mission

Children's Cancer Research Fund is a national organization dedicated to curing childhood cancer by investing in the most effective research, collaborating with the most talented minds, inspiring and educating advocates worldwide to take action, and supporting families.
About Children's Cancer Research Fund
Children's Cancer Research Fund invests in groundbreaking research that is leading to better treatments and cures for children with cancer. CCRF also funds vital family support services and advocates for childhood cancer education and awareness. Since 1981, CCRF donors have helped fund research that has revolutionized the way childhood cancer is treated worldwide. Children's Cancer Research Fund is a national nonprofit, and thanks to donors and partners around the country, has contributed $170 million to research, education and awareness, and quality-of-life programs for childhood cancer families. CCRF believes kids deserve safer, less toxic treatments and is committed to funding groundbreaking research and services that enhance healing and care. Visit childrenscancer.org or call 877-457-1091 to learn more.