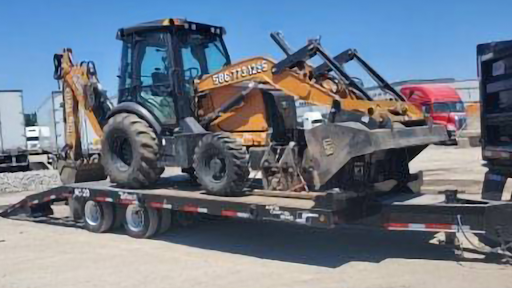 Talbert Manufacturing has released its Tag-A-Long Austin Carry-All Series (AC Series) Trailers to minimize load times and maximize productivity for everyday hauling of small- to mid-size equipment.
The line of 10- to 25-ton tag-a-long trailers features loaded deck heights, durable construction, and a low, 7° load angle to transport a variety of equipment — from asphalt rollers and machines for dirt work to cable and pipe for gas and electric utility applications.
"As contractors diversify their operations to meet changing demands, they require more flexibility from their equipment," said Troy Geisler, Talbert Manufacturing vice president of sales and marketing. "Our AC Series trailers are specially designed to maximize versatility while providing the durability and safety Talbert Manufacturing is known for."
For ultimate maneuverability in urban environments, the dual axle AC-10 offers a 10-ton, 20,000-lb. capacity with an overall transport length of 29 ft., 6 in. Deck length is 24 ft. — 19 ft. flat with a 5-ft. beavertail — with 5-ft., 5-in. self-cleaning, spring-assisted rear ramps. Loaded deck height is 32.25 in., up to 2 in. lower than other models, making it ideal for low clearance jobs, such as residential and commercial building sites.
The AC-20 is a step up for contractors looking for larger capacity, but with the same compact footprint. It offers a 20-ton, 40,000-lb. capacity while maintaining the same deck dimension and loaded deck height.
The AC3-25 has a 29-ft. deck — 24 ft. flat with a 5-ft. beavertail — and a 25-ton, 50,000- lb. capacity with a 32.75-in. loaded deck height. Like all AC Series trailers, the AC3-25 features pierced I-beam cross member construction for a solid foundation, making it ideal for off-road or rugged terrain such as construction and utility jobsites. Talbert also uses apitong flooring on all AC Series trailers for a more durable, longer-lasting deck surface. Compared to oak or other materials, this tightly woven and incredibly dense South Asian wood is less susceptible to chipping and cracking, and provides more traction.
The AC-20ART and AC3-25ART improve on the base design of the AC Series by incorporating an air ramp and/or air tilt for safe, easy loading of low-clearance equipment. The air-powered ramps eliminate handling heavy ramps prior to loading. This increases both efficiency and safety for loading and offloading operations.
Talbert designs its tag-a-long trailers for durability and longevity. Like all of the company's trailers, the AC Series comes standard with Valspar R-Cure 800 paint to prevent corrosion for a long-lasting finish and better return on investment.
Request More Information
Fill out the form below to request more information about
Talbert Manufacturing's Tag-A-Long AC Series Trailers