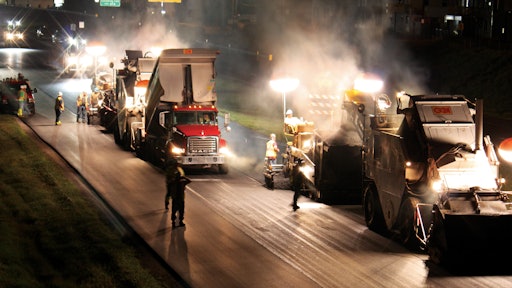 Pennsylvania-based Glenn O. Hawbaker Inc. (GOH) was founded in 1952 by Glenn O. and Thelma Hawbaker, parents of current president and CEO, Dan Hawbaker. They started out with a half-dozen employees, a few dump trucks, a track loader and a tag-along trailer. The small excavation company drew well below $1 million in revenue, but the wheels had been set in motion, and the gains grew rapidly.
Today, Dan Hawbaker continues the family legacy by running the company with his sons, executive vice presidents Michael and Patrick. GOH has transitioned to heavy construction, offering an assortment of services, including asphalt paving, road and bridge construction and rehabilitation, site excavation, gas well service and construction and engineering design. It employs 1,200 people and has annual revenue of more than $250 million.
GOH operates 24 quarries and eight asphalt plants in Pennsylvania, southern New York and eastern Ohio. Its customers include the Pennsylvania Department of Transportation, Penn State University and a lengthy roster of municipalities, colleges and corporate entities. GOH's larger projects run up to $60 million and include everything from working on interstates to renovating the runway at University Park Airport in State College, Pa., and performing the site work and excavation for Penn State's $89 million Pegula Ice Arena.
Managing Costs to Maintain Liquidity
With success comes challenges. Several years ago, budget cuts to Pennsylvania's Department of Transportation resulted in a 30% decrease in the company revenue.
Dan Hawbaker navigated the tidal changes with a push to find new customers, particularly in the energy field. The timing was right, and his instincts were spot-on. Natural gas was the place to be, and there was a mad rush for companies to tap into the lucrative Marcellus Shale, which stretches 104,000 sq. miles across the Appalachian Basin into Pennsylvania, West Virginia, southeast Ohio and upstate New York.
That meant new roads, new site excavation and a new revenue source for GOH, which was struggling to maintain its margins, retain its workforce and stay afloat. The bottom line, always a concern, was even more critical, and Hawbaker scrutinized every element of his business.
"You really have to look at how you can control the overhead of your operation and reduce it to a minimal amount but still keep yourself alive with the opportunities you have in front of you," Hawbaker says. "You do whatever you can to maintain liquidity that will satisfy those looking to you to make sure you meet your obligations."
One of his big concerns was fuel economy and efficiency, and for that, he turned to Jeff Wood, his dealer at Legacy Truck Centers. The contractor's 225- to 250-vehicle fleet is comprised predominantly of Mack trucks, including Granite dump trucks. A big reason is the dependability of the vehicles and the service provided by Legacy. "We're getting long years of service," says Hawbaker. "We can have them hang around for a pretty long time."
The older trucks are averaging 5 to 6 miles per gallon, but Hawbaker believes his recent 30-truck order of 2015 Mack Granites will improve those numbers significantly.
GOH operates a limited number of Allison automatic transmissions that have been favorably received by drivers but are heavy. It also field tested the new mDRIVE HD, expecting its lighter weight will help the payloads, which average more than 24 tons.
Hawbaker believes the new trucks will offer another advantage in solving an industry-wide problem: driver shortages and the constant search for people adequately trained to operate the heavy equipment.
"One reason we like the mDRIVE is the ability to simplify the driving process with an automated transmission," Hawbaker says. "I think we can bring in a wider range of drivers that would be able to operate equipment with an automated transmission as opposed to somebody who has to adapt to a 10-speed or 12-speed."
Another advantage is the commonality of the fleet. Drivers are comfortable knowing that they won't have to adapt to a new brand every few years. "We don't have to educate people on how to operate a diverse collection of trucks," Hawbaker says.
Focused on the Future
GOH has enjoyed 62 years of success, and Hawbaker intends to continue that positive momentum. He is particularly excited by the growth potential in the energy field as the nation pushes toward energy self-sufficiency. However, he cautions, there is no crystal ball that can predict what will happen with the national infrastructure legislation and state and federal funding for capital-intensive projects.
Energy construction will continue at a slower pace. However, Pennsylvania Act 89 has and will continue to provide much needed highway and infrastructure funding into the foreseeable future. Federal transportation funding is hopeful, but not to be counted on at this time.
"Our continued focus is our internal efficiencies of round trip times and working out round trip hauls to avoid deadheading," Hawbaker says. "The enormity of our national infrastructure needs can be overwhelming. Priority one needs to be maintaining and bringing to standard existing roads and second to focus on the many transportation capacity issues that are needed to increase the overall efficiencies of our economy."