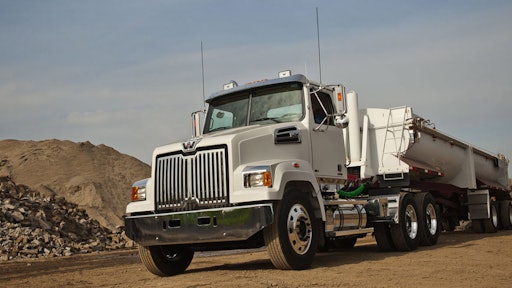 So how exactly will a prolonged driver shortage in the line-haul trucking business impact your construction operations? At first glance, it may seem the two industries are unrelated. But the reality is that construction contractors also heavily rely on trucks to move materials, and they will be directly competing for the available driver talent.
The shortage of truck drivers increased by over 10,000 in 2016 to hit 48,000, according to the American Trucking Associations (ATA). To make matters worse, the ATA estimates this shortage is on track to quadruple to 175,000 by 2024. Part of the future shortfall is due to the current age of drivers. The average age today is 49, and new drivers coming into the industry are not keeping pace with those approaching retirement. Trucking employs a greater percentage of people over age 65 (6.1%) vs. 20 to 24 year olds (4.9%).
As the economy continues to grow and there is a greater demand to move goods, this situation will worsen exponentially. The ATA estimates that 68.9% of freight in the U.S. is currently moved via freeways.
In the face of this reality, attracting and holding onto truck drivers needs to be a key priority. Many line-haul fleets have already started increasing wages, but that has not yet resulted in the necessary influx of new employees. In fact, the industry faces an incredible 80+% turnover rate, with most drivers quitting in their first year.
The bright side for contractors is the turnover rate for regional delivery drivers is much lower. Being able to return home every evening and spend more time at home appears to be a major competitive advantage. But given the competitive hiring environment, you need to look at all the options to keep current drivers happy and possibly extend their careers, and to make it easier to assimilate less experienced drivers.
Spec for the Operator
"Anything the owner can do to spec a truck that will attract and retain drivers should be considered," says Mike Guarino, on-highway and municipal segment manager, Western Star. "This might mean embracing new technologies, or looking at features that make the driver's job easier, more comfortable and more productive."
Many of the available options make economic sense. "Driver replacement can run up to $5,000 or more," says Kurt Swihart, Kenworth marketing director.
In the future, you may have a greater reliance on novice drivers. "Driveability and maneuverability is key for many novice drivers, as well as features that help protect the piece of equipment that new trucks represent," says Swihart.
One of the biggest hurdles to attracting a pool of new drivers is the ability to operate a manual transmission. Automatic and automated manual transmissions (AMTs) expand the potential driver pool and save on maintenance costs, such as clutch replacement. For experienced drivers, automatic transmissions and AMTs can reduce driver fatigue and possibly help extend their career behind the wheel.
"We are definitely seeing more demand on AMTs and automatics year to year, both in vocational and on-highway applications," says Swihart. "Resale is getting stronger because these transmissions are becoming more popular, as well. Less damage and less clutch replacement are huge benefits, and drivers utilizing an AMT really see that it is like they become an experienced operator right away."
Manual transmissions require experience. "Along with worrying about shifting and missing shifts while operating and maneuvering in tight spaces, it is really all about the learning curve required to become competent at driving manual transmissions," says Swihart. "It is also important to factor in fuel economy, even in more off-highway environments where AMTs or automatics keep the truck in low rpm situations and help get the best fuel economy possible. That's something that even experienced drivers could learn from."
"For an experienced driver, driving a manual transmission becomes almost second nature," says Guarino. "When an experienced driver drives an AMT for the first time, he or she realizes how much extra physical and mental effort driving a manual transmission really consumes. In addition to physically depressing the clutch pedal and moving the gear shifter with a manual transmission, the driver needs to be cognizant of what gear the transmission is in, and mentally prepare in advance for an upshift or downshift. There is a lot of 'thinking' involved in the operation of a manual transmission that contributes to mental fatigue. With an AMT, all of that goes away, allowing the driver to focus on other important needs."
How to Select the Best Heavy Truck Transmissions for Construction Use
Shift the Demands Placed on Drivers
AMTs typically fall in a price range between manual and torque converter-equipped automatic transmissions. "We are definitely seeing a growth in AMTs," says Chad Conley, director of engineering for severe service, Navistar. "AMTs provide a price point into the market that may be more beneficial than an automatic." AMTs also help close the productivity gap between novice and experienced operators. "Automated manuals for many owners provide a quick, neat answer to help make the gap between experienced drivers and novice drivers smaller."
But there is an upcharge vs. a manual transmission. AMTs can cost up to $3,000 to $5,000 more than a similar manual option.
For medium-duty severe service applications, Navistar still sees the torque converter automatic transmission as the most popular option. "But in our heavier duty vehicles, customers start looking for options," says Conley. "AMTs are a good choice for them right now because they provide many of the same options that they have today in a manual transmission."
When they first came out, there wasn't a high demand for AMTs in the resale market. "You can see in used truck prices where, as people get more comfortable with the automated manuals, the residual value of units with AMTs are starting to creep up," Conley notes.
Safety Gains Traction
Safety options are quickly gaining prominence as owners look to attract and retain drivers.
"Safety is always a priority to our customers and their drivers, and having the right features that appeal to and address their concerns is important," says Guarino. "Drivers face a lot of different challenges on the road and on the jobsite. Features such as the WABCO On-Guard and On-Lane Collision Mitigation Systems we offer with the 5700XE, as well as other safety features that are available in all Western Star trucks, can help mitigate accidents and help keep the driver, and drivers with whom they share the road, safe."
NHTSA Study Supports Use of Collision Mitigation and Lane Departure Warning Systems

Drivers and trucks represent a major investment. "To help protect the investment, features like Electronic Stability Control (ESC) and advanced collision mitigation systems are becoming more popular even in construction applications where safety is paramount," says Swihart. "Kenworth offers a wide variety of ESC and collision mitigation systems, including Bendix and Meritor systems, as well as electronic interlocks that may help to avoid accidents from happening, such as the driver lifting dump beds while driving down the road."
On-road Safety Technologies Move Into Off-road Trucks

Navistar offers collision mitigation systems as standard equipment on its latest generation trucks. Over the past several years, there has been an effort to improve the safety designed into the vehicles. "Now our push is how we avoid that collision," says Conley.
The Bendix system is standard equipment and customers have the option of the WABCO system. These systems are rapidly building momentum.
"Right now in the medium-duty vocational segment, the collision mitigation interest is probably higher than anything I have seen in my career and I have been around a while," says Conley. "The interest has grown so quick and is so widespread because the fleets are really seeing the benefits of preventing an accident vs. the safety during an accident. Although both are important, preventing it is where we want to be."
Conley claims the working conditions are not much of a factor in the reliability of the collision mitigation systems. "Those systems work in all environments," he states. "We do make sure that the radar in the bumper is recessed so it doesn't take an impact. But the radar in the systems is very robust. With the radar system, the dust and dirt don't really affect it. Obviously, if you get an inch layer of mud on there you are going to have problems. For the most part, they are well designed to handle the environment off the road."
Modern multiplex wiring systems also allow safety interlocks to be programmed, which makes it safer for both the truck and operator on the jobsite. The Diamond Logic multiplex wiring system has been central to International-branded trucks for many years.
"We continue to offer variations of technology around Diamond Logic to ensure that we can provide features and benefits for the customer," says Conley. "When you look at the novice driver specifically, we have interlocks. Especially as we unite the truck chassis with the body, we have interlocks for simple things like making sure wheel chocks as stowed before the driver can move the truck. If the tailgate on a box van is not shut, we have a lockout."
Diamond Logic is customizable. "We are literally coming out with new things almost every day as we receive requests for something that we have not done," says Conley. "We have body builders that have specific needs to meet some of the features of their product."
Consider Driver Comfort When Spec'ing
The conversation on driver comfort has gained importance in many purchase decisions.
"When we have spec reviews when we are working over an order, we are starting to see that the comfort features are discussed as much as the features needed to handle the functionality the truck is going to perform," says Conley. "As we talk to the fleet about their spec and the functionality of the truck for the application, now we have geared ourselves to talk about the driver. We want to make sure we help anywhere we can."
To attract drivers, you may want to place driver comfort near the top of your priority list. "Trucks have come a long way in comfort," Conley comments. "If you go back years ago, many trucks had spring suspensions with static seats." It was accepted that trucks provided a rough ride. "There is a different view on that now. People want trucks that have more comfort. They want it to drive more like an automobile."
Chronic back problems affect a large portion of professional truck drivers. Air ride seats, air suspension systems and better cab suspension designs can help minimize this issue. "I cannot think of a situation now where the fleet has not gone to an air ride seat and air ride suspension," says Conley. "Navistar is heavily in the vocational air ride suspensions for the rear axles. The focus has become retaining experienced drivers in the fleet and lengthening their careers."
Some of the high-end options previously available to the line-haul market, such as the BOSE Ride Seat Suspension System, are slowly trickling into vocational applications in an effort to increase driver health and comfort.
Conley says they now receive more questions around visibility and maneuverability, as well. If you couple enhanced visibility and ergonomics with collision mitigation systems, the trucks become less intimidating for potential drivers. "Now you are taking this big truck and allowing the novice operator to still feel safe and comfortable operating it," he points out.
Some comfort features, such as visibility, operator ergonomics and ease of entry/egress are built as standard into the truck. This requires you to understand the differences available between the various makes and models. "All of our trucks are standard with features such as larger door openings with steel handles to make it safe to get in and out of the truck; optimally placed mirrors and oversized windshields for optimum visibility; more space between the seat and the steering wheel for comfort; and comfortable seats with ample legroom," Guarino notes.
Even the dash layout and controls deserve careful attention. "The Kenworth T880 platform is the newest cab and interior to put gauges and switches 'where drivers expect them to be,'" Swihart indicates. "This means that the switches and gauges most commonly used are closest and in the most direct line of sight for the driver, which helps to keep eyes on the road and avoid accidents."
Entry/egress is also a consideration that can place a lot of strain on drivers, since they may be in and out of the truck several times a day. "As the diversity of your drivers continues to increase, we want to make sure that getting in and out is not just safe, but not straining on the driver," says Guarino. "Consider how high the driver has to lift his leg, and the position of the grab handles."
While many of the features listed may be hard to quantify, that does not diminish their role in attracting and retaining drivers. The driver shortage should be shifting the conversation you have with your local truck supplier since the competition for drivers is only expected to intensify.