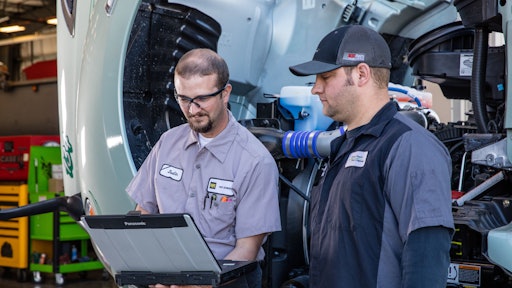 Kenworth
Most major truck OEMs are becoming proactive to minimize the effects of equipment failures by using connectivity tools to help fleets quickly make informed decisions. You can be quickly notified if an error code warrants immediate attention, or if the driver can complete the assigned task without disruption. In either of these scenarios, having actionable information as quickly as possible can translate into huge savings. Contracts stay on schedule and unplanned downtime can be better managed.
Today's telematics systems capture and transmit information on almost every aspect of operation. "As we began the journey to explore connectivity and uptime, powertrain integration was a key starting point," says David Purdue, vice president, connected vehicles, uptime services, Mack Trucks. "We took the intelligence that we had from an integrated vehicle and integrated powertrain and began to turn it into services that we could manage."
For Mack Trucks, the journey started around 2011 with its Assist tool for communication, which was a reactive communication tool that was used when a vehicle was already down. "From that point, we began to explore how we could improve and move from the reactive mindset into a more proactive approach based on that data that we have on the vehicle and introduce telematics," Purdue explains. "We took a baseline of what we had in place — our Assist and One Call organization that were managing cases for customers — then we introduced technology through telematics and GuardDog Connect. We looked at the engine, aftertreatment and mDrive and those level of codes that we knew could effect change."
This led to several time-saving measures. "We could have repair instructions already provided, the parts needed for the repair already defined," says Purdue. The codes were ranked for severity from most critical to moderate, with moderate meaning the driver can continue to fulfill his/her obligation through delivery of the load and a repair can be arranged at a future time.
"Today, we are continuing to evolve how we use data, whether it is emerging issues or information that we can work with the fleets on how the vehicle is utilized or when it is being utilized," says Purdue. "Things we manage today are much more complex than what we were managing in the early stages."
Eliminate Unnecessary Trips to Service Centers
One way to maximize uptime is to eliminate unnecessary trips to a service center. Not all warning lamp or check engine lamp faults are created equal. Some require immediate attention while others can be ignored until a more convenient time. The trick is to remotely identify the cause of the fault and determine the most appropriate action.
For Daimler Trucks, a key component to remotely identify fault codes is Detroit Connect Virtual Technician, the remote diagnostic service for Freightliner and Western Star trucks equipped with Detroit engines. With it, fleets and owner-operators are notified within minutes when their vehicles experience fault events, the severity of the fault and when, where and how to best fix the issue.
"Detroit Connect comes with every Freightliner or Western Star truck equipped with a Detroit engine," says Greg Treinen, sales and marketing manager for the connectivity group, Daimler Trucks North America. "Detroit Connect Virtual Technician has been factory installed on Detroit-equipped trucks since April 2011. The connectivity platform enabling Virtual Technician is compatible with vehicles EPA10 or newer."
The time savings with this technology can be significant. Approximately 20% of fault events transmitted by Virtual Technician have been identified as driver actionable. This means that the solution to resolving the fault can be put in the hands of the driver. In these cases, Virtual Technician sends the fleet instructions for the driver to use in resolving the issue.
"Detroit Connect Virtual Technician helps maximize uptime by categorizing fault events in a way that can eliminate an unnecessary visit to a service location during the middle of a route or during work on the jobsite," says Treinen. In the case of a Service Now event, the engine sensor data from 60 seconds before and 15 seconds following the fault event is sent to the Detroit Customer Support Center (CSC).
"The CSC experts send a follow-up notification to the fleet," says Treinen. "The notification outlines the cause of the fault event, the recommended parts to fix the problem and the nearest service location with those parts in stock. This ensures the chosen service location has the most in-depth information available so that the service repair can be completed as quickly as possible, and completed right the first time."
Customers have continual access to all fleet data. "Fleets can now interact with the data captured and transmitted by Detroit Connect in our new portal," says Treinen. "Fleets can interact with the fault event diagnostics and history generated by Virtual Technician. Access to the new portal is included with any active Detroit Connect subscription at no additional charge."
But maximizing available uptime also requires constant communication throughout the repair process. According to Kenworth, it has been shown that up to 80% of every service event consists of poor or slow communications and processes — lost time, effort and assets that could be better utilized moving your business ahead. Kenworth currently has more than 30,000 trucks equipped with its TruckTech+ remote diagnostics. "One of the main benefits of using TruckTech+ is the ability to help maximize uptime and better manage repair events," says Kurt Swihart, marketing director at Kenworth.
TruckTech+ provides instant notification of actionable engine and aftertreatment fault information so you can make decisions in real time. "TruckTech+ remote diagnostics allow customers to maximize uptime by utilizing real-time health information and providing precise locations of all trucks in the fleet," says Swihart. "From the PACCAR Portal, a fleet manager is able to look at all trucks in the fleet to determine which require support. In the event a vehicle needs support, the fleet manager can drill down deeper using the event view. Here, the portal delivers code data critical in determining the severity and the best course of action for a given event.
"Armed with this information, the fleet is able to make an educated decision on what course of action to take," says Swihart. "If a trip to a dealer is needed for support, the portal shows the customer the precise locations of nearby dealerships. All of these items help reduce ambiguity while driving maximum uptime."
With TruckTech+, Kenworth can track total "lamp-on time," which amounts to the total time a truck is experiencing check engine and dash indicator lamps. "While lamp-on time measures the frequency of potential service events, leveraging geofencing helps determine how long a truck is in a repair facility in the event it needs service," says Swihart.
When an engine dash lamp is triggered, TruckTech+ Remote Diagnostics sends a notification to the fleet operations manager and to designated Kenworth dealers. Immediate and simple recommended actions are provided to the operator through the driver performance center. "As the customer and driver can now understand the specific code driving an event, a better decision can be made whether or not a vehicle needs to be towed or if it can be driven to a dealership for service," says Swihart.
Much of the downtime associated with truck maintenance can be spent looking up details on a vehicle, leaving messages, returning phone calls, filling out forms, submitting estimates and waiting for approvals. If you want to increase uptime and utilization, reduce the management of service events and trim the true cost of maintenance, you need a system that can help you communicate better information faster and more efficiently — anytime, anywhere and on any device (desktop, laptop, tablet and smartphone) in real time. TruckTech+ Service Management allows you to manage scheduled and unscheduled service events in real time through a web portal that:
speeds communications and keeps everything organized — notes, emails, time- and date-stamped activity and electronic approvals;
eliminates error-prone data entry and the need to access multiple systems or portals;
centralizes and makes easily accessible all asset information — build, service history, warranty and product updates.
Cut Dwell Time
Dwell time is the amount of time a truck spends in a dealership for repairs as measured from the time the truck crosses the premises of the service shop until it leaves. According to Dennis Slagle, president and CEO, Mack Trucks, prior to the use of telematics data and the evolution of Certified Uptime Centers, the company typically saw a four-day dwell time. That time has been cut to two and a half days thanks to changes made due to the telematics information being analyzed by Mack One Call Centers and Certified Uptime Centers and the use of dedicated bays for repairs that take two hours or less.
One of the things the company learned working through GuardDog Connect within the dealer repair process was that trucks that had already been diagnosed and already had repair instructions were going into a traditional workflow using a first-in/first-out methodology, Purdue notes. A few forward-looking dealers realized there was a better way. "They started bays dedicated to those vehicles vs. bays that were assigned for more advanced repairs," he says.
By combining the foresight of these dealers and the new communication technologies, Mack developed its Certified Uptime Centers to dramatically reduce dwell time. "It is a work process not a program," emphasizes Purdue. "It involves change within a dealership. One of those [changes] is dedicating bays for the short-time repair." This addresses the issue of repairs that take three hours or less being stuck in the dealership for four days or greater.
There are other elements to the Certified Uptime Center process, including check-in and communication. Dealers that are not Certified Uptime Centers are averaging more than 60 minutes for the check-in process, where the customer finds out that a truck is at the dealership location and the nature of the problem. "A Certified Uptime Center location is averaging 20 to 23 minutes. We are saving 40 minutes on the inception of getting a decision," says Purdue. "It may not sound like a lot, but if that is a two-hour or less repair and we can route that vehicle right into a dedicated bay, we are now taking days out of the process."
Mack currently has more than 55,000 trucks equipped with GuardDog Connect and over 91 Mack dealer locations that are certified Uptime Centers, Purdue points out. Even older legacy vehicles can benefit — they can be adapted to take advantage of telematics data through Mack's partnership with Geotab.
Wireless Software Updates Eliminate Service Visits
With software playing such a vital role in modern truck performance, a number of OEMs are enabling the ability to update software and perform remote repair "over the air." In many instances, the truck can completely bypass the service shop for software updates and repair.
New Detroit-equipped Freightliner Cascadias will soon offer remote update capability. "Fleets with the new Cascadia will soon be able to utilize Detroit Connect Remote Updates using the Detroit Connect portal to portal to change select engine parameters or accept firmware updates over the air," says Treinen. "Detroit Connect Remote Updates reduce the need for a visit to a service location for things like engine parameter changes or powertrain firmware updates. Fleets can create parameter profiles for certain trucks based on geography, route, driver experience, etc."
Mack is rolling out over-the-air update capability for its latest trucks equipped with Mack MP engines. "The service will be effective at the end of this year, but it will apply to 2017 Mack GHG engines," says Purdue.
According to Mack, the remote updates will require close communication between owners and drivers. To be successful, certain variables should to be taken into account. For example, the truck needs to be parked in a secure location with the update started at a time that's convenient for both the fleet manager and the driver. After all, you don't want to strand a driver in Phoenix without an air conditioner when it's 110° F or without a heater in Green Bay in the middle of winter.