Volvo Trucks
Weight is an important consideration when spec'ing a vocational truck. Every pound you save is another pound of legal payload that can be hauled. There are many decisions you can make to reduce weight without sacrificing performance or durability, but you must also factor cost into the equation and the potential to earn a positive return on investment. Aluminum wheels and other components can help shed pounds, but they can also add significant cost.
"Certainly, weight is a critical consideration in most vocational applications and identifying components that achieve the desired result can take time," says Andy Hanson, product marketing manager, Volvo Trucks North America. "This is because it's often a 'game of inches,' or in this case, pounds. For example, aluminum hubs for a steer axle reduce a chassis' weight by around 30 lbs., or aluminum crossmembers can save around 40 lbs."
Aluminum components such as front bumpers, hubs, air tanks, crossmembers and wheels are often the first items you may consider when trying to shave critical pounds.
"Aluminum is a great way to save weight vs. steel," says Ryan Breezee, Kenworth vocational marketing manager. "If designed correctly, aluminum can be both stronger and lighter than steel components. We like to highlight our cast aluminum crossmembers that were introduced with the Kenworth T680 on-highway and T880 vocational models. Cast aluminum crossmembers replaced our bolted crossmembers as standard. Not only are the cast aluminum crossmembers 20% stiffer, they also save an average of 36 lbs. per truck. For severe-duty applications, Kenworth still offers optional steel and multi-piece crossmembers."
Yet, aluminum components can present design challenges. "There are trade-offs. Usually, aluminum components have to be thicker to meet our stringent durability requirement, and they cost more," notes Tim Wrinkle, construction product manager, Mack Trucks. "However, aluminum components make sense for certain applications."
Alternatives to Aluminum Components
Because aluminum components can be rather expensive, there are other weight-saving options to consider.
"Aluminum components can play a role in reducing a chassis' weight, but there are more cost-effective ways such as a detailed evaluation of the chassis' specifications. Often, this review process can reduce weight and save money, which is in contrast to purchasing costly aluminum components," says Hanson.
One example of this review process is selecting the right rear axle for your application. "Take a dump truck with a tandem axle operating in a state where the rear axle load is capped at 34,000 lbs. Regardless of whether this truck is configured as a tri-axle or quad-axle, the chassis weight can be reduced by 78 lbs. by selecting the standard housing for a 46,000-lb. tandem axle or even considering a 44,000-lb. tandem," Hanson points out. "These axles are designed to handle the extra weight while maneuvering at slow speeds, and cost significantly less than a standard axle with extra-thick walls."
The closer you look at the truck specifications, the more weight you may be able to save. "If a chassis is converted from a vertical to a horizontal exhaust configuration, weight can be reduced by around 50 lbs. while saving hundreds of dollars," Hanson notes. "Of course, these scenarios are application- and region-specific, but the concept can lead to fruitful conversations with your sales representative."
While there are many ways to save weight when spec'ing a truck, the three main areas to focus on are the cab, engine and frame rails, says Breezee.
Build on the Correct Foundation
"The lighter the truck, the more you can haul, which affects productivity," says Greg Treinen, heavy vocational product manager, Daimler Trucks North America. The frame of the truck itself can be a good starting place to reduce unnecessary weight. "Where possible, try to find a truck model with the resisting bending moment (RBM) rating you need using a single channel frame rail. Using a deep single channel frame rail vs. a double channel can deliver significant weight savings and reduce the risk of corrosion that can cause vocational truck downtime." This corrosion results when moisture becomes trapped between frame rail inserts.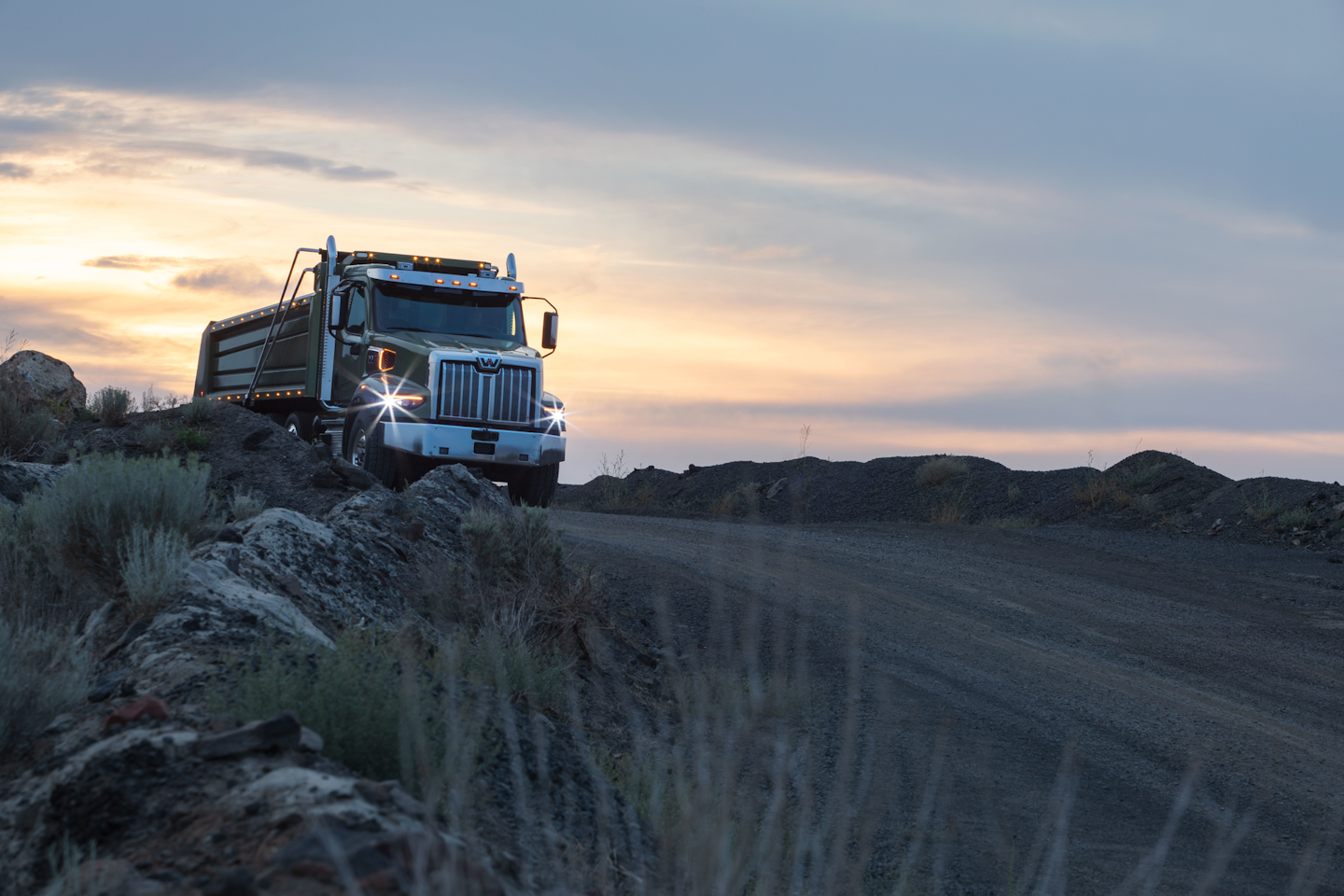 The Western Star 49X features a new cab that is 8 percent lighter than its processor. The hood, made of lightweight resin material, is nearly 100 lbs. lighter than the legacy hood and a new air intake system delivers a 60-lb. weight reduction from the dual can air intake system featured on the legacy product.Choosing the correct frame rail is a decision that should not be taken lightly. "Optimizing your truck's frame rail is critical," says Hanson. "Having too much rail is a waste of money and potential payload. Too little frame could result in cracks and failures. Therefore, finding the most efficient frame rail for your application warrants investigation. As frames thicken and increase in height, weight increases. Therefore, the challenge is to make stronger frames that weigh less."
First, you must understand how to measure frame strength. "The RBM is a factor of frame height, flange width and thickness," says Wrinkle. "Mack's 11mm x 90mm x 300mm rail offers RBM of 2.82M (2,820,000 in.-lbs.) and our 11mm x 105mm x 300mm rail offers RBM of 3.16M (3,156,000 in.-lbs.) Both options are great for offering strength in a single rail. RBM is calculated by using the section modulus number and multiplying it by the known yield strength."
Manufacturers offer different frame rail geometries to match the frame to the application. "Because most frame strength lies in the flanges, Volvo Trucks North America uses 3.54- and 4.13-in. flanges rather than a typical industry-standard flange of 3.25 in. to increase the frame's strength," says Hanson. "Larger flanges positioned farther apart result in a higher RBM. Additionally, taller rails (say, those over 12 in. high) and thicker rails (say, more than .5 in. thick) are more difficult to manufacture and therefore present more inconsistencies. A frame's overall strength measured in RBM, rather than using one single exterior dimension, should be used in evaluating a frame's utility."
Stronger is not always better. "A common mistake is to order frame rails that are overkill for the application," says Breezee. "Kenworth has an engineering group that will review specs to make sure the frame rails selected will be adequate for that specific application. That way, our customers can rest assured that they have enough frame rail for the job. This extra service allows a spec to be finely tuned to balance weight savings yet still provide the durability expected... There is also a large selection of frame rails and frame inserts available on Kenworth trucks to meet our customers' needs."
He adds, "A single rail can definitely save weight when compared to an inserted frame rail. But the real trick is selecting the 'right-sized' frame rail. We will analyze a spec to make sure the frame will stand up to the intended application, yet it isn't overkill and adding significant weight to the truck."
The dealer is a useful resource to ensure the correct choice. "Dealers work directly with Western Star's Customer Application Engineering group to understand each customer's work environment, estimated payload and highway travelling time in order to spec the truck to the customer's exact needs — even frame selection," says Treinen. "With the right frame and suspension selection, a customer can avoid an over- or under-spec'd truck for budget, weight optimization and truck longevity."
Like frame selection, there are many choices when it comes to vocational suspension selection, which can impact both the performance and weight of the truck. In addition to capacity, stability, articulation and ride quality, weight should factor into the equation when choosing a rear suspension option.
"Suspension system selection is another area where you can save weight, but you must also consider the impact any possible lift axle installations may have on frame and axle selection. When it comes to spec'ing a rear suspension, there are trade-offs between off-road and on-road performance," notes Treinen. "Western Star's Airliner rear suspension is the lightest, most cost-effective rear suspension today. Its advanced design reduces weight, which allows for greater payload. The stability and cushioning of this suspension can help reduce payload damage and driving fatigue."
Take Advantage of the Latest Engine Technology 
Over the past several years, the power densities of modern diesel engines have continued to rise, allowing lighter, smaller displacement engines to replace heavier, larger displacement versions.
"The most cost-effective way to reduce the weight of a vocational truck is to spec a lighter weight engine," says Wrinkle. "The Mack MP7 11-liter is a popular choice for concrete mixers and refuse models on the vocational side. In addition, fleets with weight-conscious applications, like bulk haul or those that operate on flat terrain, often spec the MP7. The Mack MP8 13-liter engine also has the muscle to handle the heaviest of loads without the additional weight. Customers report that the smaller displacement engine performs well while maintaining the same reliability and durability of our larger engines."
There is no one-size-fits-all solution. "Sizing the right engine for the application is critical," says Treinen. "Larger displacement engines still have their place in loads that are exceedingly heavy [applications], such as lowboy or heavy haul."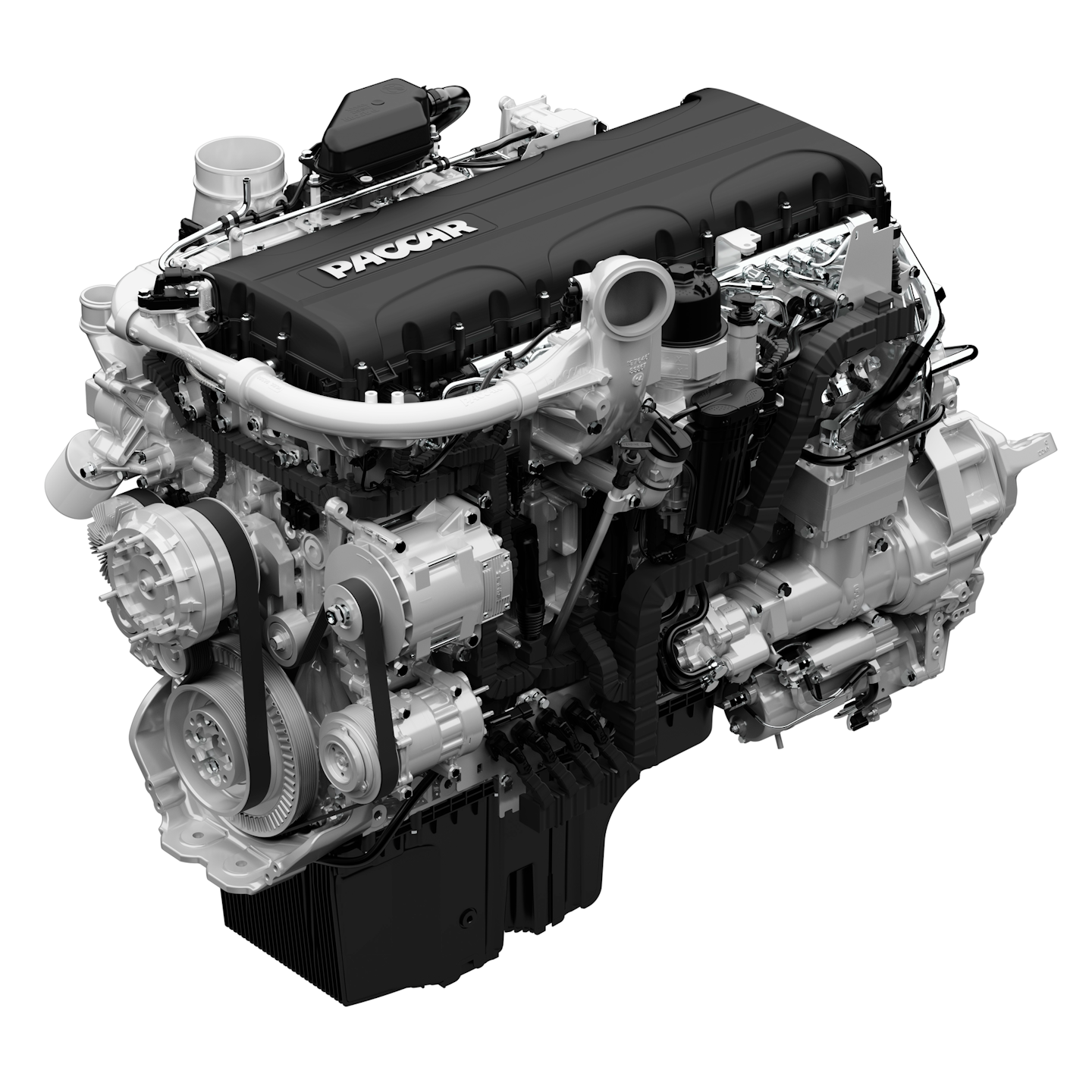 The downsides to spec'ing a smaller engine are disappearing fast. An 11-liter engine can be spec'd to save several hundred pounds compared to 13-liter offerings, yet still deliver the same performance. The PACCAR MX-11 is available with up to 430 hp and 1,650 lb.-ft. for torque, which is more than enough for most vocational applications.KenworthBut many vocational applications can utilize a 13- or even 9-liter engine for additional weight savings. "There has been a greater focus on 13-liter engines as various manufacturers have increased the top ratings on these engines," says Treinen. "Improvement to fuel systems, aspiration and higher compression ratios have all contributed to this. It is important to understand there are technical limitations to any engine and that constantly running at the higher power ratings means the engine will be operating closer to its design limit."
He adds, "The main benefits for customers choosing smaller displacement engines are improved fuel efficiency and reduced weight, while maintaining power levels that are required to get the job done. However, keep in mind the life cycle of the vehicle, as this will have an effect on the size or displacement of the engine. Vocational vehicles tend to have longer life cycles — 10 to 15 years — and operate at slow speeds with high idle times (low miles/high engine hours). A larger displacement engine will come with an extended B50 life, meaning it will have an extended life until an overhaul is needed."
Traditional views on smaller displacement engines are changing. "We have seen a trend in vocational applications of fleets switching to smaller block engines to save tare weight in order to maximize payload," says Breezee. "The downsides to spec'ing a smaller engine are disappearing fast. An 11-liter engine can be spec'd to save several hundred pounds compared to 13-liter offerings, yet still deliver the same performance. The PACCAR MX-11 is available with up to 430 hp and 1,650 lbs.-ft. of torque, which is more than enough for most vocational applications."
In many instances, the newer small displacement engines have proven just as durable as their larger displacement counterparts. "While it's typically assumed that a larger engine will outlast a smaller engine in the same application, that isn't always the case with the PACCAR MX lineup," says Breezee. "Both the PACCAR MX-11 and the PACCAR MX-13 have been tested and held to the same design life expectancy under identical conditions."
The choice really comes down to power needs and the potential initial purchase savings. "The spread in weight between Volvo's D11 and D13 engines is somewhat significant," says Hanson. "If your horsepower requirements lay within a range of 400 to 435 hp and your torque requirement is around 1,550 lbs.-ft., the D11 engine is an excellent choice. Both engines use similar technologies and have similar B50 ratings. Therefore, considering the present value of capital and increased utility of the truck in terms of payload, a smaller displacement engine might be the right choice. This, of course, needs to be balanced with the resale implications of spec'ing a smaller engine."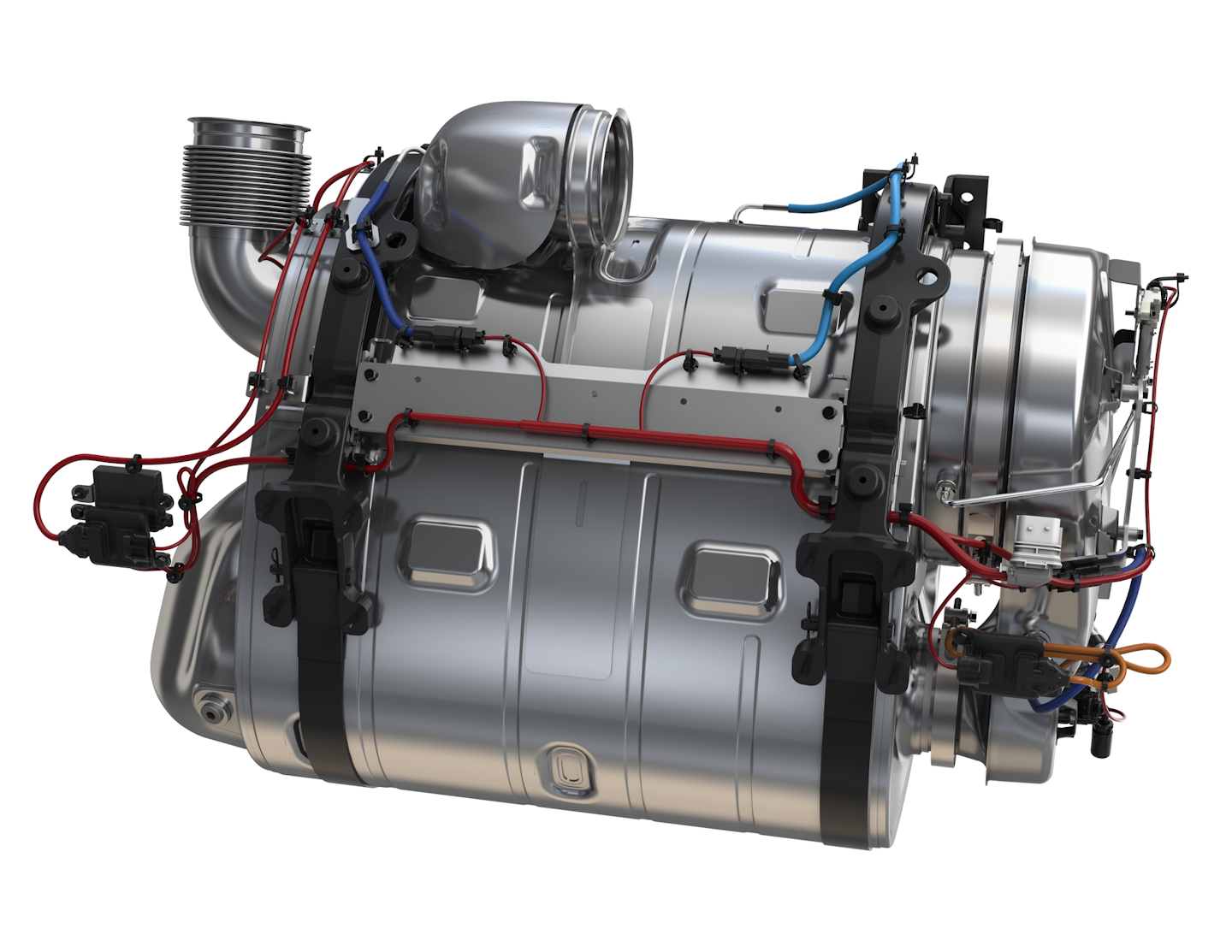 The Mack ClearTech One aftertreatment system saves about 11 in. of frame rail space while reducing weight by about 17 lbs. compared with the previous two-unit system.Mack TrucksAlso consider the weight of the transmission when choosing a powertrain. There can be significant weight differences between the types of transmissions that fit the particular application.
"Spec'ing the Mack mDRIVE automated manual transmission also helps weight-conscious customers because it's a lighter weight option compared with competitor transmissions," Wrinkle asserts.
Compare Latest Models
While there are limitations to the weight you can realistically save while spec'ing a vocational truck, weight is a key design criterion when manufacturers design new models, and they are always finding creative ways to shed a few pounds.
For instance, when the Western Star 49X was introduced earlier this year, weight reduction without sacrificing durability was a design goal. This resulted in a new cab that is 8% lighter than its predecessor. The hood, made of lightweight resin material, is nearly 100 lbs. lighter than the legacy hood and a new air intake system delivers a 60-lb. weight reduction from the dual air intake system featured on the legacy product.
Likewise, Kenworth was able to use a new approach to cab design and save weight while increasing performance. The company designed an aluminum 2.1-meter cab that is extremely lightweight, yet still provides plenty of space for even the largest drivers. "The added bonus of aluminum is that it resists corrosion," says Breezee.
Even the choice the manufacturers make for emissions reduction technology can impact overall weight. "Our ClearTech One aftertreatment system saves about 11 in. of frame rail space while reducing weight by about 17 lbs. compared with the previous two-unit system," says Wrinkle. "A weight reduction of 51 lbs. was realized by the GHG 2017 Mack MP7, and the GHG MP8 engine reduced weight by about 71 lbs. This was achieved by a combination of our patented wave piston design, two-speed coolant pump, assembled camshaft and a revised cylinder block."
 Manufacturers continue to invest in R&D with an eye on potential weight savings.
"Volvo Trucks continues to address vehicle weight in creative ways," says Hanson. "Again, chassis specifications and packaging deliver the largest and most cost-effective gains. For example, Volvo's I-Shift transmission is 272 lbs. lighter than other automatic transmissions. But significant gains remain with future advancements in technology. With support from the U.S. Department of Energy, Volvo Trucks has experimented with aluminum frame rails and carbon fiber body panels. These materials, along with other technological advancements, will soon deliver real-world gains in a vehicle's operational efficiency."