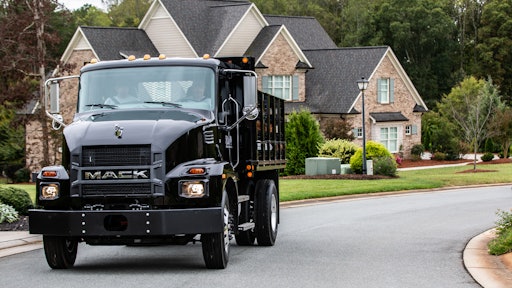 Mack Trucks
Earlier this year, Mack Trucks announced it will start producing a new medium-duty truck series, the Mack MD. In addition, the company is making a $13 million investment to establish its Roanoke Valley Operations (RVO), a new manufacturing facility in Roanoke Valley, VA, for the production of the Mack MD Series. The project will result in the creation of up to 250 new jobs once the facility is fully up and running.
"Mack Trucks is very proud to make this investment and to now offer a full lineup of Class 6 to Class 8 commercial vehicles, serving virtually every segment of the market," said Martin Weissburg, Mack Trucks President. "With this investment, Mack is well-positioned for future success, and we're taking orders for the new truck beginning today." 
Mack's investment is being used for equipment, tooling and building enhancements in the 280,000 sq. ft. (26012.9 sq. m) facility dedicated to the assembly of Mack medium-duty vehicles. 
Weissburg noted during the launch event the company was able to quickly get the prototype and testing of the truck completed, as well as the new production facility up and running.
Mack Trucks chose the location in Virginia for its proximity to its headquarters in Greensboro, NC, and other production facilities in the mid-Atlantic, including sister company Volvo Trucks. The logistics flow along I-81—a major freeway near the new facility which runs through the region—was a key factor for the company as well.
Also beneficial was the site readiness of the facility. Few renovations and modifications were necessary to prepare for production of the new MD Series, said James Chenier, Senior Vice President, Strategy and Business Development at Mack Trucks. 
The new Mack MD
The Mack MD6, a Class 6 model, has a Gross Vehicle Weight Rating (GVWR) of 25,995 lbs. (11,791.1 kg), and the MD7, a Class 7 model, has a GVWR of 33,000 lbs. (14,968.5 kg) Both models are exempt from the 12% Federal Excise Tax (FET).
These new truck models are specifically built for medium-duty applications. They are designed for applications requiring dry van/refrigerated, stake/flatbed, dump and tank truck vocations. The MD6 model does not require a Commercial Driver's License (CDL) to operate for non-hazardous payloads.
Available in 4x2 configurations, the MD6 and MD7 models feature a sharp wheel cut for enhanced maneuverability for tough urban settings. The MD Series cab design features a short bumper-to-back-of-cab (BBC) measurement of 103 in. (261.6 cm). Mack matched the bold look and styling of the Mack Anthem, Mack's highway model, as a basis for the grille and hood design found on the MD Series. Components used in the MD Series are a combination of Mack products and those from other industry suppliers. Roy Horton, Director, Product Strategy at Mack Trucks, said that for the medium-duty components not in its current portfolio, the company partnered with suppliers whose products are already known and used in the industry. 
The trucks are offered with the Cummins B6.7 L engine with 220-330 hp (164.1-246.1 kW) and 560-660 lb.-ft. (759.3-894.9 Nm) of torque. Allison Transmission automatic transmissions are utilized on the MD Series; standard is the 2500 HS while the RDS is an available option. Both the front and rear axles are from Meritor.
Why the medium-duty market now?
With the new Mack MD, Weissburg said the company now has a full line of trucks which will attract even more customers to its brand. 
"We're now absolutely able to provide a single-source solution for all of our customers with the addition of the medium-duty [truck]," added Jonathan Randall, Senior Vice President, North American Sales and Marketing at Mack Trucks.
Randall said it took about 2 years to go from the first idea for the MD Series to what is now available, including production of the trucks. "We involved a lot of different people…our dealers were part of a team that came in and looked at variants of what we were doing and gave us feedback," he said.   
Mack chose to re-enter the medium-duty market because customers have been asking for a medium-duty option for several years. There have been various points in time when the company has built medium-duty trucks—in the 50s, again in the 90s and the last model was built around 2002. "So, it's not new to us in any way, shape or form," said Randall. "And it's not new to us as far as the customer base."
He said that if you look at the medium-duty market, there's a lot of customers who already run Mack trucks and typically have a need for Class 6-8 vehicles. "They've been looking for someone who's able to provide them a single source [for their vehicles]…and we now have the answer for that," said Randall.
In addition, he says the medium-duty market is a good one. Mack looks at volatility and other important aspects when determining which markets to enter. The medium-duty segment is traditionally steady at 90,000-100,000 trucks sold year-over-year in the U.S. and Canada, with about three quarters of that being Class 6 models, said Randall. 
Read More: Mack Re-Enters Medium-Duty Truck Market