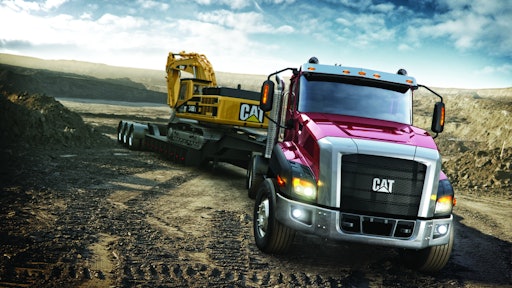 Caterpillar unveiled today its long-awaited entry into the on-road truck market, the CT660 vocational truck produced with partner Navistar. In June 2008, Cat declared its intent to partner with Navistar to build an on-road truck dedicated for North American vocational applications. The announcement coincided with the company's exit from what had been a very successful 40-plus years building diesel engines for highway trucks. The company has replaced engine building – where the costs of complying with emissions regulations have robbed a significant portion of profits – with truck building.
The CT660 is designed by Caterpillar but powered and manufactured by Navistar for North America. It is a Class 8, set-back-front-axle vocational truck with option of either a Cat-branded C11 or C13 in-line, six-cylinder diesels (10.5-liter rated up to 390 hp or 12.4-liter at up to 475 hp) and 116-in. or 122-in. bumper-to-back-of-cab (BBC). Cat's CX31 automatic transmission delivers power to the differentials.
Gary Blood, product manager with Caterpillar's on-highway truck group, admits there's not a lot of difference between the C11 and C13 and their counterparts sold by International.
"But the ratings are specific to Cat trucks," he points out. "They're the same ones we had in 1995 and in 2002 and just a few years ago."
He does encourage potential buyers to take a close look at the torque curves on the Cat engines. They make rated horsepower at 2,100 rpm, but hit peak torque in a range from about 1,000 rpm to 1,300 rpm, leaving plenty of room for manual shifts, and allowing the engines to work confidently lugged down.
Navistar's reliance on exhaust gas recirculation and emissions credits, rather than the selective catalytic reduction that other highway diesel makers have chosen for emissions compliance, saves some weight and keeps the CT660's frame rails clear of urea tanks and other hardware that can cramp the fit of transmission-pto hardware common to vocational trucks.
Caterpillar is naturally enthusiastic about its own CX31 automatic transmission because of the control Peoria has over matching the engine to the transmission. The CX31 has been on the road, and in lighter articulated dump trucks, since 2004, so it is proven. The lock-up torque converter is said to lock at about mid-speed in all but the first gear range, for improved efficiency. And the CX31's hydraulic retarder saves brake wear and can displace the need for the optional Jake Brake. But the Cat truck can also be specified with an Eaton manual or UltraShift Plus Vocational gearbox.
Cat promises introduction of a C15 engine in the first quarter of 2012, and plans to fill out a line of vocational trucks. Introduction of the CT680 built around the set-forward front axle crucial to satisfying buyer needs in bridge-law states is already scheduled for the first quarter of 2013.
The CX31 transmission is certainly all-Cat, but the easiest places to find parts that make the CT660 a Cat are from the frame rails up. Blood says Cat has touched every part of the cab and interior, giving it the stamp of safety, durability and comfort that the company's current customers will recognize. Cat telegraphs its expected rivalry with Mack, Western Star and the Paccar nameplates shows in the modular aluminum cab design, elaborate hood and grill dress, stainless piano hinges on the doors, stainless three-piece front bumper and composite fender panels.
If a few statistics that George Taylor, director of Cat's on-highway truck group, advanced at the pre-CONEXPO introduction in Las Vegas are valid, it's not surprising that he expects to be a market leader within five years even with no set-forward front axle due for two years. It's a fact that Cat has 40 years of experience in on-road trucking by virtue of the engine business it abandoned in 2008, and relatively easy to verify that there remain more than 1.5 million Cat engines still running American highways.
Even though Cat didn't delight every one of those customers (who could?), there were seven J.D. Power & Assoc. awards for customer satisfaction with Caterpillar on-road engines.
More difficult to substantiate, but relatively easy to imagine, is Taylor's claim that Cat and its 58 dealers here have relationships with the buyers of 70% of the vocational trucks sold in North America. If the company has managed to translate a reasonable percentage of its customers' requests concerning vocational trucks into CT660 features, the industrious embrace of the Cat dealer network is likely to displace a significant number of competitors' trucks on job sites. Taylor says North American Cat dealers staff more than 400 locations and 2,300 truck-specific service bays with about 2,500 service technicians. The network operates more than 100 chassis dynamometers.
A competitive truck, competitively priced with other premium vocational trucks, is going to turn the heads of a lot of truck buyers. Especially those who are already accustomed to doing business with Cat dealers (the only dealers who will sell Cat trucks in North America) and have already bought into Cat's lowest-life-cost value proposition.
CONEXPO-CON/AGG 2011 Booth Nos. G-130 and N-1913