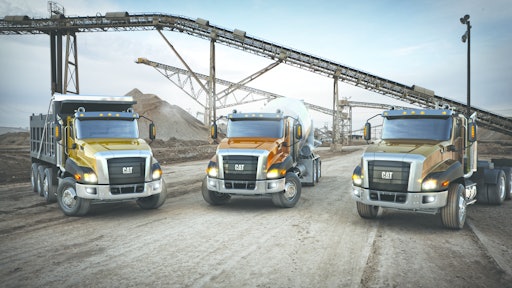 Caterpillar Inc. announced the end of its truck-building arrangement with Navistar will begin independently designing and manufacturing Cat vocational trucks at its Victoria, TX, plant. The plant, which opened in 2012, currently produces hydraulic excavators.
Caterpillar launched its first vocational truck, the CT660, in North America in 2011. Two more models have since been added to the lineup, the CT680 and CT681. To date, Caterpillar has worked with Navistar for the products' design and build, and the trucks have been manufactured in Escobedo, Mexico.
The move will give Caterpillar more flexibility to respond to customer demand, provide increased quality control and allow better integration of existing Caterpillar technologies, such as the Product Link telematics solution. "We have developed a firm base with the relationship that we had with Navistar that got us off to a good start. But as we look forward we have an opportunity to more directly influence the design and the velocity of the speed of response. We feel this positions us well to respond in a much quicker manner," says Ron Schultz, sales & product support manager, Caterpillar. "Obviously owning the end-to-end manufacturing gives us the opportunity to improve the product in a positive way." The trucks built in Victoria will be subject to the Cat Production System to ensure product quality.
Control of design also makes it easier to integrate existing technologies. "It will give us an opportunity to further integrate the strategy of Product Link that we have on both the truck and on the equipment and take that to the next steps," says Schultz. "We have that as a strategy corporate-wide and the truck is going to play a significant role as it interfaces with construction equipment.
Caterpillar truck representatives say they will continue for the foreseeable future to source the Cat-branded engines that Navistar was building to power the Caterpillar trucks. "We have no plans, as far as Caterpillar, to get in that on-highway engine business," says David Schmitz, product manager, Caterpillar Trucks. "The CT13 engine that you see in the Caterpillar truck right now will continue to be available in the truck. Earlier this year we mentioned that we will have a 15-liter announcement later this year and it is still on track."
That 15-liter engine is key to future growth. "Not having the 15-liter solution has hindered us a bit in our growth. We know there is a gap there that we soon will be filling," says Ron Schultz. "From there we have covered the base." The 15-liter engine will allow expanded applications such as heavy-haul and is popular in some dump-truck markets.
A detailed transition plan has been developed. "We will begin production in Victoria, TX, in 2016 with production ramping up throughout the course of the year," says Bill Fulton, business development manager, Caterpillar. "In the meantime Navistar will continue to build trucks for us. We are working very close with them to make sure we have a seamless transition throughout the process and that we have high quality trucks being built in Victoria and that we can maintain the kind of availability that we need for our dealers and customers."
Changes will not be immediately obvious. "Initially the trucks are going to be exactly as they are coming from Navistar today," says Schultz.  The design is exactly the same. "What we see once the transition is complete is that we will diligently look for any additional features or improvements that we want to do that we see our customers require down the road."
"The on-highway vocational truck product family is important to our product line; customers like our trucks and want to include them in their fleets in a variety of heavy duty applications such as dump trucks, mixers, haulers or one of the other configurations we offer," said Chris Chadwick, Caterpillar's director of the Global On-Highway Truck Group. "To continue to provide the best solution for our customers, we will bring the design and manufacturing of this product into Caterpillar, and the production specifically to Victoria. Our updated strategy reaffirms our commitment to grow and develop our presence in the vocational truck industry moving forward
"We appreciate the collaboration we have had with Navistar," Chadwick said. "As we look to future launches of new truck models, this updated strategy will better position us to help provide our customers with the best products and services for this market. Caterpillar continues to drive the design phase of all models, both current and planned. Before launching the product, we spent hundreds of hours on the road with customers, asking them to describe the ideal truck. We know what they want and need – from functionality of the truck itself to comfort in the cab. We plan to meet and exceed those expectations as we grow this product offering to fulfill our customers' needs." 
The transition process will begin immediately, with production expected to begin in the first half of next year. Caterpillar Victoria will continue to produce excavators, and the addition of the vocational truck production is expected to add around 200 new jobs at the facility. 
International to Launch Premium Vocational Trucks with End of Caterpillar Alliance
Caterpillar Unleashes the Formidable CT660 On-Road Truck
[VIDEO]Cat Truck Chief Explains the Alliance With Navistar

New Cat CT680 Truck Offered as Truck or Tractor
[VIDEO]Cat CT681 Truck Drives into Set-Forward Axle Markets