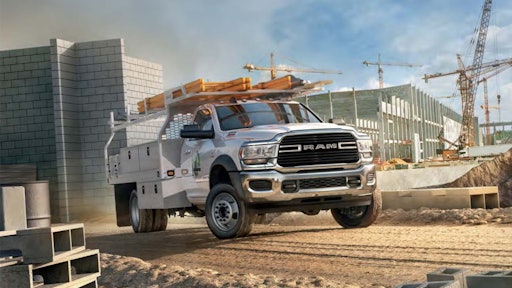 For 2019, the Ram Chassis Cab 3500, 4500 and 5500 offers technologies that are unique in the Class 3, 4 and 5 chassis cab market. These include Adaptive Cruise Control, Forward Collision Warning, Automatic Emergency Braking (AEB) and AEB with trailer brakes on all trim levels. A ParkSense Park Assist system provides visual and audible indications and a class-exclusive 270-degree camera system with trailer reverse-guidance view gives greater field of vision. Ram Chassis Cab offers a cargo-view camera allowing owners to monitor the upfit and/or payload in the rear of the truck. The system also aids hookup with fifth-wheel and gooseneck hitches. 
Additional safety and security systems are geared toward a truck that will spend most of its life at the maximum duty cycle. For instance,  the 2019 chassis cab trucks can also  monitor up to six tires on the truck plus trailer tire pressure monitoring for up to 12 trailer tires.
Refined Powertrains Increase Efficiency and Capability
The standard engine in the 2019 Ram 3500/4500/5500 Chassis Cab is the 6.4-liter HEMI V-8 with up to 410 hp and 429 lb.-ft. of torque. The Ram 3500 Chassis Cab now employs Fuel Saver Technology cylinder deactivation to increase fuel economy. When the engine is paired with the optional Aisin AS66RC six-speed automatic transmission with Power Take-Off (PTO), Fuel Saver Technology functions under light load while in stationary PTO mode to reduce fuel consumption. 
In the Ram 4500 and 5500 Chassis Cab, the 6.4-liter HEMI V-8, paired with the Aisin AS66RC electronically controlled 6-speed automatic transmission with optional Power Take-Off (PTO) capability, delivers 370 hp and 429 lb.-ft. of torque.
In all Ram 3500/4500/5500 Chassis Cab applications, the 6.4-liter HEMI V-8 uses interactive Deceleration Fuel Shut-Off, which stops fuel flow to the cylinders when decelerating, to improve fuel economy. 
A revised Cummins 6.7-liter inline-six turbo diesel is optional on the 2019 Ram 3500/4500/5500 Chassis Cab. Paired with the Aisin AS69RC electronically controlled six-speed automatic transmission with optional PTO capability, the Cummins engine delivers 360 hp and 800 lb.-ft. of torque. Changes to the Cummins engine include a cylinder block made from compacted graphite iron. Using compacted graphite iron produces a block that is stronger and better able to dampen vibrations. Overall, the new Cummins Turbo Diesel weighs 60 lbs. less than the previous-generation engine.
Engineered for Work
Ram Chassis Cab trucks come in four industry-standard frame lengths measured in inches from the cab to the rear axle (CA): CA 60, CA 84, CA 108 and CA 120. Frame rail width also follows industry guidelines at 34-in. spacing. All 2019 frames are built with up to 97-percent high-strength steel and eight separate cross members. With upfits in mind, Ram Chassis Cab rear frame sections feature a C-channel design with flat mounting surface — zero component interference above the rails, easing upfit and accessory design/installation. Additionally, pre-drilled holes are designed throughout the structure to route upfit lines or mount hardware related to the upfit. 
The four-wheel disc braking system on the 2019 Ram Chassis Cab gets an upgrade and a larger ratio pedal swing. The reengineered system offers shorter stopping distances and braking to match the highest capability.
Light-weighting efforts include an aluminum hood, which contributes to an overall weight reduction of 120 lbs. The cab
back panel area is clear for ease of upfit. The 2019 Ram Chassis Cab lineup uses tuned powertrain mounts and C-pillar body hydromounts to reduce NVH and improve ride quality. Within the mounts, the viscosity of the fluid and the rubber itself have been tuned to GVW and payload capabilities, enhancing isolation regardless of load or tow capacity.
Luxury Options Available
Four trim levels are offered on the 2019 Ram Chassis Cab: Tradesman, SLT, Laramie and the new Limited. 
A new instrument panel combines a strong, structurally interlocking appearance covered in a variety of forms, pushing the central controls up and toward the driver within the cabin, improving overall reachability of system controls. As a centerpiece, the 2019 Chassis Cab offers the Uconnect 4C NAV on a 12-in. fully reconfigurable touchscreen with tailormade  graphics for various Ram models. The touchscreen can display one application, or can be divided in half, operating two  different applications at once. Four available audio systems immerse passengers in the ultimate sound experience, including  a 750-watt Harman Kardon Audio System with 17 speakers with 8-in. subwoofer. 
Customization is made easy with the new 3.5-in, and 7-in, electronic-configurable color driver information cluster displays, allowing operators to monitor critical systems such as boost pressure or transmission temperature. 
A Uconnect 4C with 12-in, display also features audio entertainment with SiriusXM with 360L. The new service enables Ram truck drivers and passengers to discover more of what SiriusXM offers based on their  listening preferences, including exclusive SiriusXM on-demand programming never before available in the dash. SiriusXM  Travel Link helps to make every drive more efficient with real-time local weather forecasts, fuel prices and live weather maps. 
A new enhanced-ergonomic switch bank offers push buttons with up to five auxiliary switches including a PTO on/off switch. Across all trim levels, the 2019 Ram Chassis Cab features push-button start and a redesigned rotary e-shifter dial (6.4-liter HEMI V-8 with 8-speed). The new shifter area also intelligently groups transfer case controls, when equipped. Six speed- equipped Ram Chassis Cab trucks feature a column shifter. 
A new HVAC system features 30-percent more airflow at lower noise levels, including larger front defroster vents for better performance. All-new in-duct electric heating elements on diesel models help speed cabin warmup on cold days.
The trucks will be available in the second quarter.
Companies in this article