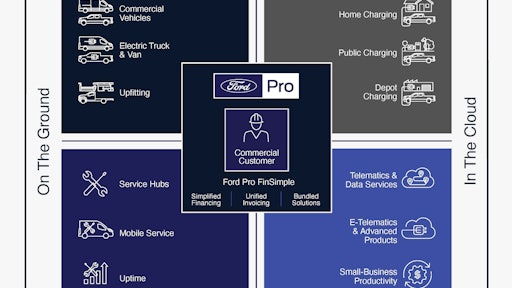 Ford Motor Company
Ford has a long history in supporting commercial customers. In 1989 the company established the Business Preferred Network program to help small fleet customers get the assistance they needed from local dealerships. In 2017 it launched the Commercial Center Vehicle Program to provide commercial customers nationwide with sales, service and financing and the dealership level.
Building on this tradition, Ford has just announced Ford Pro, which is a separate business within Ford and will be headed by Ted Cannis, who previously headed Ford's North America commercial business and was leader of Ford's Team Edison electric-vehicle development group. The groups goal is to increase uptime and reduce ownership costs for the company's commercial customers.
"Ford Pro will redefine the market for commercial vehicles and services, where Ford is already the leader around the world," says Ford CEO Jim Farley. "We're creating a one-stop shop to help those customers increase uptime and productivity while reducing complexity and the total cost of ownership."
The nature of the commercial vehicle business is likely to change as more electric vehicles such as the E-Transit and F-150 Lightning enter the market. Ford Pro will play a role in the introduction of commercially focused charging solutions.
The company plans to implement Ford Pro services in phases to help customers work better with smart vehicles and connected services. Coverage of the program will include:
Ford Pro Vehicles. This includes Ford's lineup of combustion-engine and hybrid commercial vehicles as well as soon to be released electric vehicles
Ford Pro Charging. This encompasses hardware and software solutions for public, depot and overnight home charging of EVs
Ford Pro Intelligence. These digital services enable customers to better manage and maintain their fleets
Pro Servies Elite. This expands Ford's existing network of Commercial Vehicle centers by adding 120 dedicated, large-bay service hubs across the United States with extended hours and rapid turnaround. It also introduces 1,200 mobile service vehicles by 2025 to meet customers where they are to save them time and money and get them back in business
Ford Pro FinSimple. This service provides bundled financing for vehicles, service and EV charging
More information can be found at www.fordpro.com