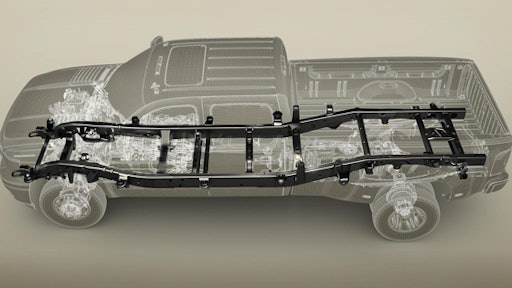 To cut weight and improve the fuel efficiency, General Motors engineers are scraping grams off individual parts to make hundreds of pounds of difference in the weight of its trucks and cars. The folks at PickupTrucks.com expect the strategy to excuse GM from following Ford's choice to put a mostly aluminum truck body on a steel chassis.
Smaller efforts such as scalloping the edges of welds and punching lightening holes in structural panels save small amounts per part, but contribute to big savings for a whole vehicle.
Extensive use of aluminum, high-strength steels and magnesium bonded together with techniques that replace some welds with structural adhesive (yes, glue) and rivets allows more weight-saving choices in structural assemblies. The company says it's found a way to successfully spot-weld aluminum to steel — something never before accomplished in an automotive application.
Result: new cars are significantly lighter than the ones they replace. The 2016 Chevrolet Malibu, for example, is 300 lb. lighter despite being a bigger car than the outgoing model. The Cadillac CT6, a car that competes with the BMW 7 Series, weighs considerably less than the BMW 5 Series, and the 2017 Buick LaCrosse is almost 700 lb. lighter than its predecessor.
The Cadillac CT6's front and side frame rails are made of lightweight extruded aluminum, but the "safety cage" surrounding passengers is made from high-strength steel. Aluminum on some body panels combines with steel in the floor for better sound absorption. The ability to weld steel-to-steel, aluminum-to-aluminum and soon aluminum-to-steel using the same welding gun on the assembly line allows for even more flexibility in putting the right materials in the right spot.
Ford's aluminum truck body required total rework of a number of production systems and production plants. GM's mixed-material structures is expected to achieve similar weight savings at much lower retooling cost.