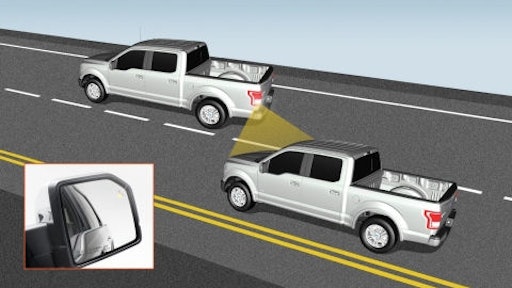 Ford Motor Co.
On the fence about replacing some pickup trucks? Results of a new study indicate that the lane-departure warning in new vehicles lowers rates of single-vehicle, sideswipe and head-on crashes of all severities by 11%, and lowers the rates of injury crashes of the same types by 21%.
The studies are the latest in a series by the Insurance Institute for Highway Safety that evaluates different crash-avoidance features by looking at data from police-reported crashes (see "Crashes avoided: Front crash prevention slashes police-reported rear-end crashes," Jan. 28, 2016, and "Rearview cameras reduce police-reported backing crashes," Nov. 17, 2016).
"This is the first evidence that lane departure warning is working to prevent crashes of passenger vehicles on U.S. roads," says Jessica Cicchino, IIHS vice president for research. "Given the large number of fatal crashes that involve unintentional lane departures, technology aimed at preventing them has the potential to save a lot of lives."
A 2015 study of lane departure warning on trucks in U.S. fleets found the technology cut the rate of relevant crashes nearly in half, and a study of Volvo cars in Sweden found a reduction of relevant injury crashes of 53%.
Compared with those results, the new findings of an 11% reduction in all relevant crashes and a 21% reduction in injury crashes are modest. One reason may be that U.S. drivers of passenger vehicles frequently turn off lane-departure warning (see "Lane maintenance systems still a turnoff for many drivers," June 22, 2017). Researchers don't know what percent of the time lane departure warning was turned on in the earlier studies, but if drivers in the new study had kept the feature on all the time, the results would be in line with the benefits found in the earlier studies, Cicchino estimates.
(more on effect of automotive crash-avoidance technology . . . )