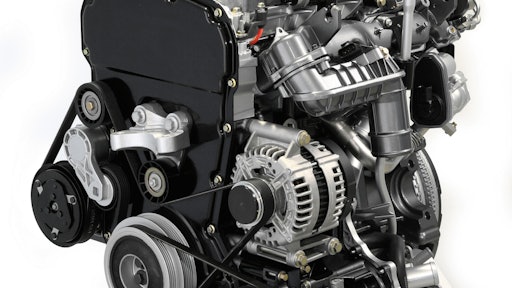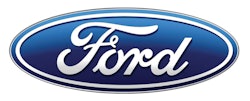 What Ford calls a "clean-running" 3.2-liter Power Stroke five-cylinder diesel will be an engine choice to power the full-size 2014 Transit van in North America, along with the the 3.5-liter EcoBoost gasoline engine proven in the F150.
The 3.2-liter five-cylinder is Ford's second diesel engine in North America, joining the 7-liter Power Stroke V8 introduced in the 2011 F-Series Super Duty trucks.
"Commercial van drivers spend most of their working hours behind the wheel. We know they want a fuel-efficient diesel engine with smooth, responsive performance and low operating costs," said Joe Bakaj, Ford vice president of Powertrain Engineering. "The 3.2-liter Power Stroke engine has been developed and proven globally to deliver a world-class combination of power, fuel economy and refinement."
While power has not been certified for North America, the new diesel engine is rated in Europe at 197 horsepower and 347 lb.-ft. of torque. Ninety percent of its peak torque is available at engine speeds from 1,700 to 3,500 rpm.
Some of the 3.2-liter Power Stroke's other technical features: 
Quick-start glow plugs that enable smooth and fast startups at temperatures down to 25 degrees F
Rigid sand-cast gray iron cylinder block
Aluminum cylinder heads with double overhead cams and four valves per cylinder
Advanced common rail piezoelectric fuel injectors that deliver multiple injections per stroke; maximum fuel pressure is 26,100 psi
Variable nozzle turbocharger with electronic actuation; maximum impellor speed of 197,800 rpm
First application of selective catalytic reduction for reduced nitrogen oxide emissions in a Ford van
Integrated diesel oxidation catalyst and diesel particulate filter to save space
Expected to be B20 biodiesel compatible
All Transit engines are mated to a Ford 6R80 six-speed automatic transmission. 
The Power Stroke 3.2-liter is manufactured in Ford's Struandale Engine Plant in Port Elizabeth, South Africa. It will be exported to Ford's Kansas City Assembly Plant in Claycomo, Mo., where the North American Transits will be assembled. 
Companies in this article