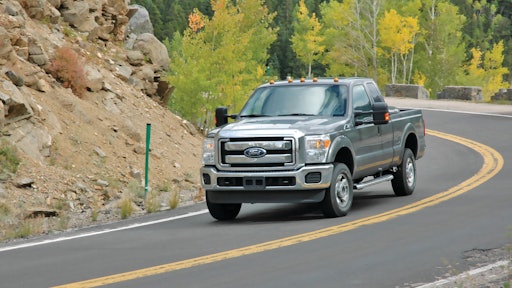 Natural-gas-vehicle conversion specialist Westport is giving away up to 750,000 gasoline gallon equivalents (GGEs) of compressed natural gas (CNG) fuel through vendor Clean Energy when you order qualifying Westport WiNG Power System pickup trucks by December 31, 2013.
Drivers can use these credits to fill up at any public access Clean Energy CNG station in the U.S. Clean Energy has more than 150 CNG fueling stations across the country and more open each week. Fuel credits are valid through the end of 2015.
Buyers who order five to nine Westport WiNG trucks -- Fords from the F-150 pickup to the F-650 chassis/cab, the E-250 and E-350 vans F59 chassis -- qualify for 500 GGEs of free CNG. Westport says that reduces your operating budget by about $5,975 to $10,755 in fuel, Based on the Clean Energy average retail price of $2.39 per GGE.
Basically, you save about $1,200 on each CNG fuel system.
Credits are being offered on a first-come-first-served basis.