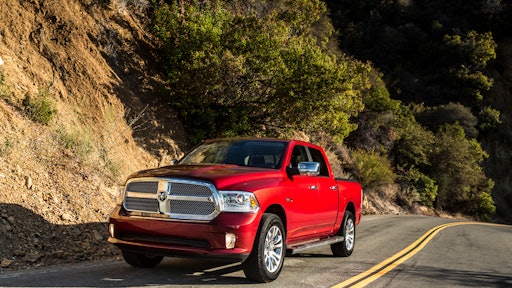 Motor Trend selected Ram 1500 pickup as its 2014 Truck of the Year, largely on the strength of its segment-leading new EcoDiesel engine. It marks the first time a vehicle has won the auto magazine's award two years in a row.
Nine Truck of the Year contenders were put through an extensive battery of testing designed to evaluate virtually every aspect of each vehicle. In addition to the 2014 Ram 1500, the judges examined other all-new or significantly updated trucks the industry produced this year: the Chevrolet Silverado, GMC Sierra, Ram Heavy Duty, and Toyota Tundra pickups; and the Ford Transit Connect, Mercedes-Benz Sprinter, Nissan NV200, and Ram ProMaster vans.
Motor Trend judges took the nine contenders to the Continental Tire Automotive Proving Grounds in Uvalde, Texas, where they tested each truck's performance with the following exercises:
Standard testing (without load): 0-60 mph and 1/4-mile acceleration, 60-0 mph braking, and maximum lateral grip.
Limit handling (without load): closed-course cornering, braking and acceleration.
Tow/payload testing: 0-60 acceleration repeated with trailers attached (pickups) or payload secured (vans), loaded to 75 percent of each truck's maximum rating (as equipped).
Road looping: Highway and real-world replication.
2014 Ram 1500 Pickup to Lead V6 Towing Capacity
Judges used the 8.5-mile high-speed oval, 15-acre dynamics pad, 1.1-mile dry-handling road course, and multi-surfaced ride road at Continental's 5,000-acre proving grounds to evaluate each truck's capabilities and expose strengths and weaknesses. Following the week-long evaluation in Uvalde, the trucks were shipped to Motor Trend headquarters in El Segundo, Calif., to undergo proprietary "Intellichoice Real MPG" fuel-economy testing. Using advanced technology including a weather station, GPS data-logger, and flow-rate and gas analyzers, Real MPG measures exhaust samples every second during an 88-mile drive to record accurate real-world fuel economy.
The Truck of the Year is not chosen from a direct comparison of contenders, but rather as a result of how each contender measured up against the award's six criteria: Design Advancement, Engineering Excellence, Efficiency, Safety, Value and Performance of Intended Function.
"For 2014 we had a large and highly competitive field of contenders for Motor Trend's Truck of the Year," said Edward Loh, editor-in-chief of Motor Trend. "At the end of the day, though, the Ram 1500 quickly rose to the top. Not only did it withstand our rigorous testing, it thoroughly impressed our judges with its vast array of standard and optional equipment, and, most notable, its fuel-efficient, segment-exclusive EcoDiesel V6. With 420 lb.-ft. of torque and up to 28 'Real MPG' highway, the EcoDiesel is a true game-changer. In fact it helped make Ram 1500 the Motor Trend 2014 Truck of the Year – and the only consecutive winner in the history of the award."
The judges were particularly impressed with the performance of the new EcoDiesel V6 engine and eight-speed TorqueFlite transmission. And Motor Trend's Real MPG testing confirmed that none of the gas-powered half-ton trucks in this year's competition – be they V6 or V8, 4x2 or 4x4 – could match the EcoDiesel's mileage. After delivering observed fuel economy of 15 mpg under extreme testing at Continental's proving grounds, the EcoDiesel returned frugal stats in the Real MPG test loop: 19/26/21 mpg city/highway/combined for the Laramie Longhorn Crew Cab 4x4 with a 3.92 rear axle, and 18/28/22 for the Lone Star Crew Cab 4x2 with a 3.55 rear axle.
The Ram's optional air suspension system scored high marks in Engineering Excellence. In terms of design, the Ram 1500 impressed with its style, packaging, and interior ergonomics; notably, the Laramie Longhorn's luxury aesthetics and real wood trim.
Truck of the Year is one of several coveted honors Motor Trend bestows on automakers, including Best Driver's Car, Sport/Utility of the Year, and Car of the Year. For more information on 2014 Truck of the Year, pick up the February 2014 issue of Motor Trend, or search the hashtags #MTTOTY on Twitter (@motortrend), Instagram (@motortrend), Facebook.com/motortrendmag and Google+ (plus.google.com/+motortrend).