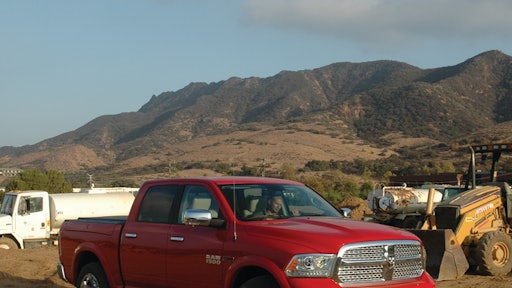 Between the afternoon of February 7, 2014, and the morning of February 10, Ram Truck received more than 8,000 orders for the 2014 Ram 1500 EcoDiesel pickup, filling the initial allocation for the exclusive powertrain. The first round of EcoDiesel orders account for more than half of the total Ram 1500 order mix.
Ram says the number of orders paid for by customers was twice the corporate average.
The overwhelming response is attributed to the 3-L diesel's EPA estimated 28 mpg for a two-wheel-drive, standard-cab version, with 9,200 lbs. of towing capacity. The Italian-built diesel packs 420 lb.-ft. of torque.
"It's every truck manufacturer's dream to have this kind of initial order demand for a product," said Reid Bigland, President and CEO — Ram Truck Brand, Chrysler Group LLC. "Fuel economy is the No. 1 request of half-ton buyers and the Ram 1500 EcoDiesel delivers without compromising capability."
The EcoDiesel-powered 2014 Ram 1500 has earned a 28-mpg rating from the U.S. Environmental Protection Agency (EPA), the best highway-cycle test result ever achieved by a full-size, half-ton pickup. It also exceeds the EPA highway rating for the top-ranked small pickup. The breakthrough results mean Ram keeps the half-ton fuel-economy record set last year by the 2013 Ram 1500. Equipped with a 3.6-liter Pentastar V6 gasoline engine, the truck earned 25 mpg highway, a rating that stands for model-year 2014. The Ram 1500 now owns the half-ton pickup segment's top two spots in the EPA's 2014 highway fuel-economy rankings.
Production of the 2014 Ram 1500 EcoDiesel began in February with a group of specialized trucks in popular configurations. Normal processes place the initial build under quality review to assure every truck meets or exceeds targets. Shipping is expected in March, keeping the planned delivery within the first quarter of 2014.
Although Ram has reached its first planned order allocation numbers in three days, customers who special order the new truck will have priority in the build. Orders for dealer stocking will be filled once sold customer orders are filled. The next order allocation of Ram 1500 EcoDiesel trucks will open in early March.
2014 Ram 1500 EcoDiesel Sets 4x4 Fuel-Economy Benchmark of 27 MPG