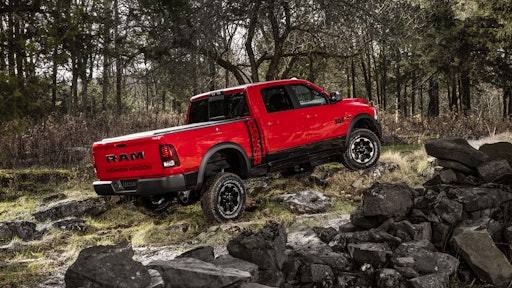 The 2017 Ram Power Wagon receives new exterior and interior design elements to match its off-road biased lifestyle.
 "The 2017 Ram Power Wagon delivers to those who travel into extreme terrain, while providing the towing and payload capability required in a heavy-duty truck," says Mike Manley, Head of Jeep Brand and Ram Brand, FCA - Global.

Based on the Ram 2500 Heavy Duty 4x4 Crew Cab, Power Wagon features a number of off-road-specific enhancements, including a unique suspension that includes Bilstein shocks and modified control arms with more than 2 in. of lift, locking differentials and a 12,000-lb. winch, giving the truck a significant advantage over most production pickups.
The entire Ram Heavy Duty line features an advanced three-link front suspension to ensure roll stiffness. Reducing body roll or lean is an important characteristic in taller vehicles and especially trucks with heavy payloads. Roll stiffness is measured by the amount the truck's body tips side-to-side, independently of the wheels, during cornering.
 
Power Wagon packages a unique variation of Ram's standard three-link suspension system with Bilstein monotube shocks. Ram Articulink design incorporates high-movement joints where the control arm mounts to the axle, allowing additional flexibility for more axle articulation.
 
An electronic-disconnecting sway bar allows the front axle to move more independently of the truck's frame. The driver-actuated "Smart Bar" disengagement is possible in both four-wheel-drive "High" or four-wheel-drive "Low" at speeds below 18 miles per hour (mph). As a safety feature, the Smart Bar automatically re-engages at speeds above 18 mph, increasing roll stiffness.
[VIDEO] 2017 Ram Power Wagon Revealed at Chicago Auto Show
The suspension delivers lots of off-road capability, and preserves nearly 80% of a comparable 2500 Heavy Duty's towing capacity. Power Wagon will tow about 100 lb. more than a 4WD, HEMI-powered, Crew Cab Ram 1500. And for the first time, Ram will offer a value-priced Power Wagon version of its Tradesman work truck.
The engine calibration is unique to Power Wagon to enhance its off-road maneuverability and finesse. When driving in four-wheel-drive "Low," the throttle response softens and the idle speed increases by 100 rpm (from 650 to 750 rpm) – providing added control when ascending and descending off-road obstacles at slow speeds. The standard 6.4-liter HEMI 16-valve V8 engine pumps out 410 hp at 5,600 rpm and a peak torque rating of 429 lb.-ft. at 4,000 rpm.
Front and rear bumpers receive a healthy dose of powder coating. The front bumper effectively hides a Warn 12,000-lb. winch, roller fairlead and 125 ft. of line with nothing visible except a single heavy gauge steel cable and dozer-size hook that attaches to one of the two front tow hooks.
Unique to Power Wagon, the 17-in. forged, multi-surface aluminum wheels with Silver outer and Matte Black inner are bound in 33-in. tires and feature exposed lug nuts with a small center cap.
Truck color dictates the Power Wagon's graphic features. While the optional two-tone, lower black paint is carryover, the design team pulled a popular graphic from the late 1970s for the profile. The 2017 model receives a thick vertical stripe aft of the cab with "Power Wagon" in a large rotated font, paying tribute to a design from 36 years ago and providing quick identification of the Power Wagon model. The optional graphics come in two slightly different color variations, depending on vehicle paint. Bright White, Flame Red, Bright Silver, Blue Streak and Granite Crystal receive Gloss Black graphics, where Black Power Wagon's are covered in Bright Silver graphics.
2017 Ram Power Wagon Pickup Truck Specifications

Request More Information
Fill out the form below to request more information about
Ram Unveils 2017 Power Wagon at Chicago Auto Show