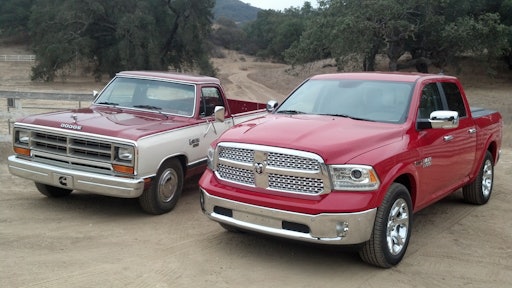 Environmental Protection Agency fuel economy numbers are in, proving Ram's 2014 1500 with the new 3.0-liter EcoDiesel V6 tops the pickup truck market (including Toyota's top-ranked small pickup) at 28 mpg highway.
It's the best highway-cycle test result ever achieved by a full-size, half-ton pickup.
Complete EPA economy numbers on a two-wheel-drive, regular-cab 2014 Ram 1500 EcoDiesel are 20 mpg city/28 mpg highway/23 mpg combined.
EcoDiesel- and Pentastar-powered Ram 1500s rank No. 1 and No. 2 in the 2014 full-size pickup-truck segment fuel economy, aided by a class-exclusive eight-speed automatic transmission (the TorqueFlite).
EPA lists fuel-economy for the four-wheel-drive Ram 1500 EcoDiesel as 19 mpg city/27 mpg highway/22 mpg combined. Ram's 3.6-L Pentastar V6 just beats the diesel's combined fuel mileage with 23 mpg, but the EcoDiesel's highway mileage is 8 mpg better and its city mileage is 3 mpg better.
If power is a priority, the EcoDiesel's 56-percent torque advantage over the Ram 1500 with the Pentastar should be convincing. The EcoDiesel's 420 lb.-ft. peak torque is unsurpassed among V6 pickup trucks or even the V8 engines available in GM and Ford's ¾-ton and 1-ton heavy-duty pickups. The EcoDiesel 1500's top tow rating is 9,200 lbs.
The all-new 3.0-liter EcoDiesel is the first and only diesel available in the half-ton pickup segment. It is a variation of the 3.0-L VM Motori diesel used in European Jeep Grand Cherokees and Chrysler 300s.
The all-new 3.0-liter EcoDiesel features Selective Catalytic Reduction (SCR), high-pressure cooled Exhaust Gas Recirculation (EGR), variable swirl intake ports and a variable-geometry turbocharger. All contribute to 50-state compliance with Tier 2-Bin 5/LEV II emissions regulations.
The 2014 Ram 1500's efficiencies are not restricted to powertrain technologies. Other key features include:
Active grille shutters manage engine-compartment air flow for improved aerodynamics
Electric power steering relieves the engine from constantly turning a hydraulic pump
Use of lightweight aluminum for components – such as hoods
Pricing for the 2014 Ram 1500 starts at $24,200. The V6 EcoDiesel with TorqueFlite eight-speed automatic transmission is priced $2,850 more than similarly equipped Ram 1500 with a 5.7-liter HEMI V8. The EcoDiesel's 420 ft. lb. of torque just beats the HEMI's 410 ft. lb., and the 4x4 diesel's combined fuel economy rating is 29 percent better than the 4x4 HEMI's (on mid-grade gasoline).
Video: Ram Talks Performance and Payback on New Half-Ton Diesel Pickup
Ordering for EcoDiesel models begins Feb. 7.