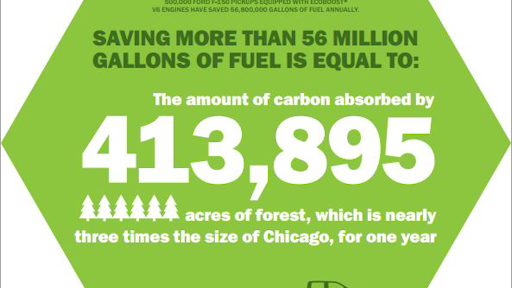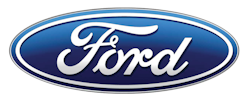 The 3.5-liter EcoBoost engine is the best-selling engine in the Ford F-150 pickup, representing 45% of F-150 truck sales in 2014.
Just over three years after its introduction, Ford has sold 500,000 EcoBoost F-150s, and the the company estimates the fleet of 3.5-liter, twin-turbo V6s on the road is now saving 56.8 million gallons of gasoline per year.
According to the U.S. Environmental Protection Agency, that's equal to the annual greenhouse gas impact of 413,895 acres of U.S. forests.
For the fourth month in a row, more than 57% of retail sales of Ford F-150 light-duty trucks are powered by V6 engines – reversing 47 years of V8 engine dominance in the industry. More than 45% of V6 F-150 sales get an EcoBoost. 
"The twin turbochargers and direct injection give it (F-150's EcoBoost) the broad, flat torque curve that makes towing with a diesel so effortless and hard acceleration so much fun," said Jim Mazuchowski, Ford V6 engines program manager.
The 3.5-liter EcoBoost truck engine delivers 420 lb.-ft. of torque and 365 horsepower to enable towing of up to 11,300 lbs., which is 18% more towing capacity than Ram's 1500 with a 5.7L HEMI V8, for example. Plus, the EcoBoost does it on regular fuel and with outstanding fuel economy.
Over the last three years, retail registrations of light-duty pickups powered by V6 engines grew more than 600%, with F-150 directly responsible for 91% of that growth, based on Ford analysis of Polk retail registration data.
During that time, no competitor has eclipsed a 20% take rate for V6 engines in half-ton trucks. It's been a predominantly V8 crowd, until the introduction of the Ford EcoBoost V6.
"Today's customer doesn't hold to the old notion that a truck must be powered by a V8 engine," Scott said. "Just five years ago, you would have had a hard time making a case for V6 truck engines. Not today. Now, it's all about fuel effectiveness. Customers are looking for the best combination of city and highway mileage, horsepower, torque, towing capacity, payload and value, asking the key question, 'What is the most productive, efficient package for the work I need to do?'."
Along with the 3.5-liter Ti-VCT and 3.5-liter EcoBoost V6 engines, the all-new 2015 Ford F-150 will offer a new 2.7-liter EcoBoost engine with standard Auto Start-Stop, built in Lima, Ohio.
Production of EcoBoost is supported, in part, by Ford's green partnership with the U.S. Department of Energy. Ford has 11 facilities in the U.S., including retooling of Cleveland Engine Plant where EcoBoost is made, participating in the Advanced Technology Vehicles Manufacturing Loan Program. This green loan program helped to develop advanced technologies and strengthen American manufacturing across the country.