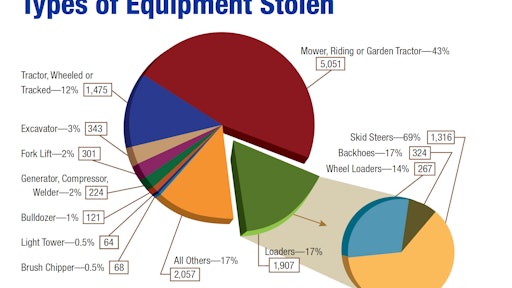 In 2014, a total of 11,625 heavy equipment thefts were reported to law enforcement — an increase of 1.2 percent from the 11,486 reported in 2013, according to the National Insurance Crime Bureau's (NICB) report on heavy equipment thefts.  
Texas ranked number one in 2014 with 1,650 reported thefts, followed by:
North Carolina (918)
Florida (915)
South Carolina (660)
Georgia (647)
The top five cities with the most thefts were:
Houston (201)
Miami (105)
San Antonio (83)
Oklahoma City (83)
Las Vegas (73)   
The three most stolen heavy equipment items in 2014 were:
Mowers (riding or garden tractor:  5,051)
Loaders (skid steer, wheeled:  1,907)
Tractors (wheeled or tracked:  1,475)
Heavy equipment manufactured by John Deere was the number one theft target in 2014 followed in order by Kubota Tractor Corp., Bobcat, Caterpillar and Toro.
As for recoveries, only 23% of heavy equipment stolen in 2014 was found, making it a costly crime for insurance companies, equipment owners and rental agencies. 
"Having the support and cooperation of the manufacturers is critical to the efforts to combat this kind of theft," said NICB President and CEO Joe Wehrle. "In an effort to increase the recovery rate, we encourage the manufacturers to share information and work with us to prevent theft and recover stolen equipment."
NICB urges equipment owners to incorporate theft prevention strategies into their business practices and recommends the following theft prevention tips:
Install hidden fuel shut-off systems.
Remove fuses and circuit breakers when equipment is unattended.
Render equipment immobile or difficult to move after hours or on weekends by clustering it in a "wagon circle."  Place more easily transported items, such as generators and compressors, in the middle of the circle surrounded by larger pieces of equipment.
Maintain a photo archive and a specific list of the PIN and component part serial numbers of each piece of heavy equipment in a central location.  Stamp or engrave equipment parts with identifying marks, numbers or corporate logos.
Use hydro locks to fix articulated equipment in a curved position, preventing it from traveling in a straight line.
Use sleeve locks to fix backhoe pads in an extended position, keeping wheels off the ground.