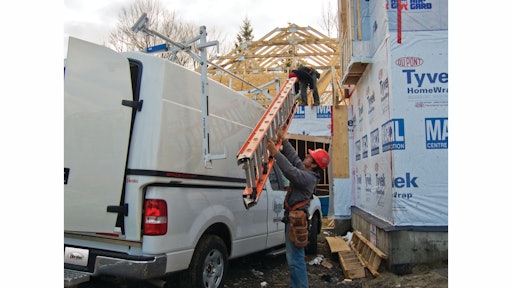 We've all seen pickups on the jobsite with a heap of unsecured tools in the bed. Every time you need a specific item, you must crawl into the bed and rummage through the pile. By choosing the correct accessories for your vehicle application, you can eliminate wasted time and energy searching the pickup bed and present a more professional image. In addition, it will be much easier to detect missing tools and gear.
No matter what your needs, there are solutions available, from simple tonneau covers to secure the bed, to ladder racks and much more elaborate tool bed inserts that rival dedicated service bodies. Following is a look at several of the pickup accessories available. For more information on these and other products, use the inquiry card following page 18 or visit the Buyers Guide at ForConstructionPros.com.
ACCESS CONTENTS SAFELY FROM THE GROUND
There are several manufacturers of sliding cargo trays. These clever devices allow you to access all of the contents stored in your pickup bed safely from ground level. A pull-out tray eliminates the need to crawl into the pickup bed to retrieve items or lift them over the side of the bed.
The Jotto-Cargo Slide comes in light-duty, medium-duty and heavy-duty versions that range from 800 to 2,000 lbs. of cargo carrying capacity. The cargo slides are constructed of extruded aircraft-grade aluminum and weigh from 69 to 139 lbs.
Bedslide offers six models to turn the cargo bed into an easy access drawer that will support a ton. They can be customized with boxes, racks or dividers. There are multiple locking positions for safety and convenience, and they feature a rubberized skid-proof deck.
SECURED OUT OF SIGHT
Many times, you just need a basic bed cover to keep your tools and supplies secured out of sight. This can be accomplished with available tonneau covers or truck caps. Many of these items are similar, while others, such as the HercuLoc, offer innovative features.
The Contractor Series HercuLoc Secure Bed Cover provides security and access for pickups. The cover is counter balanced on torsion springs, and is easy to open from either side or both sides at once. You can even haul bulky cargo at 75 mph with the cover open. An overhead ladder rack is optional.
Jason Industries Work-Force commercial fiberglass caps offer three models (High Rise, Cab High-Premium and Cab-High Basic) that secure items in your truck bed. They feature a rear door with aluminum frame and double T handles.
LADDER RACKS
In addition to securing ladders, ladder racks are often used to haul longer items such as lumber and conduit. Based upon how you plan to use the rack, ensure it has the proper load carrying capacity and/or the ability to easily access ladders from ground level.
Masterack ladder racks allow you to securely carry extension and step ladders. Slide-down ladder racks lower ladders to within arms' reach, while the lightweight aluminum VersaRack can be used to carry a variety of items, including ladders or conduit.
CHOOSE TOOLBOXES THAT WORK
There are literally hundreds of different toolboxes available, but that doesn't mean they should be treated as a commodity. It's important to find a quality box that is easy to access, secure and keeps contents safe from the elements. You really need to match the type of toolbox to your application.
Buyers Products offers a line of aluminum, steel and polymer toolboxes to fit any pickup truck. This includes cross boxes, lo-side boxes, porkchop boxes and topside boxes. The popular cross boxes suspend from pickup side rails and provide easy access to contents from either side of the truck through two gullwing-style or single lids. Cross boxes are available in storage sizes from 6.8 to 19.1 cu. ft. Lo-side and porkchop boxes range in size from 2.75 to 6.3 cu. ft. and topside boxes are available in various dimension combinations up to 96 in. wide.
Weatherguard offers toolboxes in most popular configurations, including the Hi-Side Truck Boxes. They are designed for field service professionals who require frequent and easy access to tools and equipment while keeping the truck bed open for supplies. In addition to a gutter design and a full weather seal that keeps contents dry, the boxes include a drill-resistant lock core to protect against theft and vandalism. Hi-Side organization is improved with the addition of a top-mounted removable parts bin to keep small parts such as fasteners and components organized inside the box.
AN ALTERNATIVE TO SERVICE BODIES
In many instances, there is no better alternative than a dedicated service body for transporting necessary tools and support equipment to the jobsite. But there are applications where you can effectively utilize a pickup truck.
The Pickup Pack from Highway Products is an alternative to organize and secure tools without the cost of a service body. It can be installed in a couple of hours and includes a gullwing saddle box, two lockable low side boxes, a flat or dome center hatch, a headache rack and a removable ladder rack. When closed, the hatch locks the tailgate, making the bed area secure and weather resistant. There is still an 8- to 10-in. space beneath the toolbox sheets for other cargo. You can add a bed slide for even more storage space.
The A.R.E. SpaceKap CAT slip-in utility body is designed to turn work trucks into a toolbox for everyone from small contractors to large fleet operators who desire an effective alternative to vans. Available for 6- and 8-ft. truck beds, the SpaceKap comes standard with 40/60 rear doors that allow easy access to equipment. A second version features full-length side access doors with interior shelving and sliding trays to create an efficient workspace.
The body has 56 in. of interior height and can be outfitted with a rolling cargo bed that allows for more ergonomic access to gear. This can eliminate the need to crawl into the truck bed and lift heavy items. The cap can be customized with optional windows, interior shelves, ladder racks and more.
A unique tie-down system allows users to quickly install or remove the cap in 15 minutes or less. If you want to leave the cap at the jobsite, four camper jacks can be used to hold the 550-lb. unit while the truck is pulled away. The SpaceKap is designed to fit most mid-size and full-size pickups on the road today.
HeneDuty Truck Transformers can be loaded into or removed from a pickup truck bed in about three minutes and can lift 2,400-lb. loads on telescoping legs. The main body can also be used as power scaffolding with three different level options.
The units are designed to carry tools, ladders, lumber and other materials. Interchangeable Zoomer panels can be used for removable flooring in the bottom of the box, to extend the side panels or for a platform on top of the foldable lumber/ladder rack to carry more cargo. The panels quickly transform into 500-lb.-capacity dollies with attached caster wheels, a bench or scaffolding and a table.
The HeneDuty lumber/ladder rack can be extended or retracted in seconds. Retracting the rack allows the unit to be maneuvered and stored in tight spaces.
The Fleetwest Load'N'Go Road Warrior mechanic truck body is designed to assist with repairs and maintenance on all equipment types. A major benefit that it offers is the ability to be transferred from one pickup to another in minutes while fully loaded. This is accomplished with the use of built-in forklift tunnels or optional lifting jacks.
The Road Warrior features 60 cu. ft. of storage space, a 1,000-lb. capacity, customizable pull-out drawer, two 150-lb.-capacity adjustable shelves with slotted dividers and a 3/8-in., 50-ft. hose reel in a side compartment. A vented side compartment allows for transporting fuel storage containers.
DiamondBack Truck Covers Commercial Solutions offers a system designed for construction workers, engineers, surveyors or anyone using a truck for utility or service applications. The DiamondBack cover provides a load-bearing surface capable of sustaining up to 1,600 lbs. A three-panel cover design allows for quick, easy installation or removal. Front and rear panels allow access to both ends of the truck.
Additional accessories are available, including ladder racks that can carry up to 500 lbs. For contractors who haul 16-ft. lumber or long ladders, DiamondBack has partnered with Kargo Master to provide an over-the-cab Kargo Master Pro II Ladder Rack and Leg Set.
An optional Cab Guard is designed to protect the window during hauling while maintaining visibility with an expanded metal screen. Tailgate protectors and side toolboxes are also available.
SNUGTOP offers the SNUGPRO XL all-fiberglass cap as an engineered solution to carry tools, equipment and supplies securely to the jobsite. It features 48-in.-wide double rear doors that eliminate the need for a tailgate. Two extra-large side doors provide easy access to storage and shelving options tailored to the user's exact needs. A reinforced roof with optional racks can support 500 lbs. of gear and materials.
The SNUGPRO XL is available for late-model Ford F-150/Super Duty, Chevrolet Silverado, GMC Sierra, Ram and Toyota long and short bed pickups.
FUEL TANK/TOOL STORAGE COMBINATION
Many times, it's necessary to outfit pickups with a fuel tank to service generators, compressors, etc. There are numerous fuel tanks available, but Transfer Flow provides a solution that secures your fuel and tools in one package.
Transfer Flow offers a 40-gal. toolbox and refueling tank combination. The toolbox provides over 6 cu. ft. of storage space and comes pre-assembled with a 12-volt refueling pump, 12-ft. hose, nozzle and wire harness with a dash-mounted power switch. Because the filler neck is located inside the locking storage compartment, fuel is safe and secure. The toolbox and refueling tank combo is legal for gasoline, diesel, ethanol and methanol fuels. It fits full-size pickups.
CONVENIENT ACCESS
The value of securing tools and cargo in your pickup bed is rapidly diminished if you are constantly misplacing keys or struggling to gain access. There are products available to address this issue, as well.
Bolt offers a solution that allows all locks on the vehicle to be programmed to lock and unlock using the vehicle's ignition key. The Breakthrough One-Key Lock Technology is available for many popular pickup models. A toolbox latch retrofit kit prevents theft and keeps debris out of the toolbox.
Weather Guard offers a keyless access system for truck boxes. The QuickDraw keyless entry system offers push-button access from up to 100 ft. away and automatic unlocking when the key fob is within 5 ft. of the truck box.
The system also provides multi-level encryption for increased security. Up to 10 total remote fobs can be programmed per vehicle to give controlled access to multiple users. The system can be retrofit to existing boxes.