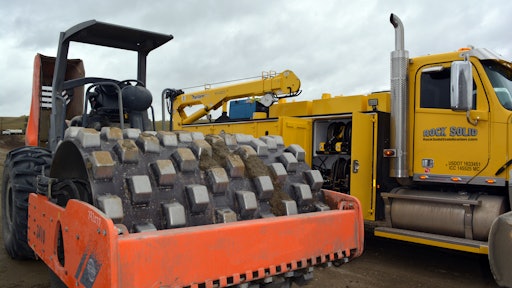 Rock Solid Stabilization and Reclamation, Inc., headquartered in Ringwood, IL, is a full-service soil stabilization, modification and pulverization contractor. It treats unsuitable subgrade and aggregate base and deteriorating pavements with stabilizing agents such as Portland cement, lime kiln dust, fly ash, asphalt emulsion, etc. It also pulverizes asphalt, performs full-depth reclamation, cement-treated base and cold in-place recycling and provides dry bulk trucking. Rock Solid has processed over 16.5 million sq. yds. of unsuitable soil and deteriorating pavement and salvaged 3 million tons of aggregate and pavement on DOT, local agency and private projects since 2010. 
In April 2015, Rock Solid purchased a combination service and lube body from Maintainer equipped with the new H14025 crane. The crane has a 90,000-ft.-lb. rating and a maximum lift of 14,000 lbs., along with a 25-ft. reach. The 22-ft. body, including the 26-in. workbench bumper, is mounted on a 2015 Freightliner Coronado tandem-axle chassis. The truck uses a closed-center hydraulic system to power the crane, a 40-cfm air compressor and the lubrication systems. It also sports four DuraLock aluminum drawer sets, a used filter bin, Maintainer's Pressurized Storage System and seven fluid tanks for fuel, oil, antifreeze, EVAC system, grease system and a high-pressure washer.
Providing Service in Unstable Territory
The truck's first assignment was a trek with head mechanic Doug Hauri out to project sites in western North Dakota. For the past three summers, Rock Solid has been working to beef up the rural road structure to handle the increased truck traffic to various well heads in the Bakken oil formation of North Dakota and Montana. Hauri is currently maintaining a fleet of 30 pieces of equipment, including compactors, soil stabilizers, reclaimers (pulverizers), tankers and spreaders across a 170-mile stretch from Williston to Bowman.
"We also have a service barn in Sydney, MT," says Hauri. "Since we put the truck in service in May, I've already logged 13,000 miles through the end of July."
The new crane helps Hauri tackle the jobs himself so the crews can continue to work. "Anytime I can save my back from lifting, I pull out the crane," says Hauri. "The remote control is great. With the remote, the beefed-up crane and the long reach, it lets me do pretty much anything I need to do out in the field."
The Advanced Crane Control (A.C.C.) included with the new Maintainer cranes provides a better measure of safety for Hauri and other operators, particularly since they work in areas that are not yet stable until Rock Solid finishes the job. The A.C.C. monitors the stability of a lift by sensing the truck level and boom angle. The system will warn the operator and stop crane rotation if necessary if potentially unsafe lift conditions exist.
The crane's tall-tower design gives the truck a lower center of gravity and uses the body frame for support rather than the cabinet structure.
"The high post crane is the only way to go," says Hauri. "This is our fourth Maintainer truck. In 20 years, we have never had a problem, and this crane is their best so far."
Companies in this article