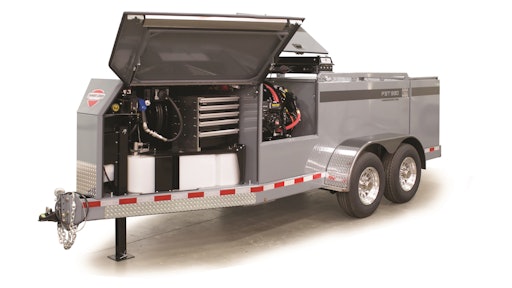 CASE Construction Equipment will now offer Thunder Creek Equipment's new FST Series Trailers through its nationwide dealer network. With purpose-built DEF storage and pumping technology, they provide contractors with an easy and efficient way to ensure optimal DEF purity.
The FST trailers are available in 500-, 750- and 990-gal. diesel capacities with a 100-gal. DEF tank. Each trailer features a closed-loop DEF Delivery System with patent-pending 2-in-1 DEF Pumping System to eliminate exposure to possible contaminants. The optional rear utility box is 55% larger than previous designs and can be added at any time, allowing the trailer to grow with the owner's needs. The trailers are built with a 25% stronger frame to handle the rigors of off-road travel, and are specially designed with taller, fully baffled fuel tanks for smooth hauling at highway speeds.
The trailers also offer a variety of options, including light towers and a 3-in-1 welder/generator/air compressor, that make them a suitable platform for field service and repair.