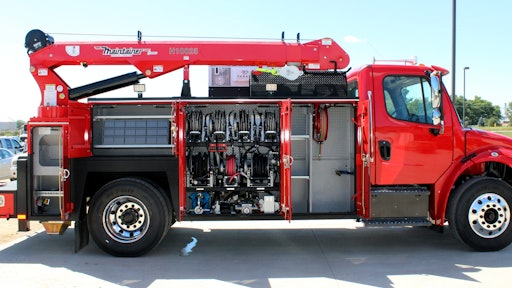 Decisions you make today can impact your service technician well into the future.
"Service truck owners require their equipment to be in service for many years, if not decades," says Nathan Schiermeyer, director of engineering, Maintainer Corp. of Iowa. "At the same time, customers desire their trucks to be as lightweight as possible for improved fuel mileage and increased payload, while staying below chassis and road weight restrictions."
To address this, Maintainer utilizes a combination of high-strength steel components and lighter weight materials. "We have designed many components out of aluminum where higher strength is not required, but can be designed to be structurally sound," says Schiermeyer. "These components include Maintainer's doors, compartment shelves, DuaLock drawer sets, slide-top center deck covers, pull-out steps and, recently, product tanks. Additionally, Maintainer recently implemented a composite oil reservoir which saved 80 lbs. over the previous steel hydraulic reservoir design."
Good design practices must be implemented when trying to shave weight and maintain durability. "Maintainer extensively utilizes Finite Element Analysis (FEA) software to validate the strength of new designs, from cranes all the way down to shelves and bracket components," says Schiermeyer. "FEA also allows weight reductions by removing unnecessary material and specifying appropriate material grades."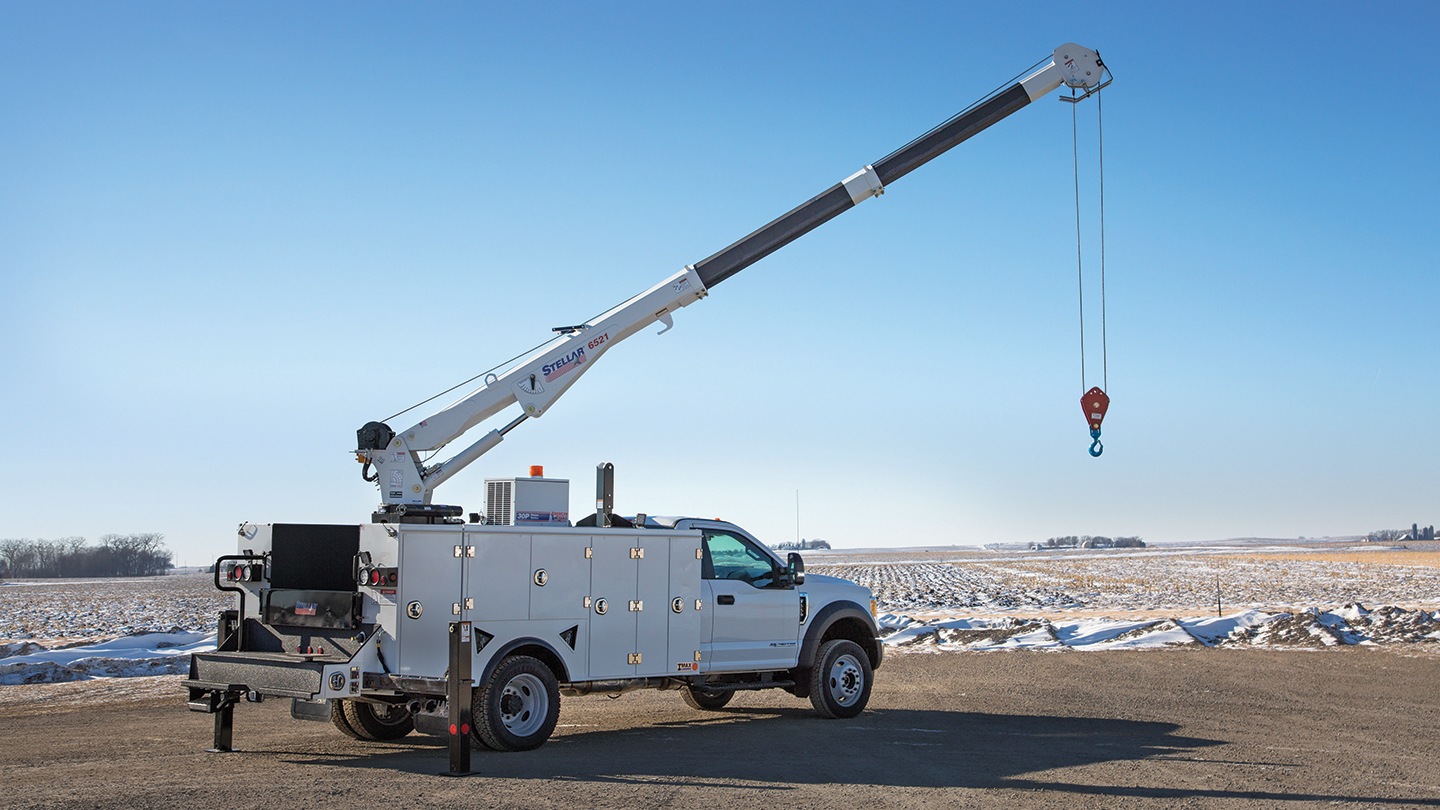 The Stellar TMAX 30K Aluminum weighs over 1,300 lbs. less than the TMAX 1 heavy-duty steel service body yet is designed to accept a 30,000 ft.-lb. rated service crane or smaller.Stellar Industries has made a concerted effort in the past two years to address not only weight, but also corrosion for customers in northern climates. "The Stellar TMAX Aluminum Series of mechanics bodies is patent pending and was developed using engineering and design practices found in the automotive and aircraft industry," says Tim Davison, product manager. "We have been able to construct our body compartments out of aluminum, maintain the steel subframe and floor to offer reduced weight and corrosion resistance and still offer superior structural strength to support even our largest crane."
Engineers had to start from scratch. "We didn't just mimic our steel side pack nor did we just change the material to aluminum," says Davison. "We used advanced design and manufacturing methods to make the side packs as strong as possible. Aluminum has unique characteristics compared to steel, so one has to design it with those characteristics in mind.
"We feel we really hit a home run with the design of a full aluminum extrusion side pack top with integral mounting rail for accessories," he continues. "This allowed us to create a top with ultimate strength while preventing any holes needing to be drilled to secure things like welders and compressors. We even proved through cycle testing and failure testing that our extruded aluminum top was equal to or stronger than our steel compartment tops. We also had to manufacture in such a way to prevent electrolysis where steel and aluminum come into contact. There are special products found in the automotive and aircraft industry to prevent this and we use these in various ways."
But when looking at weight-saving technologies, you need to weigh the additional cost vs. benefit. "There are some things being done today to save weight, though sometimes at a great expense without a lot of added value," says Mark Zipse, regional sales manager, Iowa Mold Tooling Co. (IMT). It's important to calculate the baseline weight when you start building a truck because there is a considerable difference between weights of bodies and the weight of packages with bodies, cranes, compressors and welders, as well as what you store in the body.
"Many customers are concerned about payload," says Zipse. They want to be in compliance with DOT regulations. "But at the same time, they're concerned for the longevity of the truck. A truck that's not carrying as much weight down the road will last longer than one that is close to being overloaded all the time."
This quest for durability factors into the choice of materials. "Although researching options, IMT is not utilizing aluminum or composites in our designs at this time," says Zipse. "To achieve the weight savings associated with aluminum or composite materials, you potentially sacrifice a measure of longevity and ability to handle the torque that a crane would put on a body. You generally have to use thicker components for aluminum and composite to be equal to what steel can accomplish. We're cognizant of the weight-saving material out there, and we're experimenting with it to find the right combination."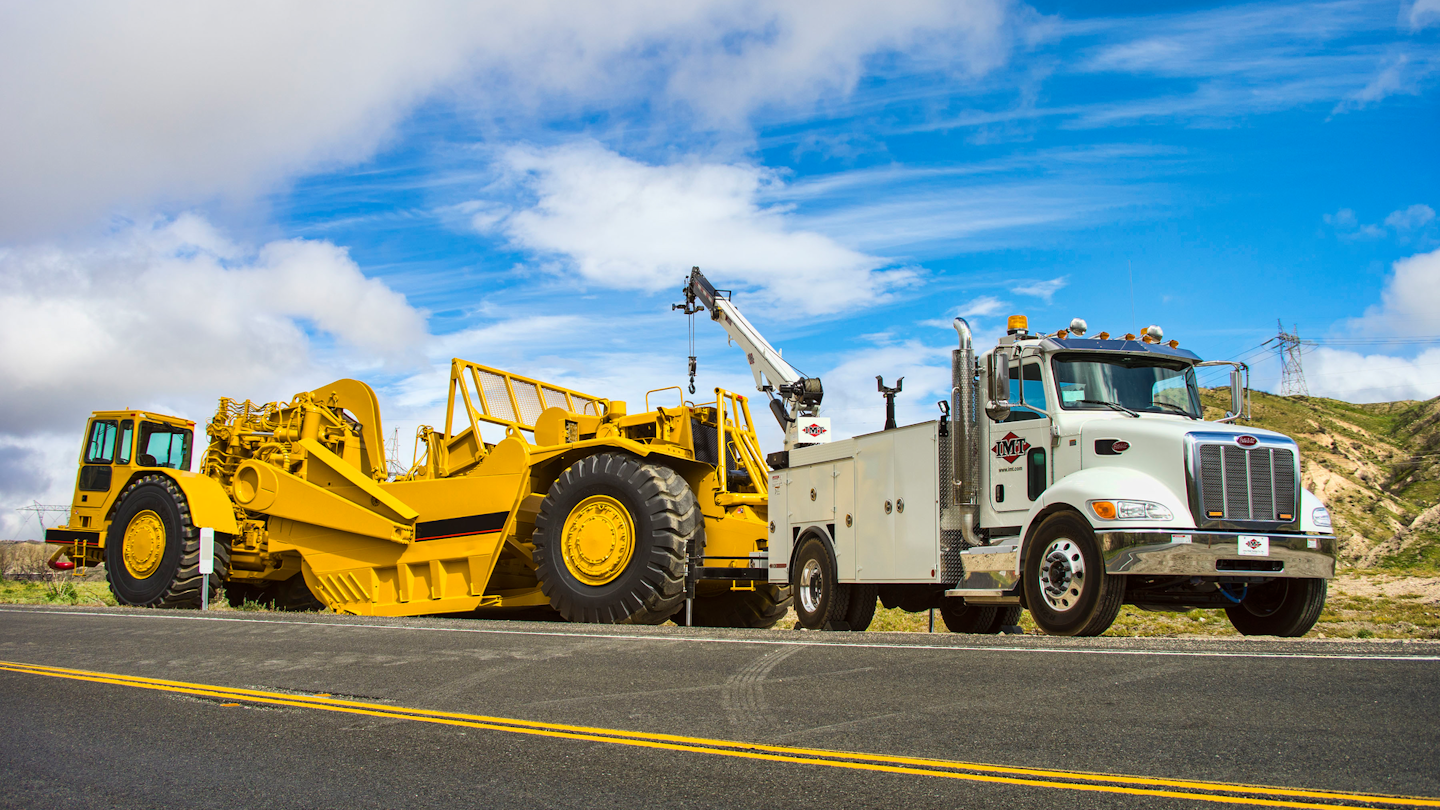 The 11-ft. Dominator III is capable of working in tighter quarters than its 14-ft. counterpart, maintaining stability and providing extra lift performance in critical work zones.

Trucks Sized for Cranes
The size of the crane really drives the minimum size of the truck. "It used to be that the customer would undersize their cranes," says Davison. That trend has now been reversed. "We are now seeing people realize that they maybe bought a crane or truck that is too large and under utilized." The solution is to seek outside guidance when selecting cranes. "We want to help customers 'right size' their fleet. We strive to help educate customers on which equipment is right for the application."
Larger equipment requires larger cranes, but smaller cranes and trucks increase maneuverability. "For many years, we saw mechanic's trucks getting larger and cranes needing more reach," says Davison. "This really hasn't changed in recent years. However, there is a keener understanding of how a small mechanic's crane might be needed for urban or suburban markets. Many customers realize they need a blend of trucks across their fleet to service different markets."
The larger the crane, the larger the investment. "It is often the case now where the truck, the crane and compartment space are over-sized for the standard work to be accomplished," says Schiermeyer. "Larger cranes require larger trucks, which almost always incur additional cost (from FET to CDL driver requirements). Equipment owners and fleet managers need to validate the work that is required for crane sizing, as well as required equipment that the mechanic needs to have to do the everyday job."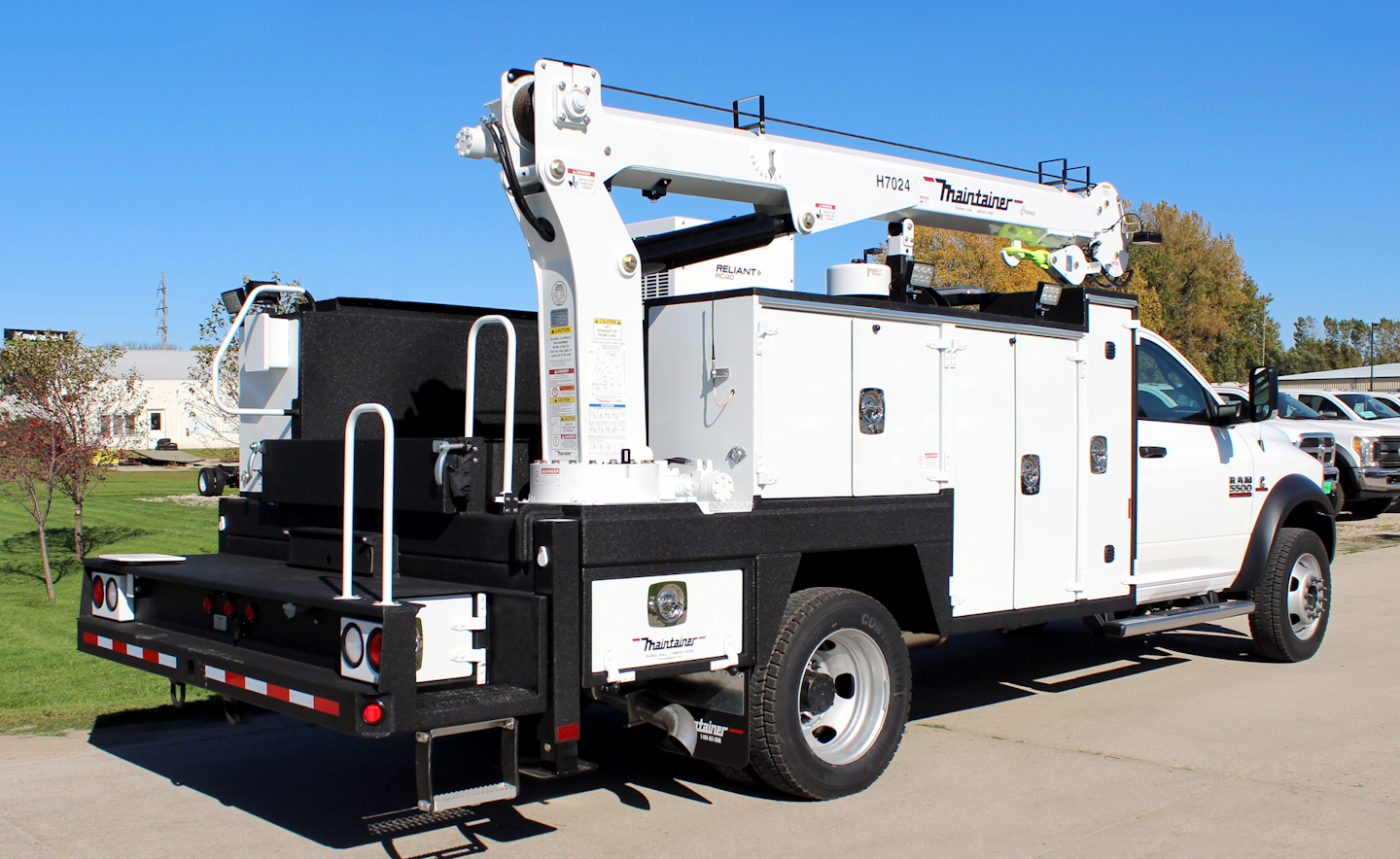 Truck chassis selection is based on several factors, including weight distribution. "The chassis is there to support that body and payload that you'll ultimately put into it, including a compressor, welder, generator, oil systems and tools," says Zipse. "It's incredibly important that you look at the payload and the weight distribution of that payload on the particular chassis that you choose to get the maximum use out of that unit."
IMT analyzes weight distribution of all the components to help size a truck. "We pay attention to where things are placed in the body — such as the tools, which are generally in the center of the body, and the crane in the right rear corner — to determine the weight distribution calculation," says Zipse. "Once we know that number, we can move the weight around." Different chassis, axle capacities and so on can be swapped under the body to meet specific requirements.
"It all comes down to picking the right truck and then verifying what kind of payload you can get with the service body and crane on it," says Zipse.
Contractors today want to ensure the mechanic can do the job and is satisfied with their vehicle. "Sometimes to maintain that mechanic as an employee, the contractor has to ensure the mechanic is happy with the tools, including the service truck, and that the mechanic has all the necessary equipment on the truck."
Tool storage can be a challenge. "Most manufacturers offer 44- or 42-in. compartments," says Zipse. "We noticed that mechanics were going to their local farm shops to buy a cheap tool compartment and bolt it on top, which wasn't ideal. That led us to add multiple compartment height options between 44-, 52- and 60-in. vertical compartments. It's become popular to buy the taller compartments so the mechanic has room to store everything he needs."
Maximize ROI
Service trucks represent a significant investment, so it is not a surprise that many contractors look for ways to increase the utilization rate.
"Many service truck owners are trying to find multiple uses for the equipment that they already own," says Schiermeyer.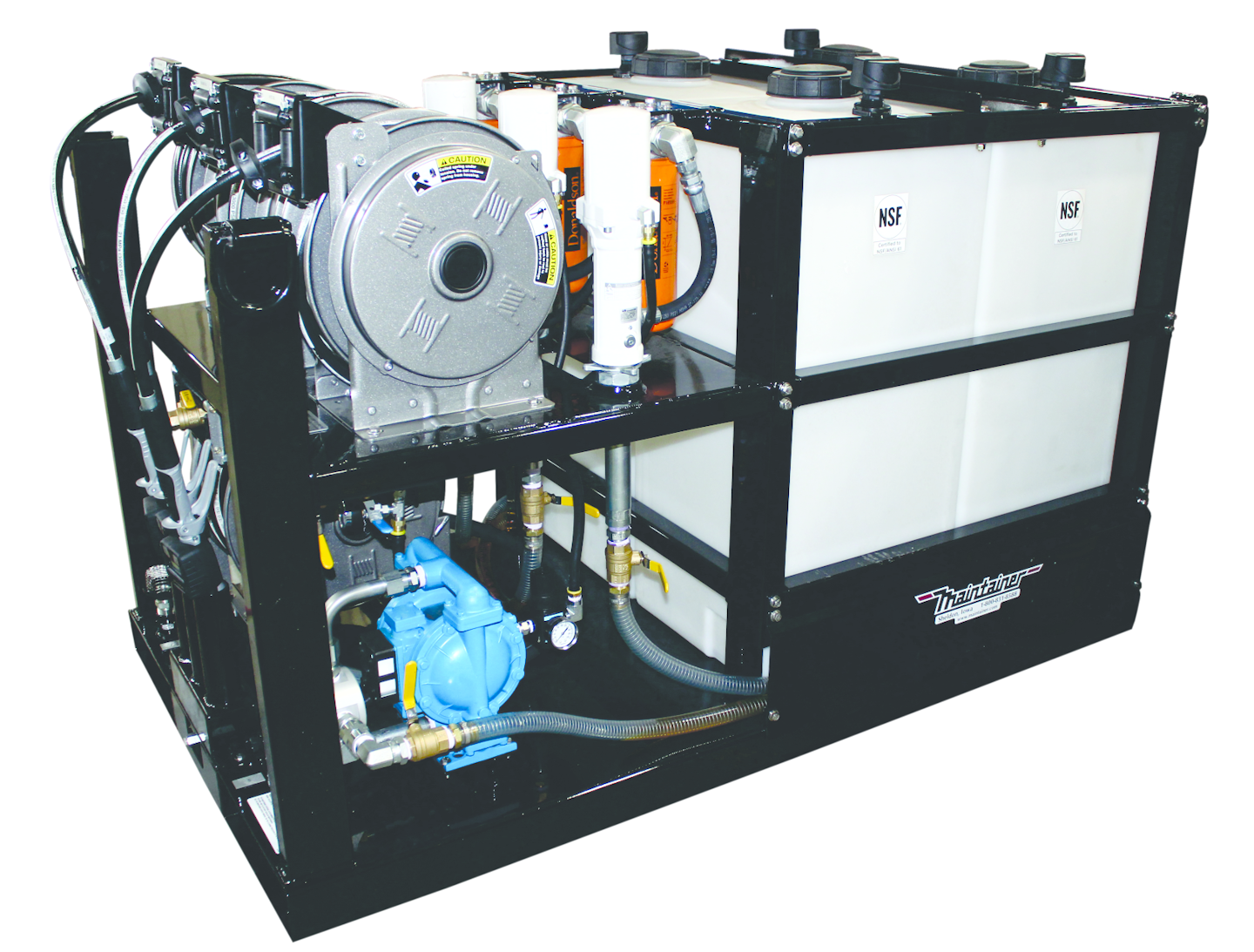 Lube skids are becoming a popular way to increase the utilization rate of service bodies. Lube skids allow technicians to perform preventive maintenance; they can be removed when not needed."For example, the ability to add lube product dispensing and recovery to a service truck is something that may be needed occasionally, but not every day," he notes. "When this situation arises, a great option is to add a lube skid to the unit that can be easily installed or removed depending on the job requirements of the day. Typically, the weight and space of the lube tank and product dispensing may not be required on the service truck every day, but it gives the truck more versatility when required."
Lube skids allow mechanics to perform preventive maintenance in the field, while maximizing the significant investment already made in a service truck. "We have seen a marked increase in lube skids installed on mechanic's trucks," says Davison. "A mechanic's work these days involves preventive maintenance work along with normal service breakdown work. Having a lube skid integrated into their mechanic's truck gives them a sound package that works correctly right out of the gate.
Safety and Productivity Enhancements
Mechanics often work in challenging conditions, including working after dark, and having to continually crawl on and off equipment. Lighting enhancements and improved accessibility to the work environment are among the advancements that need to be considered when purchasing a service truck.
"Many of the recent innovations in service truck bodies are directly related to safety and productivity," says Schiermeyer. "Maintainer service trucks utilize LED lighting for compartment lights, floodlights and ICC marker lighting. A popular option has been to add LED floodlights to the crane boom tip so the work area is always illuminated."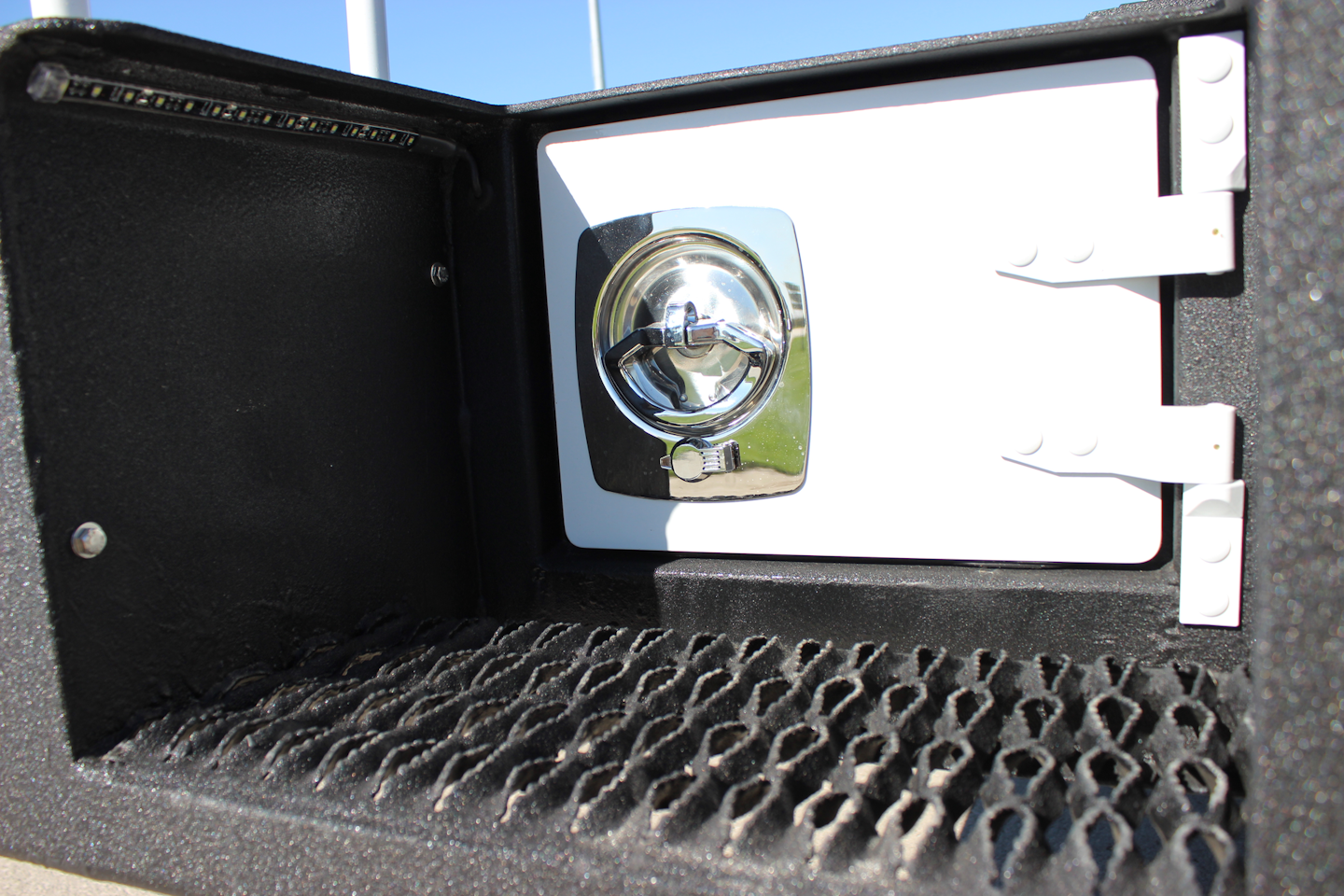 Lighted stairIMT has integrated LED lighting as standard in its compartments. "To enhance that lighting, we painted the interior of those compartments with a non-reflective coating," says Zipse. "It's a VOC-compliant polyurethane-modified multi-color spray finish. It allows you to see significantly better inside those compartments by preventing the lights from reflecting and creating glare in the space."
"Another area of recent improvement is safer and more convenient access to compartments and center deck areas," says Schiermeyer. "Maintainer has designed and implemented a side access step into the workbench bumper. The newer staircase design aids employee visibility when coming off the center deck/bumper compared to the older ladder-style step design."
Truck access always ranks high on the technician's wish list. "Our customers pay a lot of attention to what we're doing with the access in and out of the back of the trucks," says Zipse. "One of the biggest issues they have is operators inappropriately accessing the back of the truck. The rear access package helps to alleviate some of those safety concerns."
IMT implemented a rear access package on its Dominator line that provides a strategically placed extra step and an extended handle. "The handle provides more surface area for two hands to make more contact, while the extra step reduces the height of the initial step as well as the distance between steps," says Zipse.
Crane controls are also continuing to evolve to enhance safety on the jobsite. "New technology is constantly being added to cranes, wireless crane remote systems and service truck body control systems," says Schiermeyer. "For years, cranes have had anti-two-block and overload protection systems. However, some new systems can monitor body level and crane boom angle, and display load values or percentage of load on the remote system display."
Of course, the best service truck for your operation is the one that allows your mechanic to efficiently service equipment while providing a low operating cost. This requires an understanding of how the truck is to be used.
There has been continued advancement in materials (high strength with weight savings); options and accessories (improved job performance); and technology (data sharing), according to Tom Wibben, director of sales and service, Maintainer. "We strongly encourage the customer to take the time to review and verify the needs of their field technicians and pass along as much information about their needs [as possible]," he urges. "While many service units may look the same on the outside, there are many features and options that can assist in providing the best service truck for the job."