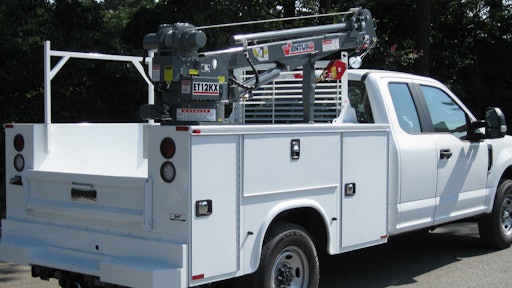 Venco Venturo
Options to the traditional steel, hydraulic crane on mechanic's trucks are beginning to emerge to deal with persistent overweight issues when service trucks have to transport heavy components. These options can save weight and/or cost. 
This year, Stellar Industries introduced an aluminum telescopic service crane, the EC3200 Aluminum. "Weight reduction is the biggest advantage to this crane," says Tim Davison, senior product manager, Stellar Industries. "We have reduced the weight of our crane by over 30% by utilizing extruded aluminum booms. Weighing just 500 lbs., the EC3200 Aluminum is nearly 200 lbs. lighter than our nearest competitor. This allows fleet operators to reduce the weight of their trucks, giving them the potential to carry more payload, or even downsize their truck chassis." 
The aluminum crane meets the same criteria as its steel counterpart. "Because we have to meet ANSI B30.5 design criteria whether the booms are steel or aluminum, the EC3200 Aluminum matches the performance of the standard EC3200 made with steel booms," says Davison. "As for long-term durability, we went the extra step of anodizing our aluminum booms to improve wear resistance. This surface, under our testing, actually performed as good or better than steel booms."
Mechanics Trucks Get Lighter, Smarter and Safer
Electric crane technology has also carved out a niche in the mechanics truck market.
Venco Venturo Industries recently introduced a new variation of its ET12KX-P — a 3,500-lb. electric-hydraulic service crane with a fully powered boom extension up to 16 ft. "The winch is operated by an electric power unit mounted to the service crane, but also includes hydraulic-powered boom elevation, boom extension and crane rotation," says Ian Lahmer, marketing director, Venco Venturo Industries.
Electric Mechanic's Truck Cranes Fill Niche
Hydraulic functions are driven by a self-enclosed hydraulic pump system. "This allows the crane to be installed and hooked directly to the battery as opposed to purchasing a separate PTO to run all the hydraulics of a full hydraulic crane."
Electric-hydraulic service cranes do not need installed hydraulic lines driven by a PTO, thereby making these cranes an easier, less time-consuming install.
The Venturo ET12KX-P features proportional controls, which give the operator precise load control functions including rotation, elevation and extension. "Many smaller electric cranes do not include full power boom extension and/or proportional controls due to the on/off function of many electrical systems," says Lahmer. "Venturo has offered proportional control for many years in conjunction with the hydraulic service crane. Starting last year, it has offered proportional controls with the ET12KX-P and plans to expand those across the entire electric-hydraulic crane line." This allows for small, fine movement of the crane load when needed.
"Because smaller cranes have low capacities, there are few hydraulically-driven winches that are as cost effective as electric winches, making the smaller 12-volt electric-powered cranes a more cost-effective alternative for customers that have lighter loads to be moved," says Lahmer. "Electric-hydraulic cranes are usually a less expensive alternative to the fully hydraulic cranes due to the wiring, hoses and overall structure of the crane."
Venco Venturo's line of electric-hydraulic cranes can pick up anywhere from 2,000 to 6,000 lbs.
Larger loads and constant duty cycles are still better served by fully hydraulic proportional cranes. "Electric-hydraulic cranes have electric winches and are considered to be 'occasional duty use cranes'," Lahmer comments. "While electric winch run times vary by model, they typically fall in the two to five minutes of constant, not letting off the power switch run time. Most electric winch movement run times are just a few seconds, which allows for most crane uses to be done in plenty of time under the two- to five-minute window.
"However, electric winch cranes typically should not be used when constant, long winch run times are involved," he cautions. "A good example of this would be pulling and service of below-grade water pumps, which can often be 50-plus feet below grade."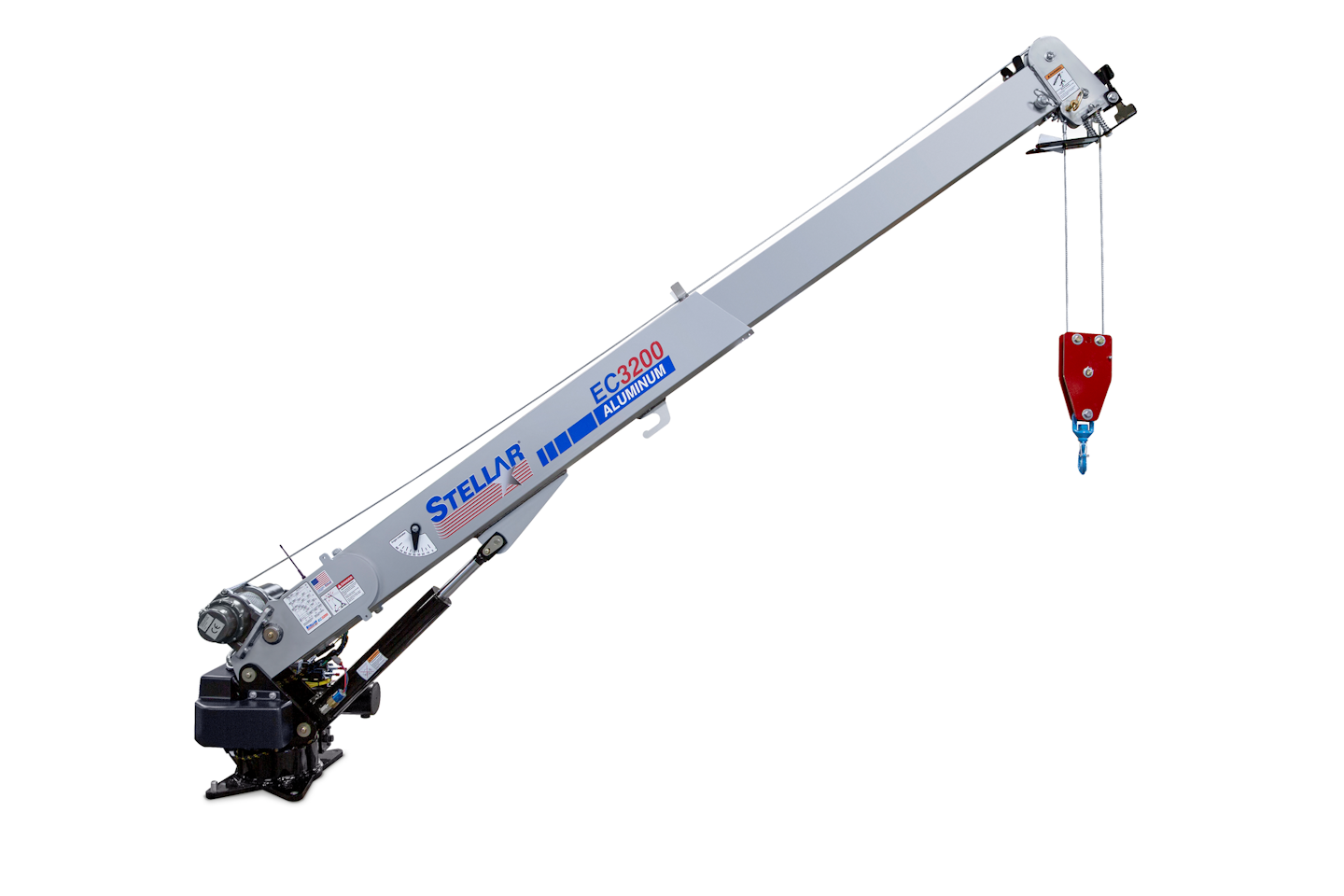 Stellar Industries' aluminum telescopic service crane weighs 200 lb. less than steel counterparts, so operators can carry more payload, or even do the work with downsized truck chassis.
Companies in this article