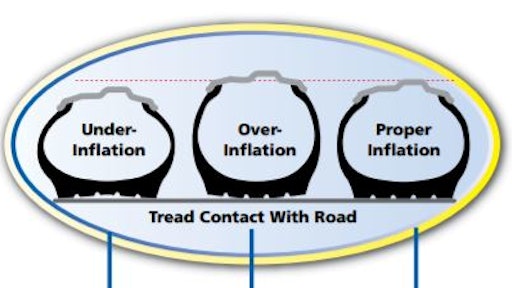 Michelin Americas Truck Tires
The majority of truck tire failures are preventable. Assuming you have selecting the correct tire for your particular application, there are a few simply steps that can minimize tire-related downtime. "It really comes down to three things: inflation pressure maintenance, visual inspection of the tires to ensure no damage and even wear, and lastly, vehicle alignment," says Phil Mosier, manager of commercial tire development, Cooper Tire.
The first, and by far the most important is regular tire pressure checks. "As with any tire, it is of the utmost importance to ensure the inflation pressure is maintained," says Mosier.
Check tire pressure at least monthly. Over-inflation can create performance issues but under-inflation is far more common and expensive because it can damage tires by raising their temperature. Most Class 8 trucks require about 105 psi in each tire, but the ideal pressure varies with axle load, number of tires per axle, typical cruising speed and even weather.
When inspecting the tires check for uneven wear or damage that can lead to possible failure. Wheel alignments can go a long way toward eliminating uneven tire wear and prolonging tire life.
"Proper alignment of steer and drive axles will help give the tires the best chance of wearing evenly," says Mosier. "Tires should be matched within ¼-in. diameter within a set of dualed tires. And they should be matched within ¼ in. in diameter across an axle, as well as within a ¼ in. in diameter between tandem axles."