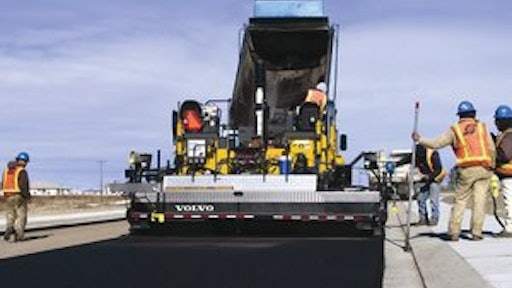 Bergkamp Inc., based in Salina, KS, offers its Variable Width Spreader Box (VSB) to provide better flexibility for microsurfacing contractors that work on highways, roads and other pavements where the width fluctuates throughout the job.
The VSB can expand and contract while paving, so you don't have to stop when the road changes — eliminating unwanted construction joints and increasing pavement driving quality.
It has four augers: the first two feed the material to the center of the box while the other two evenly distribute the mix during placement. As the box adjusts, the augers remain equally spaced apart so you get an even placement and a smooth finish.
Even at the smallest width, the auger blades never touch, making it easy to clean because the microsurfacing material doesn't build up between them.
The VSB is available in 8- to 13-foot, 9- to 14-foot and 10- to 15-foot models. Widths up to 16 feet are available by special order. Each model allows you to pave at any width between the minimum and maximum size.
As the first of its kind, the VSB is made for Bergkamp pavers, but can also be customized for other brands.
It easily replaces standard boxes, connecting to the frame of the microsurfacing paver like other spreader boxes. The VSB is connected to the paver's hydraulic system and adjusts by using the levers located on the handrails of the box.
The hydraulically driven ribbon augers are fully expandable, and feature a 12-inch pitch. Both the primary and secondary strike-offs feature a patented design that allows them to slide within a guide tube when the box expands or contracts while paving, and inboard runners provide clean longitudinal joints.
Along with the VSB, Bergkamp offers other spreader boxes for all applications, including:
Hydraulic Spreader Box — Designed specifically for microsurfacing and quick-set slurry seal mixes. Once the pins are removed, widths can be hydraulically adjusted from 8 to 14 feet in 6-inch increments. Widths up to 16 feet are available by special order.
Slurry Seal Box — Available with or without augers for typical slurry seal applications. The width is manually adjustable from 9 to 14 feet in 6-inch increments. Widths up to 16 feet are available by special order.
Rut Box — Allows filling of wheel path ruts to the desired level without wasting material. Two independently adjustable V-shaped screeds channel the mix's larger-sized aggregate to the deeper part of the rut. It is available in 5-foot or 6-foot widths.
904H compact wheel loader
The 9,900-lb. 904H compact wheel loader delivers an 8,003-lb. bucket breakout force and maximum hydraulic lift capacity of 7,464 lbs.
94-in. maximum dump height
52-net-hp turbocharged MHI S4Q2 diesel engine meets Interim Tier 4 regulations
Closed-loop, single path hydrostatic transmission
Available with a choice of couplers, including a universal-style coupler compatible with skid-steer-loader work tools
Incorporates articulated steering, two-speed hydrostatic drive, Z-bar loader linkage and optional locking differentials for the front axle and oscillating rear axle
Caterpillar Inc.
aluminum boxes and steel racks
DeWalt introduces its line of heavy-duty commercial rack, storage and carrier solutions for professional contractors. The latest addition includes more than 60 aluminum boxes and an assortment of fully adjustable steel and aluminum racks for jobsite vehicles. The industrial grade truck boxes are designed with a patented, fully foamed lid that provides a solid insulated core for added strength and rigidity. For increased security, each box has an enclosed locking mechanism to prevent bending or jamming of the locking system. These truck boxes are available in many sizes and styles which can be mounted in different locations in the bed of the truck. The heavy-duty industrial grade steel racks carry up to 1,800 pounds safely and securely through its exclusive heavy-duty SteelTruss load supports that connect the rail, cross and leg bars. The racks are secured by an innovative bracket support system which optimizes the stability of the rack.
DeWalt Industrial Tool Co.
Bid2Win 2009
BID2WIN Software releases the latest version of its estimating and bidding solution - BID2WIN 2009, which includes over 80 new enhancements, features and reports. Features include estimate attachments, copying item templates from one item database to another, modifying an estimate status within the open estimate dialog, find/replace cost components and more. BID2WIN also offers 24/365 technical support hotline, client surveys and the annual BID2WIN Software User Conference.
Bid2Win Software
BPR100/80D
For work on granular, cohesive and mixed soils
14.75-hp Hatz air-cooled diesel engine
Maximum working speed of 88.6 fpm
Gradeability of 35 percent
Maximum vibration frequency is 3,360 vpm
Centrifugal force is 22,500 pounds
Exclusive Economizer system detects soil stiffness and achieves optimum compaction more quickly and efficiently
BOMAG Americas
Icon 3.1 Jacket
The Tingley Rubber Corporation introduces the Icon 3.1 insulated, waterproof outerwear system. The Icon 3.1, which is Class 3 compliant for visibility, meets the ANSI/ISEA 107-2004 standard for breathability and high visibility. The jacket features a removable fleece liner and a 2-inch silver reflective tape.
Tingley Rubber Corp.
Omni 318 & Omni 1000 Screeds
Volvo's Omni 318 and Omni 1000 are designed specifically for the Volvo PF6000 series asphalt pavers. They are designed for multiple configurations on a single paver to accommodate various mix designs and paving requirements. The Omni 318 is ideal for paving jobs with a standard paving width of 10 to 18.25 feet and teh Omni 1000 is ideal for paving widths of 10 to 19.5 feet. Both screeds utilize an innovative heat bar technology that provides uniform heat to the screed.

Available for the PF6110 tracked and PF6160 and PF6170 wheeled asphalt pavers, the Omni 318 and Omni 1000 vibratory screeds enable multiple configurations on a single paver to accommodate various mix designs and paving requirements. The Omni 318 is suited for most paving jobs with a standard paving width of 10 to 18.25 ft. The heavier Omni 1000 is suited for more demanding applications. It is designed with rear-mounted hydraulic extensions and comes with standard power height, slope and crown adjustments. Standard paving width is 10 to 19.5 ft. Both models utilize innovative heat bar technology to provide uniform heat to the screed, and are available with optional extensions for paving widths up to 26 ft.
Volvo Construction Equipment
Sakrete U.S. Cold Patch
Ready-to-use, recycled asphalt product
Permanently repair potholes, depressions, or cracks in asphalt or concrete surfaces
Can be applied year round
Odorless
Available in 50-lb. bags or 3,000 lb. bulk bags
Bonsal American
Variable Width Spreader Box
Can expand and contract while paving to match roads that fluctuate in width
Hydraulic cylinders are actuated by valves located on the handrails of the box
Hydraulically driven ribbon augers are fully expandable, never touch, and feature a 12-inch pitch
Available in 8- to 13-ft., 9- to 14-ft., and 10- to 15-ft. models
Widths up to 16 ft. are available by special order
Bergkamp Inc