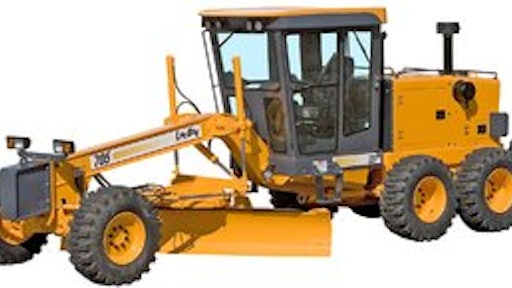 705 Motor Grader
The 705 motor grader features joystick control of grader functions integral to the operators chair in a 17,000-lb. unit with a 10-ft. sliding and tilting moldboard.
117-hp Caterpillar Tier III diesel engine
Six-speed forward and three-speed reverse power-shift hydrostatic transmission
Load-sensing variable-displacement pump
Climate-controlled, isolation-mounted cab with 10% more glass area
18-in. right or left moldboard side shift and a shoulder reach of 36 in.
Rear-mount 72-in. scarifier with slots for up to nine ripping teeth
VT LeeBoy, Inc.
Bohlin DSRs
Bohlin Dynamic Shear Rheometers (DSRs) from Malvern Instruments are recognized as the industry standard for SHRP and AASHTO asphalt testing. Using the latest TruGrade software package, routine analysis is truly simple and even inexperienced operators can make accurate and reliable measurements. Its intuitive one-page user interface can be configured to meet individual needs and a wizard guides the operator all the way through the process from sample loading to testing - and even cleaning.
Malvern Instruments, Inc.
IRIS Ground Penetrating Radar
Allows you to "see" through concrete, asphalt and soil
Helps detect subsurface moisture, voids and bridge deck delamination
Helps determine pavement structure and layer thickness
Can be done at highway speeds
Locates and measures voids beneath pavement
Lube Skid 21120
The Lube Skid 21120 includes one 120-gal. used product tank and four 60-gal. fresh fluid tanks.
Vacuums used fluid directly from the engine pan without the use of pumps
Enclosed design prevents spills and contamination
48 in. wide to fit in a truck bed
Forklift guides for easy removal from bed
Maximum operating weight of 5,100 lbs.
MK-1 Transfer Sweeper
Broces MK-1 transfer sweepers are designed to pick up and transfer material to a truck in a continuous operation.
Allows for significant savings in time, equipment and manpower
Load to a height of 10 6" straight ahead or to either side
RoadHog Milling Attachments
The RoadHog self-contained milling attachments are powered by John Deere PowerTech turbocharged, four-cylinder Tier III-compliant diesel engines.
Suited for milling asphalt or concrete, cutting utility trenches and recycling or stabilization of base and soil
75-hp model intended for backhoes over 13,000 lbs. and comes in 30- or 40-in. cutting widths with a 10-in. cutting depth
140-hp unit has a 12-in. cutting depth and is designed for wheel loaders with a minimum 9,500 lbs. of static tip load at full turn
Wireless remote controller activates engine functions, plus hydraulic depth and sideshift control of the drum
Zanetis Power Attachments
UR Series Rock Saw
The UR Series Rock Saw is designed for heavy-duty concrete, asphalt, rock or rebar cutting.
Cut depths of 12, 18 or 24 in. deep and 2.5 or 5 in. wide
High-torque direct drive motors
Swing-in cab hydraulic controls
Suitable for gaining utility access or new line installation
Vorteq TMA
The Vorteq trailer-mounted attenuator is designed primarily for users in need of an easy to own and operate, lightweight, repairable TMA that passes all mandatory and optional NCHRP 350 TL-3 requirements.
Single-point attachment allows for setup in less than a minute
Open frame design for quick, easy inspection and maintenance
Standard fully galvanized model mounted on a torsional axle with an LED lighting/electrical package
Can be used on most vehicles with a standard pintle hook
Companies in this article