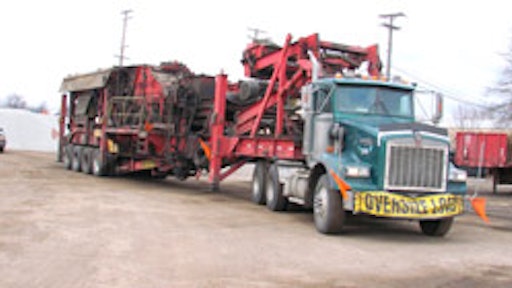 Thompson Recycle, Tecumseh, MI, has moved its asphalt rubble crushing operation from site to site more than 750 times and crushed about 18 million tons from March 1995 through November 2007 over the span of 13 crushing seasons lasting eight to nine months each. Thompson operates exclusively in Michigan, generally covering an area from Grand Rapids east to Port Huron on Lake Erie and south to the Indiana and Ohio borders.
But Thompson Recycle does not operate a compact, so-called "mini-crusher" designed for fast in-and-out handling of small crushing jobs. Rather, Thompson utilizes a large, road-portable, electric-powered Grasan KR1515 primary horizontal impactor plant capable of up to 600 tons per hour as the heart of its recycling system which also includes a screening plant, radial stacker and return conveyor that are all road portable. A front-end loader and 30-ft. stackable conveyor are transported on trailers while a generator and control center are housed inside a 40-ft. shipping container on a 53-ft. trailer.
"We basically move seven major pieces of equipment with seven tractors," says John Thompson, owner and president of the contract crushing company. "Smaller items such as a water tank and light tower are towed with pickup trucks. Tractors are provided by a leasing company as needed at each site, and we own the trailers.
"We shut down for the winter on November 30, 2007 - a week or two earlier than usual - and will start up again in about mid-March 2008. We move six to ten times a month to handle jobs ranging from a minimum of 10,000 tons up to 70,000 tons of asphalt rubble per site. And we'll crush anywhere from 1.2 million to 1.5 million tons in a typical year. It's rare that we crush anything other than asphalt.
"Most contract crushers figure they can't move that often for jobs that small with a big plant and make out because moving is expensive," Thompson says. "But I've been doing it successfully since I started the company in 1995. The key is efficiency. You need two things: an efficient, hard-working crew and efficient, durable equipment. Most members of my crew have been with me for a number of years; so we're very efficient in our crushing operations and moving procedures. We can shut down early in the morning at one site, drive 100 to 200 miles to another site and be operating again by mid to late afternoon. That's one way a capable, experienced crew pays off big time.
"But you also need durable, efficient equipment you can set up quickly without special units, other than a front-end loader. The heart of our system, of course, is the crusher. The six independent hydraulic legs on the Grasan impact crusher level the plant quickly and easily, is typically ready to run in 15 minutes; and the legs provide complete operational support. We don't need any braces, jacks, shims or whatnot. Also, Grasan designed the plant for us with hydraulic clamping and fastening mechanisms instead of bolts, which saves a ton of time. That also means there are no nuts and bolts to wear or lose.
"And we absolutely can't afford unplanned downtime," Thompson emphasizes.
"In 13 crushing seasons, operating eight to nine months per season, we've run about 18 millions tons of asphalt rubble through our Grasan KR1515 primary impact crusher with virtually no unplanned downtime. I attribute that to Grasan's quality, plus diligent maintenance on our part. My Grasan impactor plant is so well designed and built that I fully expect to get 20 to 25 years of good service from it, based on the tonnage we've processed through it so far and the excellent condition it's in at this point. I've replaced other pieces of equipment, but the Grasan crushing plant has come through it all with flying colors."
Thompson runs the impactor with two blow bars and two dummy bars for balance and to protect the rotor. He turns the blow bars every 20,000 to 25,000 tons, getting about 80,000 to 100,000 tons from a set of bars. He gets about 700,000 tons per turn on the mono-block apron, and about 200,000 tons on the apron rear impact plates before the edge is worn off. The crew checks over the entire system at the start of each shift and generally pulls maintenance while tearing down for a move. Any major repairs are made during the winter shutdown.
Thompson Recycle operates 24 hours a day in two 12-hour shifts, Monday through Saturday. A crew of seven men, including John Thompson, alternate their hours so each shift has a crew of two to three men. Each man normally works a five-day week. The plant is moved so often because Thompson has a steady list of customers and has to be where and when needed, sometimes on very short notice.
"I could operate two plants and move half as often, of course," Thompson explains. "But that would require a double investment in equipment and employees, plus two maintenance and parts situations. What's more, I'd have to be on the road between sites a lot more. It seems like I live on the road as it is. My pickup truck is my mobile office - phone, fax, information center - the whole works. For me, moving is less troublesome and less costly than operating two plants. We're crushing about three fourths of the time. The other fourth is for maintenance and moving.
"I can't emphasize too much the importance of getting quality equipment if you want to be competitive, keep your customers satisfied, and still make an acceptable profit. Unplanned downtime often makes the difference between profit and loss in both the short and long term. The extra investment I've made in top quality equipment - especially the crusher - has paid for itself many times."