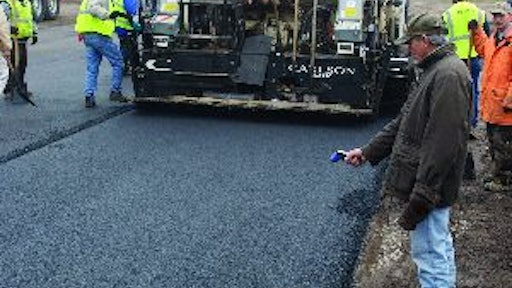 One of the hottest topics in the asphalt industry today has to do with a cooling trend for mix temperatures. Warm mix asphalt has generated much buzz among associations, government agencies, equipment manufacturers and asphalt producers since being introduced in the United States approximately five years ago.
Advancements made in the technology and positive field test results for warm mix asphalt projects were a primary focus at the January 2008 National Asphalt Pavement Association Conference in Phoenix.
And why not? Many key industry officials have long been promoting the potential benefits for producers using the new mixing processes to lower temperatures by 50 to 75 degrees F.
These probable advantages include: the opportunity to save on fuel costs; burning fewer volatiles at lower temperatures to increase mix quality; the chance to expand the paving season for the northern two-thirds of the country; and lower emissions and no blue smoke offering the promise of being able to make mix in large metropolitan districts previously designated as non-attainment areas.
The greatest benefit of them all, however, may be the fact that warm mix asphalt can be used for virtually any mix design - base, intermediate or surface.
Producers are partnering with industry associations and government agencies to expand field evaluations of a variety of warm mix asphalt technologies available in the market. However, one of the primary road blocks keeping some producers from moving forward with warm mix asphalt is cost.
Some industry estimates put as much as a $4 per-ton premium for some of the additives on the market … not a welcomed expense on the heals of historic price increases for liquid asphalt.
"As a producer, we have avoided warm mix asphalt additives because the higher costs are less desirable for us and our customers," explains Patrick Nelson, director of information technology and special projects for Lehman-Roberts Company, Memphis, TN.
This is not to say that Lehman-Roberts is not interested in warm mix asphalt. On the contrary, Nelson explains that the company has been following and studying the technology since it was first introduced to the United States.
"We have spoken with several producers who have run warm mixes," he adds. "We feel there is a spot for it in the Memphis market."
Seizing the opportunity
Lehman-Roberts' opportunity to evaluate warm mix asphalt came just before the end of 2007. Company officials were approached by Terex Roadbuilding to test its new foamed asphalt approach. "Foamed asphalt just makes sense, and the nice thing about the Terex system is that it's easily adapted to our plants and control systems," Nelson mentions.
Once the decision was made to move forward with a field evaluation, Lehman-Roberts had to select which of the four Terex plants it owns would be retrofitted with the new system.
The warm mix asphalt field kit was installed on a 1992 Cedarapids/Standard Havens (now Terex) Magnum (inside-the-drum) counterflow asphalt plant.
"We were very excited about running the tests, since this was our first time working with warm mix asphalt," Nelson says. "We wanted to educate ourselves on the foamed asphalt process and see if this would be a viable alternative to additives."
Testing this new technology mirrors Lehman-Roberts' progressive business philosophy and strategy. With its roots tracing back to Memphis in 1939, the innovative producer has grown to be a dominant player in western Tennessee and northern Mississippi.
Today, it owns nine asphalt plants to make mix for its county and state projects as well as for its city and private contracting customers. Nelson mentions that Lehman-Roberts is not afraid to take on new technologies to maintain its competitive advantage and build upon its reputation for delivering a quality product.
Proven technology
While the Terex warm mix asphalt system is new for asphalt plants, it's not an untested technology. As a matter of fact, the "new" system is adapted from the manufacturer's patented foamed asphalt system, developed for its reclaimer/stabilizers and milling machines. It has been used in recycling and reclamation applications for 10 years.
"When we set off to develop our warm mix asphalt product, we wanted to build a system that was simple to install and operate, could be easily adapted to a wide range of asphalt plant technologies and would not significantly impact the producer's cost per ton to make asphalt," says David Emerson, director of product management for Terex Roadbuilding. "It was a natural progression for us to adapt our foamed asphalt technology for asphalt producers."
To operate the system, a producer needs only water, a power source and a signal from the asphalt plant controls package. As a field retrofit, the warm mix asphalt system is equipped with a programmable logic control (PLC) to accurately meter up to four percent of water by mass weight of the liquid AC.
"We can vary the percentage of water, but we are finding that two percent mass of water is working well," explains Joe Musil, senior engineering fellow for Terex Roadbuilding. With new plant purchases, operation of the system will be integrated into the plant controls package, eliminating the need for a separate PLC control.
The heart of this new Terex warm mix asphalt system lies in an expansion chamber that provides single-point mixing of water and heated liquid AC just prior to the entering the drum. A three-way valve installed to the liquid AC supply line allows producers to choose between running traditional hot mix and diverting binder flow to the expansion chamber for making foamed asphalt.
A high pressure, five horsepower, piston-type pump operating in a closed-loop system accurately injects water into the asphalt. "It's really a simple system. Other than the water pump, there are no moving parts," Nelson mentions.
Once the water and hot AC are mixed in the expansion chamber, the foamed asphalt is immediately piped into the drum to evenly coat the virgin aggregate and RAP. The pipe is designed to fit the producer's specific drum mixer and is equipped with up to 24 spray nozzles, in which at all times all nozzles are used to coat the aggregate and RAP regardless of whether the plant is running at 200 or 500 tons per hour.
"The system can produce up to 500 tons per hour of warm mix asphalt," Emerson explains. "Our system will work with either volumetric or mass-flow metering systems," Musil adds.
Positive field results
Originally, Lehman-Roberts planned to produce the warm mix asphalt for a paving project Desoto County, MS. However, due to the inclement weather during the evaluation and since this was the first time the producer worked with the new mixing process, company officials decided to move the evaluation to a more controllable application.
The crews paved the Lehman-Roberts' office parking lot and the land surrounding the asphalt plant.
In an effort to obtain quantifiable test results, a Tennessee Type E surface mix with virgin aggregate and a PG 64-22 binder was selected. This same mix was successfully used in the fall of 2007 at the Memphis International Airport. In its hot mix form, the Type E asphalt is typically produced at temperatures ranging from 300 to 310 degrees F.
The warm mix asphalt experiments of this mix began at 300-degree F mix temperatures, which were methodically lowered throughout the evaluation. According to Nelson, Lehman-Roberts was "shooting for 270 degrees F," and this target, as well as lower temperatures, was achieved.
Paving conditions were less than ideal. Ambient temperatures ranged from 34 to 37 degrees F, and the subbase was slightly wet. However, the mix went down well for the paving crews. "I was amazed at how long the mix remained workable for shoveling and luting," says Nelson.
He also noticed that the only visible steam was coming from the drums of the double drum vibratory roller, not from the silo, truck or paver. The breakdown roller immediately compacted the asphalt mat - laid in a 2-inch-thick lift - behind the paver. The roller initially operated in static mode and the operator gradually added vibration to the pattern. A second double drum compactor provided the finish rolling.
After completing the project, Lehman-Roberts took a core sample of the warm mix asphalt and ran tests to compare those results against the hot mix control sample's tests results taken from the airport application.
The warm mix design posted nearly identical results for AC content, gradation, theoretical gravity, bulk-specific gravity and air voids. Nuclear densities ranged from 91 to 94 percent for the warm mix, slightly less than the densities achieved at the airport, but Nelson expected this due to poor subbase conditions.
The warm mix design actually outperformed the control hot mix sample in the rut tests.
Overall, Lehman-Roberts was very pleased with these initial results.
"Aesthetically, there was no noticeable difference, and the mix remained very workable for a long period of time despite the cold ambient temperatures," Nelson says. "The results from this one test showed the warm mix asphalt is at least as good as, if not better than the 'normal' mix."
Companies in this article