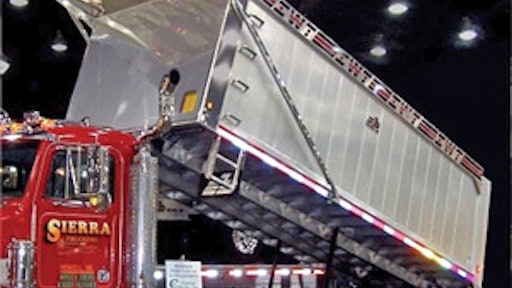 Benson IWT Dump Body
Benson International offers a post-less side panel Inner Wall Technology (IWT) design for dump bodies and refuse trailers.
Eliminates all exterior connecting panel welds and most interior welding on smooth side panels
Allows user to select the correct alloy and interior sheet or plate thickness
Hidden seam welding eliminates interior wear points
Smooth exterior reduces fuel consumption and is easier to clean
Double wall side configuration eliminates dings and bulges
American Roll-off High Dump Hook Lifts
American Roll-off introduces the High Dump Hook lift models.
The 25,000- and 30,000-pound-capacity dual-pivot units are designed for use on a 33,000-pound GVW chassis
Both models dump like a true dump truck
Hook-All is a quick-change body system that allows users to switch bodies and increase truck utilization and versatility
Ampliroll Hook Lift
The Ampliroll hook lift is operated from inside the truck.
Maneuverable up to 60 degrees
Variety of attachments to fit most any job
Ground-level loading
Bri-Mar DTX610 and DTX612 Dump Trailers
Bri-Mar offers the X series of low- profile dump trailers.
Extensive use of high-yield strength steel throughout
LED lights
TruckCraft TC-120 ULTRA Dump Insert
The TC-120 ULTRA aluminum dump insert has a 7,000-pound lift capacity.
150-amp circuit breaker protects the pump motor
Oil-less bushings in the dump hinge and cylinder pivots
High-performance seals in the cylinder stages
Weighs 420 pounds
Underbody Pivot from PullTarps
PullTarps offers an Underbody Pivot for electric arm-type systems.
Allows fine adjustments for accurate arm alignment
Spring tension can accommodate applications up to 40 feet in length
Arms close in to the sides of the body and pivot under the body out of harm's way
Can be welded or bolted in place
Heil Yardbird Dump Body
The Yardbird features a continuous-formed body sidewall and fully enclosed top rail for greater resistance to moisture and corrosion.
Double-wall body side
Quick-release upper tailgate pins
Full-depth rear corner posts
Electric or PTO drive
Enclosed front corner posts
1520 hoist with 5-inch cylinder
EZ Dumper EZ II Trailers
The R6210DO, R6210LP and R6212LP dump trailers offer power up and gravity down hydraulics.
12-volt single-acting pump system
Remote control operation
Tandem axles
DOT-approved light package
2" x 6" tube frame
E-Z Lube axles with electric brakes on all axles
Crysteel Profit Maximizer Super Dump
The Profit Maximizer Super Dump from Crysteel features an air suspension trailing axle from Silent Drive.
Trailing axle raises and lowers with standard PTO
Clean-out enhanced by optional hydraulic tailgate
High-lift tailgate extends a normal tailgate 15 inches
Elliptical or square body styles
Strong Industries Superdump Bed
Strong Industries has introduced a lightweight, high-strength steel dump bed to maximize the benefits of its Strong Arm trailing axle.
Conical, elliptical shape gradually becomes wider toward the rear of the bed
Extended floor eliminates the need for an asphalt apron
Low tare weight
Bucks Fabricating Switch-N-Go
Switch-N-Go truck systems can change beds in a matter of minutes, yet provide a securely attached truck body for movement down the highway.
For 11,000- to 26,000-pound GVW trucks
Can lift a loaded bed filled with cargo without a dock or a fork truck
Can dump at a 50-degree angle
Clement JobStar Western Train
The JobStar Western Train features a 40-foot tri-axle lead trailer with a 20-cubic-yard capacity and a 24-foot, 14-cubic-yard pup trailer.
3/16-inch sheet steel throughout the hopper
Payloads in excess of 60,000 pounds
TruckWeight Smart Scale
The Smart Scale is a wireless onboard weight scale for trucks, tractors and trailers with air suspensions.
Uses sensors to measure temperature and pressure changes in the air suspension
Relays wireless information to a hand-held receiver
Axle weight and gross vehicle weight within 0.3 percent
Companies in this article