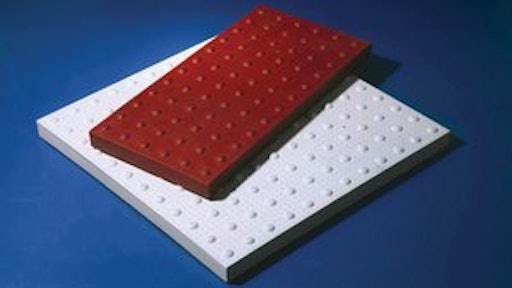 ADA Compliant Detectable Warning Devices
ACO Polymer Products ADA detectable warning devices are polymer concrete devices embedded into the surrounding paving material. They are brightly colored to provide a noticeable visual warning. The devices use an anti-slip raised texture on the surface of and in between truncated domes on the surface of the devices. The polymer concrete devices come in 12 x 24 in. or 24 x 24 in. sizes with a common depth of 1.5 in. and come in brick red, gray, or yellow.
ACO Polymer Products, Inc.
American Contractor 8.0
Mawell Systems American Contractor 8.0 business management software features a new Microsoft Outlook user interface and enhancements for improved productivity. Other new features, such as a new way to sort lists and filter, improve the functionality of the program. American Contractor software is versatile and can be used by any size construction or service business.
Maxwell Systems
Compact Equipment
Terex Construction introduces a dedicated compact equipment line, distributed throughout North America.
Includes Terex-branded compact track loaders featuring the ASV Posi-Track undercarriage technology
Portfolio also includes compact excavators, compact wheel loaders, site dumpers, tractor loader backhoes, light towers, telehandlers, power buggies and tandem asphalt rollers

Terex Construction introduces a dedicated compact equipment line, distributed throughout North America. The compact equipment line includes both Terex-branded compact track loaders, featuring the ASV patented Posi-Track undercarriage technology, and a broad portfolio of offerings from Terex, including compact excavators, compact wheel loaders, site dumpers, tractor loader backhoes, light towers, telehandlers, power buggies, and tandem asphalt rollers.
Terex Construction Americas
GloBug Equipment-Mounted Lighting System
The BloBug equipment-mounted lighting system from Multiquip is equipped with adjustable clamps that allow installation at any angle. The unit inflates in less than 30 seconds and is designed with 360 degrees of glare-free illumination. Standard features include metal halide lamps, a protective canvas cover, and a carrying case with handles. GloBug can also be customized with colors and messages.

The GloBug equipment-mounted lighting system is suited for freeway paving projects and many construction job-site applications.
Adjustable clamps allow installation at any angle
Inflates in less than 30 seconds
Provides 360° of glare-free illumination
400/1,000-watt systems include metal halide lamps, a protective canvas cover for protection when not in use and a carrying case
Multiquip Inc.
L45F and L50F Wheel Loaders
The L45F and L50F feature 98- and 115-hp Volvo D5 4.8-liter, turbocharged Tier III-certified engines that deliver high torque at low engine speeds.
19,070- and 20,790-lb. operating weights with 14,837- and 16,636-lb. bucket breakout force
Torque Parallel linkage for smooth, parallel lift, high rollback torque and optimal lifting power throughout the lift range
Separate power steering and load-sensing hydraulic pumps
100% differential locks on the front and rear axles
Feature fully hydrostatic transmissions, a heavy-duty articulating frame and the Volvo Care Cab
Volvo Construction Equipment
Mobile Generator Line
Doosan Infracore Portable Power has upgraded several
models in its mobile generator portfolio to meet the Environmental Protection
Agencys current standards for mobile, off-highway, diesel-powered
equipment. The portfolio now includes a total of 10 models ranging from 25 to 570 kVA, all of which comply with current EPA emissions regulations in
North America. Features include a rugged enclosure built from heavy-gauge steel and finished
with a 13-stage powder-coat process. Operator-preferred analog control panel is common across all
models, simplifying control and monitoring of the generator and features
remote start / stop capability standard. G25 through G185 models are standard with an innovative
protection feature that prevents operators from switching voltage during
operation. Units feature 24-hour onboard fuel capacity, plus an environmental
containment system that can contain and prevent spillage of 110 percent of
all fuel, oil and coolant volume.
Doosan Infracore Portable Power
Quixote Vulcan Transfer Attachment
A unique new transfer attachment is now available from Energy Absorption Systems, Inc., a Quixote Transportation Safety Inc. company. Designed for moving Vulcan Barrier -- the portable, steel longitudinal barrier for temporary use in work zones to open and close lanes of traffic -- the attachment can be used with a variety of end terminal options, such as the QuadGuard CZ, Quest, or Triton CET Systems. With the new Vulcan Transfer Attachment (VTA), workers can now quickly and efficiently move Vulcan Barrier to open or close one lane mile of barrier in just 20 minutes. The VTA attaches to a standard skid steer or front end loader without need for special equipment or machinery. Rugged galvanized steel construction ensures longevity and durability.
This transfer attachment enables quick and efficient movement of Vulcan Barrier to open or close one lane mile in just 20 minutes.
Attaches to a standard skid-steer or front-end loader without need for special equipment or machinery
Rugged galvanized steel construction
Connects to skid steer via the attachment interface and quick-connect hydraulic lines
Energy Absorption Systems Inc.
Roadtec Rebuild
Roadtec now provides equipment owners with new, after-market replacement drums for milling machines, reclaimers, utility mills, dirt trimmers, mulch shredders, and rumble strip cutters of any brand. In addition to standard drums, Roadtec supplies a range of specialty drums, from micro-milling (profiling) types to segmented, bolt-on, 4:1 tapered heads. Whats more, the company also offers a comprehensive rebuild program for these components. Roadtec Drum Rebuild Services include the rebuilding of any cutter drum or specialty head for any brand machine, including the rebuilding and straightening of dirt trimmer heads. All products can be supplied as complete units, ready to install into housing assemblies.
Roadtec will install any tooling system the customer prefers on after-market or rebuilt drums.
The new cutter drum program is an expansion of the successful Roadtec Rebuild initiative, which the company has been pursuing as part of its 360 Support TM philosophy. Jeff Smith, VP of customer service at Roadtec says, "Our direct one-on-one relationships with our customers allow us to get to know them and their needs. When you work with us, therell be no wasted time and money trying to find the best solution. We know what to do to rebuild, repair or maintain your pavers, mills, material transfer vehicles, and stabilizers because thats all we work on. We are able to dedicate all our resources to working on that type equipment. A typical dealer service department has many types of products and customers, and you may not always be first in line. At Roadtec Rebuild we understand your unique needs and what it takes to satisfy them, and we will work with you on any brand of equipment."
Roadtec support includes all-inclusive rebuild and maintenance programs as well as a full-service parts operation. Roadtec supplies after market parts for many brands of road building equipment under the AS Parts label. Currently, the parts operation is running a winter maintenance promotion and those interested should see Roadtec.com and then click on Parts. For more information on Roadtec Rebuild, please go to Roadtec.com and click on Rebuild, or call toll-free 877.266.8882.
Roadtec, Inc.
RoLineTM 1130 Sensor
LMI Technologies Inc. introduces the Selcom High Speed RoLine 1130 Sensor for high speed pavement profiling. The new sensor features laser line sensing for accurate profiling of all pavement geometries on high-speed profilers at any vehicle speed. The laser line measuring principle of RoLine sensors was developed to improve the accuracy of pavement profiling for coarse textured surfaces, particularly longitudinal tined and diamond ground surfaces. To provide flexibility, the RoLine 1130 operates with two data output modes, either full profile data or the optional output using the internal bridging algorithm that reduces the full profile to a single point output representing the actual surface location.
LMI Technologies
Trailmax FWTD-70-TA
The FWTD-70-TA traveling axle trailer features a high-tensile fabricated four-beam construction and tubular crossmembers on 12-in. centers.
Rated with a 70,000-lb. distributed capacity and a 50,000-lb. concentrated in a 10-ft. space
6° load angle and 16° dump angle suitable for hard to load and unload pieces of equipment
Hydraulic system requires no moving hoses and features quick disconnects for easy use
12,000-lb. hydraulic planetary winch comes standard
Gem State Manufacturing, Inc.-TrailMax
WBR650 Walk-behind Roller
The model WBR650 features a 25.5-in. drum width and a compaction force of 2,925 lbs., with centrally located eccentrics that evenly distribute forces over the drums. Designed for confined area compaction, its 10-in. curb clearance and 1-in. side clearance on both sides enable optimum performance next to curbs and other obstructions. The unit is equipped with a 10-hp Lombardini diesel engine and hydrostatic transmission. A Positraction System drives both drums, providing maximum traction on inclines. Maximum travel speed is 2.5 mph. Conveniently located speed, direction and vibration controls allow for easy activation.
Stone Construction Equip. Inc.
Companies in this article