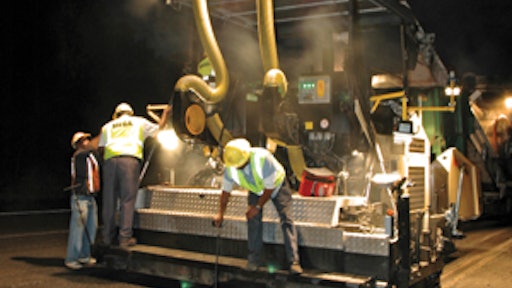 Along with advanced technological change come alterations in the implements required to take maximum advantage of the new technology. An example of this is North America 's growing use of performance-grade pavements, especially stone matrix asphalt (SMA). This has also stirred a renewed interest in European-style screeds. A primary example of one of these is the Ingersoll-Rand ABG (Allgemeine Baumaschinen Gesellschaft mbH) high-density, double-tamping bar design.
IR-ABG markets four versions of its high-density Duotamp vibratory screeds. The fixed-width VDT 120 paves 9-feet, 10-inches wide, and the VDT 121 paves 8-feet, 2-inches wide. The VDT-V 79 has a hydraulically extendable screed from 8 feet, 2 inches to 16 feet, 5 inches, and the VDT-V 89's extendable screed extends from 9 feet, 10 inches to 19 feet, 8 inches.
All four models feature Ingersoll-Rand ABG's dual tamper bars which, combined with their massive weight, allow the paver to achieve high degrees of compaction at the screed and, ultimately, exceptional smoothness. A VDT 120 used with an ABG Titan 525 paver produced 92-percent compaction at the screed last year in an SMA project in Virginia . ABG's high-density screeds are available with Titan models 326 EPM, 8820 and 525.
Recent modifications to the Virginia Department of Transportation's (VDOT) specifications regarding the aggregate materials used for producing SMA bituminous asphalt, its paving placement and compaction, have fostered something of an unusual occurrence in the Old Dominion State .
Three of the state's larger asphalt paving contractors have selected similar IR-ABG double bar tamper bar screed laydown machines to pursue comparable in-state SMA paving projects.
Interestingly enough, two of them, Mega Contractors Inc. and Lee Hy Paving Corp. are working on similar VDOT contracts on the opposite sides of the same road. The third, Virginia Paving Inc., is working on another comparable interstate highway project further north on I-95.
Executive Vice President Richard Schreck of the Virginia Asphalt Association, and one of the foremost proponents of SMA, has been quoted saying — "it's not rocket science" — and, since his father is a certified professional rocket scientist, he should know. Schreck also compared producing high-quality SMA to being similar to creating a good 'by the dot painting' … "just connect the dots; all the dots, no shortcuts, not even one."
The ABCs of SMA
Stone Matrix Asphalt is a gap-graded HMA that relies on stone-to-stone contact to provide strength, a rich mortar binder to provide durability and dependable laydown machines and modern asphalt compactors to reach optimum densities. SMA is a tough, rut-resistant, long-lasting and cost-effective paving mixture. The slight premium production cost (20 to 25 percent more than a typical dense-graded HMA because of the durable aggregates, higher asphalt content in a modified binder with fibers required) has proven to be well justified in light of SMA's extended life cycle and reduced maintenance needs.
Although it has only been in general use in this country since about 1991, SMA has been put down in Europe for decades. According to the current thinking, the recognition for its development and introduction to the asphalt industry goes to Germany . In this country, Virginia , Maryland and Georgia have been given credit for being among the first to embrace its use. Although the long lasting mixture is used here and in Europe primarily as a rut-resistant surface course, Virginia has now implemented its use as an intermediate course underlying the wearing surface.
"In the mid to late 1980s, Virginia began some pilot SMA projects and Mega was one of the first contractors to do some of this preliminary experimental type paving with SMA. To date we (Mega) have probably placed more SMA tonnage than any other contractor in the state. In fact, one of the first SMA projects we did in the 1980s was a 'mill & fill' overlay on I-95 in front of a rest area. It is still in good condition with no further maintenance required since then and that is a heavily traveled stretch of highway," says the president of Mega Contractors, Paul Owen Lanier II.
"VDOT has basically dedicated themselves to placing SMA type asphalt on all of their interstate rehabilitation and maintenance work," says Owen Lanier. "To accomplish this there were changes, modifications and upgrades in their highway construction specifications. We have been fortunate to have been awarded a number of these contracts including projects on I-95, I-295, I-64 and on the downtown expressway in the City of Richmond . In the beginning we began placing the SMA mix with our conventional pavers, and we quickly found that to get the proper density on the material we would need to employ a high frequency roller working very close behind the paver's screed. Even then we found that the rideability suffered because of the high amount of compactive effort that had to be placed upon the newly laid mat.
"The rollers tended to push the mat horizontally as well as compact it vertically," continues Owen Lanier. "This, in our opinion, was due in part to the weight of the compactor, the vibration frequency, the additional amount of binder asphalt in the mix, and the high temperatures that were needed to achieve the specified compaction density. It was at about that time we went looking at the tamper bar screed type pavers. Our first attempt at this involved a Dynapac machine as well as an ABG paver.
"We found the double tamper bar paver that was offered by ABG tended to give adequate compaction, with the added benefit that it put down a smoother mat because of the mechanics involved in the pre-compaction of the asphalt prior to it flowing under the screed," he continues.
"This is an extremely important factor. Today most state and federal SMA project contracts contain an incentive/disincentive clause to be determined by the results of rideability.
"We have fortunately been able to maintain most of our SMA smoothness and rideability in the bonus mode. To a large degree this has been brought about through the use of our Ingersoll-Rand double tamper bar pavers with their high-density Duotamp vibratory screeds and the use of material transfer vehicles (MTV).
"Another important factor in this equation is that we also own two asphalt plants and produce our own SMA mix," continues Owen Lanier. "In so doing, we maintain absolute control of the aggregate and asphalt binder. In placing this material with the use of an MTV we also avoid both thermal and material segregation."
Lee Hy Paving's experience
"We're also very pleased with our new Ingersoll-Rand Model 326 Titan Duotamp paver with the double tamper bar screed," says Stanley Snelling, Lee Hy Paving Corp.'s vice president and comptroller. "In fact, the results have been excellent. Test results indicate that we are achieving up to a 90-percent density at the screed. That has enabled us to affect a cost savings by eliminating one roller from our equipment spread."
Lee Hy Paving Corp. of Rockville , VA primarily works (60 percent) on roads under the jurisdiction of VDOT. Another 30 percent is done on commercial paving projects in the private sector. The company also does some sitework, principally stonework for asphalt paving preparation. Lee Hy Paving owns and operates six Blaw-Knox pavers and one new ABG Model 326 Titan Duotamp. They also operate 21 rollers. The ABG Triton paver was acquired in March 2005 primarily for use on VDOT paving projects involving SMA.
Lee Hy Paving's current SMA project involves both concrete patching and a two course, 3 ½-inch thick overlay and resurfacing of I-195/I-295. The 2-inch intermediate course consists of 25,000 tons of IM 19mm SMA. The 17,000 tons of top 1 ½-inch surface mix is SM 12.5mm SMA.
"The key to a successful SMA mix starts with the correct stone gradation," says Snelling. "We have our own asphalt plant which provides us with tight control of the aggregate and binder. We purchase our stone from Vulcan Materials Co. Being the largest aggregate producer in the country, they know how to crush the special stone specified for SMA mix and do an excellent job."
Virginia Paving
"The Ingersoll-Rand ABG Titan double tamping bar paver, in my experience, does a very good job in getting the majority of the required SMA mat density right up close behind the screed. We follow this up with a pair of heavy duty rollers in the vibratory/static mode and a pneumatic tire compactor as a finish roller," says Danny James.
A mechanical supervisor for Virginia Paving Co., James has been closely involved with the ABG pavers ever since the asphalt contractor took delivery on its first one. In his position he supervises the heavy equipment, including the pavers and rollers. He also designs, builds and modifies equipment for the company's special projects.
In retrofitting their 525 paver by adding the factory offered screed extensions, James says they were able to save considerable time and effort and money when resurfacing several of the major automotive racing tracks around the nation.
"This saving was accomplished by reducing the number of passes that were required for this," he says. "We were able to complete the paving in three passes instead of four. We were able to extend the screed width out to 20 feet to do this. We did this resurfacing three times on the Texas Motor Speedway. We also paved the Atlanta Motor Speedway as well as the Homestead ( Florida ) and Richmond ( Virginia ) tracks.
"We've also done some paving at the Daytona International Speedway in Florida ," he continues. "We've been doing this technical type of hot mix asphalt paving since 1995. And I can tell you that we have learned something new at every track we have paved. That 'on the job training' with the Ingersoll-Rand pavers has been very valuable. The first paver, back in 1995, was an ABG 511. We put down and compacted a significant quantity of cement-treated stone with it. In 2000 we traded that machine in on a new ABG 525 Titan.
"The ABG pavers are very well built and have held up well for us under some very hard use," he explains. "The mix we've put down on many of the race tracks is a modified 82-22 polymer liquid asphalt that is a lot stiffer than the typical highway asphalt binder. You need a paver that has some stoutness to it on the tracks. The laydown temperature is a lot higher and it requires a machine capable of handling it. It takes a paver with some muscle."
Virginia Paving's Plant Manager Ron Burton says that several years ago, even before VDOT tightened up the F & E (flat and elongated) specifications for the aggregate used in the SMA mixture and for the asphalt binder in order to produce a longer lasting product, they encountered no problem in achieving density. Their current SMA project on I-95, being done under contract with VDOT, is an involves about 28,000 tons of SMA and 17,000 tons of 12.5mm Superpave. The 12-mile-long "mill & fill" project essentially involves milling about 44,000 tons of old asphalt with a Wirtgen 2000 with a micro drum.
The SMA repaving is being done on two 12-foot wide travel lanes utilizing a Blaw-Knox MC-30 combined with an IR-ABG 525 Titan asphalt paver with a modified Duotamp double bar screed. Originally the paver came with a fixed width screed with very little flexibility in selecting paving widths.
"We had used this asphalt paver in the past and that fixed width screed was always a drawback," says Burton . "This past winter we brought the Titan 525 into our shop and retrofitted the screed by adding extendable gates and so far this has worked out well for us. We can now easily vary the paving widths which is a significant advantage."
Burton sees continued success with SMA and the equipment designed to achieve optimal results in its placement.
"We have been working with this premium grade mix for a number of years and we are getting better at it as we go along," he says. "This year's SMA is the best mix that we have ever produced and placed. We make the SMA in our own plant which is part of the key to success when working with SMA. The more control you maintain over the process and the equipment you use to put it down, the more attention you pay to the small details, the better your bottom line will be."
Information provided by Ingersoll-Rand.