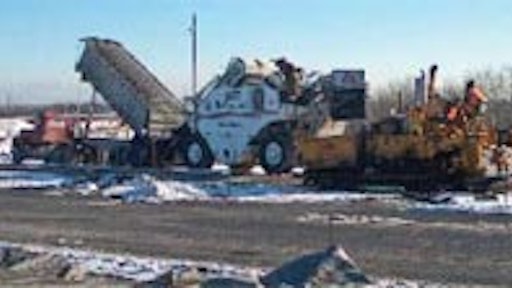 Northern paving contractors consider themselves lucky when the weather cooperates long enough to wrap up projects by Thanksgiving or even into the first weeks of December before the snow and cold of winter shows up. But as luck goes, Thorton, IL-based Gallagher Asphalt had to scramble for a solution this past paving season when the weather moved in on critical work the Illinois Department of Transportation needed completed to accommodate traffic, snow removal and the possibility of some planned winter concrete work.
"We were working on the 1X, 2X and 3X portion of the I-80/I-90/I-94 interchange (south side of Chicago) and the work was to be completed by the end of October, but previous delays pushed our completion into November," says Dan Darden, vice president of construction for Gallagher. "Then we had an early cold snap and snow, and we didn't know what we were going to do."
As a subcontractor to the project's general contractor, Lorig Construction, Gallagher's asphalt work included putting a surface course on frontage roads and a 6-inch stabilizing asphalt base course on the mainline interstate road and 4-inch stabilizing asphalt base on several on/off ramps. The project specifications called for widening the frontage roads and IDOT needed the work completed to handle traffic flow and allow for snow removal during the winter. The mainline and ramp work needed to be completed to accommodate traffic patterns and also for preparation of a Portland cement concrete overlay during the winter if weather conditions permitted.
"The (aggregate) subgrade (on the mainline section) was starting to freeze and the frontage roads were covered with snow," Darden recalls. "We were in a meeting talking about ways we could get back out on the project and complete the work IDOT wanted done."
Joe Ulanowski, senior project manager for Gallagher, suggested using the company's hot in-place heaters to warm up the subgrade on the mainline sections, as well as dry off the paved frontage roads. Gallagher owns two pre-heaters that are used in its hot in-place asphalt recycling operation. The heaters are used to soften up old asphalt, which can then be rejuvenated and profiled into a new leveling course.
"We pitched the idea to IDOT and they told us to give it try because they wanted the work done," Darden says.
On days weather permitted work on the project, Gallagher's crews would begin heating operations an hour or so before paving would begin and compaction of the new asphalt was achieved with a tight rolling pattern following the paver.
"We were able to get the work done over a three-week period and extended our paving season up to December 20th," Darden says. "The heaters allowed us to complete the portion of the project IDOT wanted done going into the winter. It worked out well for us, the general contractor and IDOT."