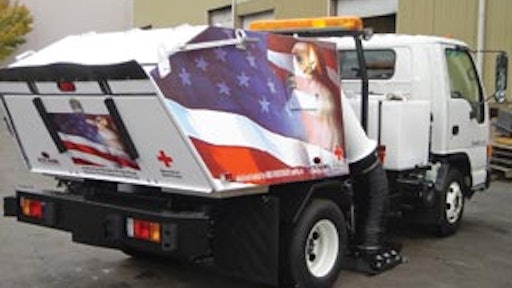 Blacklidge to build polymer facilities for new product
Blacklidge Emulsions Inc., Gulfport, MS, has completed a license agreement with PRIME Plex, LLC, Los Angeles, to build polymer handling facilities throughout the Southeastern United States "to integrate a new polymer composite," according to Ronnie Blacklidge, president of Blacklidge Emulsions.
PRIME Plex, an affiliate of Ecostar Science and Technology, translates aerospace "trickle-down" technology into practical daily applications. The first plant is to be built in Mississippi and will produce a new product, P2GTR, which utilizes recycled tires ground to a 30-mesh-size particle as the base material. Blacklidge says the process uses an electromagnetic reactor and water to disintegrate the ground tire rubber into "a nano-size devulcanized polymer product" made up of Styrene Butadiene Rubber (SBR), Styrene Butadiene Styrene (SBS), and other tire components. He says the process allows the polymer to retain elastomeric and durability characteristics that are present in tires, enhancing the durability of hot mix asphalt pavement.
Expected to be operating in the first quarter, the Mississippi plant will asphalt react up to 80,000 pounds of polymer composite a day.
Shindaiwa to supply Symbiot members
Shindaiwa Inc., Tualatin, OR, will supply members of Symbiot Business Group, Draper, UT, with handheld power equipment following an agreement between the companies.
Symbiot is a national service provider composed of contractors who provide parking lot sweeping, striping, and snow removal to property managers.
Bobcat expands at North Dakota research center
Bobcat Co., a business of Ingersoll-Rand Co., will be the anchor tenant of the North Dakota State University (NDSU) Center for Technology Enterprise and the NDSU Research & Technology Park in Fargo.
Bobcat's facility will include a working technology lab, an indoor testing area, and floor space to accommodate 50 Bobcat engineers to a total of 15,000 sq. ft.
"We have enjoyed a productive working relationship with North Dakota State University for quite some time," said Richard Pedtke, Ingersoll-Rand senior vice president and Compact Vehicle Technologies sector president and CEO. "Now we are eager to expand the partnership with NDSU and take advantage of its extensive science and technology resources."
Allianz Madvac partners with Schmidt
Allianz Madvac Inc., Quebec, has signed a distribution agreement with Germany-based Schmidt Group to allow Schmidt to distribute Madvac products in key European markets.
Schmidt will launch two Madvac sweepers, including the PS300 pedestrian sweeper and the new 1m³, which will be marketed as the Schmidt Swingo 100.