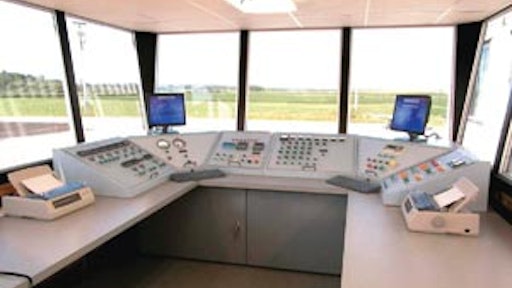 When Robert Wolford, president of Southern Asphalt, a division of Robinson Paving in Columbus, GA needed a completely new drum plant control system for their Junction City, GA asphalt plant they returned to Controls Technology Inc. (CTI).
CTI had installed a complete, new drum plant control system in the Columbus, GA plant a little over a year ago. The new plant control house included the latest computer hardware and software controls for the drum plant operations in Junction City.
The new control house will include:
• A complete system of asphalt plant controls
• Full manual back-up
• Easy-to-understand diagnostic controls
• Fast, accurate reports of daily production total and material inventory
• 24/7 free technical support
"What I like about working with CTI is they are very accessible," says Wolford. "You can always reach them, and their service people are very helpful. Anytime we do have a problem, they can usually solve it over the phone with their diagnostic system."
For more information contact: Controls Technology Inc. at www.cticontrols.net or email: sales@cticontrols.net.
Mulitiquip DLW-300ES Welder /Generator
The new DLW-300ES welder/generator from Multiquip delivers smoother arc characteristics and more consistent quality welds. The DLW-300ES midsize 300-amp welder and 10kW generator offers a 100-percent duty cycle at 280 amps. Unit operates at idle up to 160 amps and uses only 0.39 gallons of fuel per hour at 120 amps and only 1.1 gph at full load. Other features on the 10,000-watt, diesel-powered welder/generator include a thermal overload light on the dashboard notifying the operator the unit has stopped welding when the windings overheat without shutting down the machine. Multiple electric AC outlets for operator convenience come standard as does a brushless alternator design to lower maintenance requirements and costs, a self-priming fuel system for instant restarts and a reliable Kubota engine.
C.H. Hanson SpeedMeter
The C. H. Hanson Company introduces the SpeedMeter electronic measuring wheel, which is available in 4- and 13-inch wheel sizes to accommodate almost any application requiring exact measurements. Both models feature a large LCD display that is easier to read due to its generous digital readout when compared to traditional mechanical units (13mm vs. 5mm) with a selectable on/off backlight, an electronic brake that holds the measurement until reset, and a telescoping handle to adjust for multiple users and facilitate storage. The electronic measuring units can measure up to 10,000 feet/inches, 10,000 yards/tenths, or 10,000 meters/centimeters. One-touch button will convert any measurement. When moving forward, the unit adds the distance and will subtract when operated in reverse, measures trip distance, and calculates total distance.
Prestone Heavy Duty ELC
The Prestone Heavy Duty Extended Life Antifreeze/Coolant (ELC) is intended for use in all heavy-duty diesel-powered engines, as well as gasoline engines with aluminum and other engine metals. Compatible with other heavy-duty antifreeze/coolant already present in system, the ELC is available in fully concentrated and premixed varieties. The concentrated blend of premium inhibitors is designed to provide up to 300,000 miles or 6,000 hours of protection.
Flannegan Western 865 Motor Grader
The new FW 865 Motor Grader weighs in at 6,050 pounds. Measuring just over 15 feet long and 8 feet high, the 865 can be easily transported on a 12,000-pound GVWR trailer pulled by most pick-up trucks. Powered by a 65-hp John Deere water-cooled, diesel engine, unit features a drive system that is servo-controlled. Other features include a hydrostatic transmission with a heavy duty, off-road, two-speed hydraulic motor and final drive axles with limited slip capabilities. The 865's hydraulic tilting /leaning wheels coupled with hydraulic steering offer the operator precision grading without sideways slippage during angle cuts. The 8-, 10- or 12-foot moldboards are of heavy duty design and reinforced with a replaceable cutting edge. Hydraulic blade movements include up/down, angular tilt and side-shift adjustments.
Cat 988H Wheel Loader
The 988H retains many features of the 988G, plus incorporates improvements to reduce emissions, increase fuel efficiency and provide easier maneuverability, transport and service. Powered by a 475-net-hp Cat C18 engine with ACERT Technology, unit offers fabricated box boom linkage with 11.8-, 12.7-and 13.9-foot boom options. Standard features include high-efficiency filtration systems for engine oil and fuel, Advanced Next Generation Modular Radiator, remote-mounted Electronic Clutch Pressure Control pressure taps and electronic fuel-priming pump. Optional features include an improved Ride Control System, High Intensity Discharge lights, two automatic lubrication systems and K-Series Ground Engaging Tools.
Quest Takeoff
Quest Takeoff onscreen digital takeoff software allows users to trace over their plans, then instantly calculates measurements and quantities. The system allows estimators to work directly from digital plan files by importing plans directly into the program. Quantities can be exported to Microsoft Access, Microsoft Excel or Quest Estimator without cutting and pasting or re-keying.
Cardinal Scale Wireless Weighing
Cardinal Scale's unattended wireless weighing systems provide an effective solution for unmanned vehicle weight management. Units feature model 777 or 788 programmable indicators with truck storage software in a weatherproof outdoor enclosure. Available with barcode badge reader or proximity badge reader and/or ticket printer, the scale can be interfaced to WinVRS software.
Leica GradeStar V5.0
The GradeStar V5.0 3D grader and dozer automation system is based on the industry standard CAN interface and utilizes the WinXP operating system. System works with total stations and GPS positioning sensors. The simulator works together with Site Manager software to enable user to view, check and analyze jobsite before starting grading operation. Live moving maps guide cutting and filling operations. System also features a universal control panel, mass tilt compensator and automatic side shift.
Companies in this article