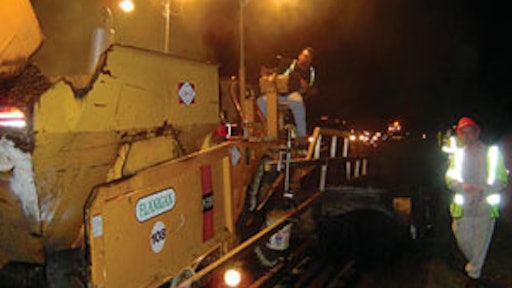 If you're a high production asphalt road contractor in Maryland, you will be working with challenging mix designs, like Stone Matrix Asphalt (SMA), if you want to profitably compete for projects let by the Maryland DOT and other government agencies. And Pierce J. Flanigan III, fourth-generation owner and president of P. Flanigan & Sons Inc. of Baltimore, welcomes the challenge and is anxious to learn what it takes to be successful in delivering what the customer wants.
Embracing technological advancements in equipment, mix designs and placement "best practices" has been instrumental in the company's growth and success over its 119-year history.Working with challenging mix designs and developing successful placement procedures have come through actual project applications. New asphalt designs/requirements are not rolled out through introductory informational/training sessions, but rather as specifications agency engineers have determined will deliver the performance their road projects require and at a cost the taxpayers can support.
A decade of experience
In 1995, when P. Flanigan & Sons did one of the first Superpave projects in Maryland — a 350,000-ton job on Interstate 695 in Baltimore — the legacy of embracing new technology and innovation had moved a step forward. This project, in fact, garnered a National Asphalt Pavement Association (NAPA) Quality in Construction award.
The company's willingness to embrace new technology has established its reputation as an innovative, aggressive leader in Maryland's asphalt production and paving industries. That aggressive approach has produced many firsts for Flanigan concerning the application of innovative hot mix asphalt designs. He was one of the first asphalt contractors in Maryland to work with polymer-modified materials, and one of the first contractors in Maryland to meet a smoothness spec with SMA material. He was also one of the first producers to make open-graded friction courses in Maryland.
Compact early
Having worked with all types of mix designs on different projects (many with strict DOT and FAA specifications), Flanigan is well aware of the statistically-based compaction, ride-ability and smoothness requirements his company must meet to receive incentives and avoid penalties.
The key to success in working with Superpave or gap-graded mixes (like SMA) is to compact the mat early in its placement and constantly test for quality to adjust rolling patterns.
"We've had a lot of help from Ingersoll-Rand in developing successful rolling patterns for Superpave and SMA, and we always do test strips on projects, but you really have to train your crews during the actual production of the job," says Flanigan. "And you have to constantly measure what you're doing, make adjustments, and look for ways to improve the process."
On that first major project (I-695) nine years ago, the size and scope of the project provided two years of experimenting with today's new HMA designs and training crews how to successfully work with those designs to achieve a quality project.
Continuous improvement
Today, continuous improvement is Flanigan's mantra for making the new and challenging mix designs better. Careful monitoring of compaction and comparing density readings with lab results on core samples, and then making adjustments to achieve optimum performance has become the asphalt contractor's standard operating procedure.
With DOT density requirements of 94 percent minimum on Superpave and SMA placements, Flanigan and his road crews know they have to work fast to achieve density before the mix cools to the point where no further compaction can be achieved.
The contractor is currently working on an I-70 SMA project near Baltimore, and the window of achieving density specifications illustrates how synchronized the paving operation must be. After milling off an inch of the open-graded surface course, Flanigan's paving crews will apply 44,000 tons of gap-graded HMA as a new 2-inch surface mat.
The mix arrives at the Blaw-Knox PF-3200 paver at 310 degrees F. When it passes under the paver's screed, the temperature has dropped to 300 degrees. At that point the mat is at approximately 90 percent density. Four tandem DD-130 Ingersoll-Rand rollers, working in pairs, follow immediately behind the paver traveling inside a 200-foot rolling pattern to achieve a targeted 95.5 percent density before the mat cools to 280 degrees. The DD-130s are operated in a vibratory mode with a frequency of approximately 3,500 vpms. A DD-90 IR vibratory tandem roller then finishes the mat in static mode.
"It's really important to begin compaction as close to the paver as possible because initial compaction seals in the temperature and gives your roller operators more time to achieve density," Flanigan says. "If you allow your mix to cool off too much before compaction, or if you're working with a design that has a low AC (asphalt cement) binder content, you reduce the amount of time you have to compact the mat and you may also limit the density you want to achieve."
The gap-graded mix designs Flanigan places have 6.5 percent AC binder content and fiber additives that prevent the AC from draining away from the aggregate before the mat can be compacted to density specification.
What's also important to note is that you don't over-compact an SMA mix. If you do, you run the risk of fracturing the aggregate and weakening the rigid performance characteristics SMA is intended to deliver.
"Here again is where frequent testing comes into play. Once you reach your targeted density, you need to get your vibratory rollers off the mat," Flanigan says.
And while P. Flanigan & Sons will continue to embrace new technology and look for ways to continuously improve its paving and rolling procedures, the key to this asphalt contractor's success with today's challenging mix designs is compacting the mat as quickly as possible to achieve density specifications before it cools down.